Promoting equitable access to quality educational experiences in sub-saharan Africa
Background
Children in Sub-Saharan Africa (SSA) face significant challenges of equity and access to quality education. These challenges are compounded by an apparent lack of clear evidence-informed policy making mechanisms in the region, and a paucity of research expertise to generate high quality research evidence to inform policy making. This project is aimed at addressing these challenges through the development of an interdisciplinary network of academic and non-academic partners in the UK, Ghana and Malawi to:
undertake research into the nature of inequalities in educational access, experiences and outcomes
enhance research capacity and expertise to address problems of equity and quality
consolidate an active network of key stakeholders for enabling research evidence into policy and practice
Several activities have been undertaken with partners as part of the project:
analysis of secondary and administrative data to provide baseline information on the nature of inequalities in educational outcomes in Malawi and Ghana
critical review of policies to address inequalities in educational access, experiences and outcomes in Malawi and Ghana
qualitative research in Ghana and Malawi to understand the causes of persistent low educational achievement and progression in disadvantaged schools
dissemination of research findings and engagement with stakeholders in Ghana and Malawi on how best to improve equitable access to quality education in light of our research findings
Who are the Beneficiaries?
Children and young people
Teachers and headteachers
Families
Primary education Advisors/ Circuit supervisors of education
Directors of Education
Charities, NGOs and civil societies with interest in education
Academics
Collaborators & partners
UK
Dr Peter Mtika, University of Aberdeen, School of Education.
Dr Claire Wilson, University of West of Scotland, School of Education
Ms Sofia Pimenta, University of Strathclyde, Department of Psychological Sciences and Health
Ghana
Dr Nana Yaa Nyarko, University of Ghana, Dept. of Family and Consumer Sciences
Ms Diane Fleischer-Djoleto University of Ghana, Dept. of Family and Consumer Sciences
Dr Maxwell Nyatsikor, University of Development Studies, Education
Mr Isaac Mepenedo - Ministry of Education, Central Region, Ghana
Malawi
Dr Felix Maulidi - Lilongwe University of Agriculture and Natural Resources, Malawi
Mr Ernest Matengo - Ministry of Education, Malawi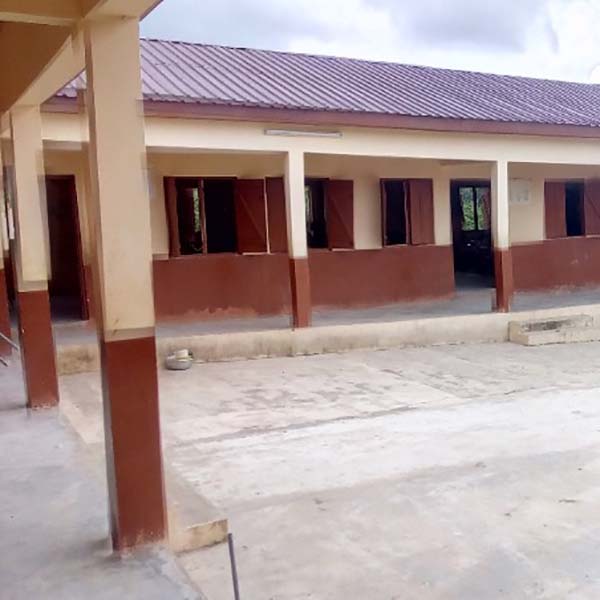 Newly built primary school
Sustainable Development Goals (SDGs)
Equitable access to sustainable development:
inclusive and equitable quality education
sustainable health and well being
Human rights, good governance and social justice:
reduce poverty and inequality, including gender inequalities.
Impact achieved
National research conferences "Closing the Inequality Gap in Children's Educational Attainment" were held in Malawi and Ghana to disseminate findings from our research. It attracted teachers, pupils, directors of education, district level public officials, media, academics and charities, schools and policy makers.
Follow-up research on the impact of the conference indicates significant changes in teaching practices and school leadership, with noticeable educational benefits. For instance, teachers and headteachers reported a greater engagement of parents in their children's education:
Since [the conference] when we ask [parents] to provide anything for their children, they will try their possible best...[Now] you will see some parents coming to the teachers and asking what the children's performance...[they] ask the headteacher 'what about this', 'let's do it this way'. [It's] helping us a lot.
Since parents became part of decision making...you see most of the parents getting themselves involved because they know that they also were part in taking the decisions on their children.
After the conference I had a discussion with the Municipal Chief Executive about the poverty situation in our community and that the only way we can help some of the schools will be to get them enrolled on the school feeding programme...my community school was added to the...programme and children are fed...at lunch. So [that] problem...has been partially solved.
A District Assembly member (Ghana) commenting that their community school had been enrolled in a school meals programme.
Challenges & lessons learned
The main lesson is the time required to undertake excellent collaborative research. A good collaboration should also involve plans to nurture academics from collaborating countries and to develop their research expertise. It is important to be aware that partners have different pressures and priorities and a need to be open-minded in understanding those priorities.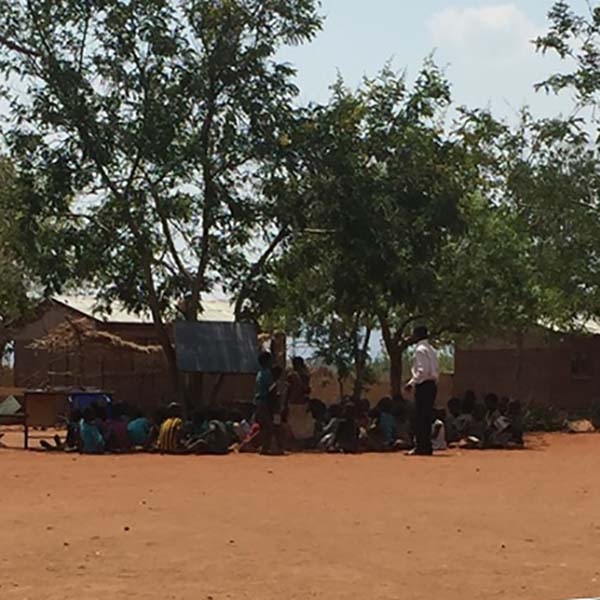 Children without classrooms
Further reading
Outputs
Nyatsikor, M., Sosu, E. M., Mtika, P., & Robson, D. (2020). Teacher characteristics and children's educational attainment in Ghana: do some teacher qualities matter more for children attending disadvantaged schools. Frontiers in Education, https://doi.org/10.3389/feduc.2020.00162
Sosu, E., Nyarko, N. Y., Fleischer-Djoleto, D., Mtika, P., Pimenta, S., Wilson, C., & Nyartsikor, M. (2019). Closing the Inequality Gap in Children's Educational Attainment in Ghana - A Research Brief. Glasgow: University of Strathclyde. https://doi.org/10.17868/67641
Sosu, E., Mtika, P., Maulidi, F., Pimenta, S., & Wilson, C. (2019). Closing the Inequality Gap in Children's Educational Attainment in Malawi - A Research Brief. Glasgow: University of Strathclyde. https://doi.org/10.17868/67642
Media
https://allafrica.com/stories/201904030191.html
https://www.atlfmonline.com/43-in-house/17058-researcher-calls-for-bridging-inequality-gap-among-children-in-education.html