Images of climate innovation
From redundancy to recirculation
This image captures a before and after landscape, conveying the impact of remanufacturing or recirculation of wind turbine parts. Supporting the journey to a more sustainable society, an innovative collaboration has been formed between the Advanced Materials Research Laboratory and Renewable Parts Limited. With many components ending up in landfill at the end of their service life, recirculation of parts through remanufacturing is an essential element in creating a circular economy across the wind industry.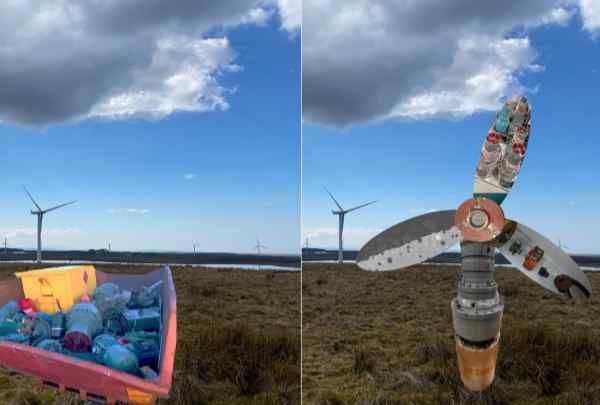 A collaboration between the Advanced Materials Research Laboratory (AMRL) at the University of Strathclyde and Renewable Parts Limited (RPL), a Renfrew-based independent supply chain specialist of wind turbine components, aims to help fuel a greener after-market for wind turbines nearing the end of their use, by refurbishing, remanufacturing and recirculating many components that would otherwise end up in landfill. The partnership aims to drive a culture change in the wind industry to reduce waste and the carbon footprint.
Currently, the operational lifecycle of a turbine is typically estimated to only be 20 years, which means that many windfarms are nearing the end of their lifespan. As turbines age, components increasingly wear out and a reduced supply of older generation parts compounds the problem. Material is often scrapped and enters landfill, but can with investment, re-enter the supply chain as refurbished parts, reducing waste and cost. Investment in refurbishment capability locally reduces the carbon footprint generated through transporting components from Continental Europe to Scotland. West of Scotland is an ideal location to build the infrastructure needed: If you were to draw a circle around Glasgow with a 50-mile radius you would find there were more on-shore wind turbines than anywhere else in mainland Continental Europe.
This collaboration aims to generate viable options for the reuse of as many components as possible. Future projects include a full review of wind turbine decommissioning and how to implement a fully circular economy for the wind industry. The partnership will continue to drive change within the wind industry, provide new refurbishment solutions that will benefit the circular economy in Scotland, enhance technology acquisition and local employment in high skilled jobs. These employment opportunities are crucial at a time when significant losses of skilled jobs are occurring in traditional engineering sectors.
Entrant: Fiona Sillars , University of Strathclyde
Copyright: Fiona Sillars
Funding: Scottish Institute for Remanufacture, Impact Accelerator Account
Collaborators: Prof. Jonathan Corney, Cameron Johnstone (University of Strathclyde) and Industrial, Renewable Parts Ltd.
Links
https://www.strath.ac.uk/research/advancedmaterialsresearchlaboratory/