Images of climate innovation
Can solar energy end food poverty?
The SunstorePowerpan (pictured) is the world's most cost-effective hybrid solar cooker and electricity generating unit. Developed by Strathclyde researchers, it is able to cook over 100 portions of rice or porridge every hour and illuminate a small village whilst charging multiple devices. Coupled with other Sunstore solutions in development, we aim to significantly reduce food and fuel poverty, smoke, and water pollution, as well as address crucial climate change targets.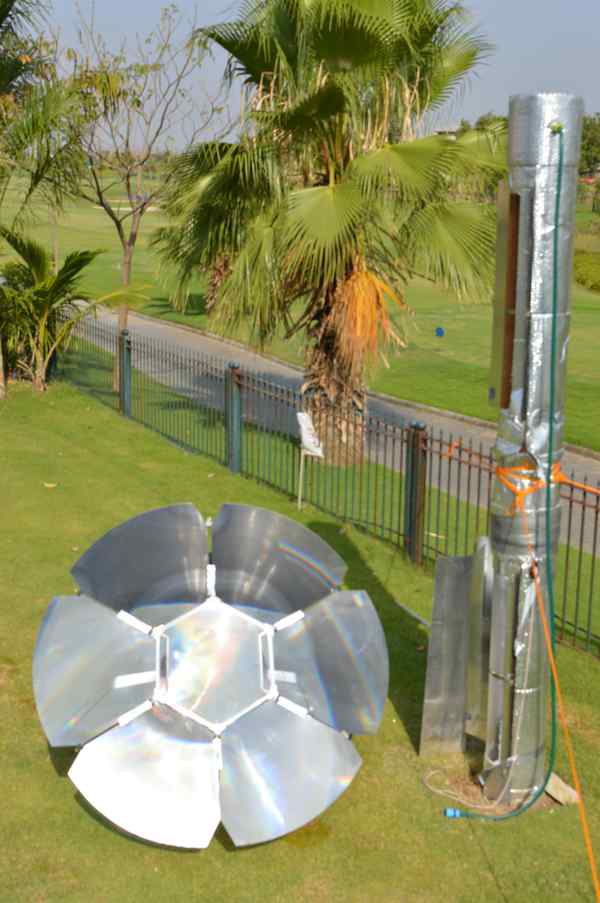 The Sunstore PowerpanXLM is a solar/bio-char hybrid, combined cooking and electricity-generating appliance, designed to be the world's most cost-effective and net-zero carbon, feeding station. It uses a modular lens array, to concentrate solar energy into a 30 litre cooking chamber. Six solar cycles per day are possible (when used in tandem with a solar pre-heat insulated serving counter) processing 600 x 330gram standard UN food portions.
The unit incorporates a bio-char fire-bed that allows it to operate during monsoon and at night, co-generating electricity using thermo-electric diodes. The primary fuel supply strategy for the fire bed tray is to 'pyroform' local carbon-based waste streams (sugar cane husks/sewage/crop stalks/invasive species) into smokeless bio-char and bio-gas. Bio-gas is used overnight to allow the unit to provide a hot breakfast while generating electricity for direct illumination and device charging, without the need for battery storage. The unit tracks the sun using a water stack (Sunstore Purepull) in combination with an industrial spring priming mechanism.
As the water head falls (the water is filtered and stored in an underground tank) it releases a tension wire that allows the counterbalanced lens array (linked to an elliptical track) to follow the sun for 8 hours, requiring little or no supervision by the users. The unit can generate enough electricity to run a 100 lamp LED lighting circuit and/or concurrently charge multiple devices. Research Application The unit can improve the quality of life for the 3.5 billion people currently reliant on biomass for their daily cooking needs, and the 1.2 billion with no access to electricity while reducing air pollution, deforestation, and associated habitat and species loss.
It can also reduce global CO2 emissions (savings of up to 40 tonnes per unit p.a. are possible depending on the type of fuel being displaced) while alleviating food poverty and allowing off-grid communities 'free' access to electricity and IT connectivity. The unit has been licensed to Defy ZA (Arcelik Group) and will go into mass production in Durban (SA) in 2021. Early adopter organisations are 'Ladles of Love' and the 'Africa Foundation' that intend to deploy the unit across sub-Saharan Africa.
Our mission is to: Disrupt Transform Diversify...Empower Sustain Conserve Other Activity Four more inventions are now in the R&D programme. These are the Sunstore Coolcan (a solar ground fridge), the Sunstore Saltsink (a solar desalinator), Sunstore BeanBraii (a high-temperature bean processor), and the Sunstore Chartube (converting waste streams to biochar).
Entrant: Stirling Howieson , University of Strathclyde
Copyright: Stirling Howieson
Funding: University of Strathclyde Alumni Fund; Scottish Enterprise; Scottish Edge; EIS Private equity; Energy Technology Partnership.
Collaborators: Sunstore Technologies Ltd; FilamentPD; Arcelik; Sunfire Solutions ZA; Stellenbosch University; Heriot Watt University (Dubai).
Links
For more information, contact: info@sunstoretech.com