Images of climate innovation
The IGNITION Living Lab
The University of Salford is a partner of the £4 million IGNITION project with the mission to support green recovery through sustainable solutions. IGNITION is a Greater Manchester-wide project which brings together 12 partners to investigate innovative Green Infrastructure (GI) to tackle climate emergency. The image is of the Living Wall that is located at the University's Peel Park campus in Salford.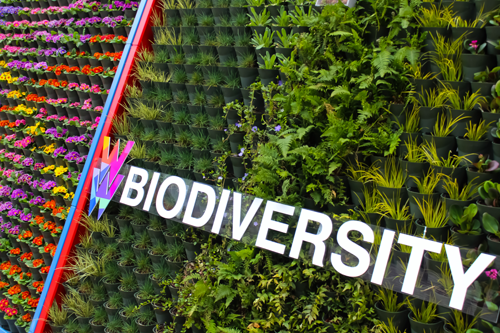 The University of Salford is home to a Nature-Based Solution (NBS) Living Lab that has seen the installation of a rain garden, living wall, green roof, and a sustainable drainage system for trees on its main campus. The NBS Living Lab uses green infrastructure experimentation technologies to demonstrate economically viable business investment models that encourage and inspire businesses to get involved in greening buildings and cities, hence making a contribution to sustainable practices.
The Living Lab provides evidence to researchers, business investors, and GI practitioners on the impact of implementing retrofit green infrastructure in a real-world environment. The research facility has been welcomed by the business community and is used to investigate and experiment how green infrastructure can be used locally in different typologies and contexts. From an environmental perspective, the Living Lab has demonstrated how to: increase the flood resilience of urban spaces, efficient use of rainwater through NBS innovation, and increase energy efficiency in buildings through green walls, in addition to increasing biodiversity in cities.
The Living Lab team at the University of Salford, led by Professor Hisham Elkadi, is currently working on business collaborations that involve innovative green infrastructure solutions for smart homes and industrial buildings. This will have a large impact on the residential construction industry as well as the industrial and superstore sector in Greater Manchester.
Entrant: Professor Hisham Elkadi , University of Salford
Copyright: India Booth
Links