Do you ever find yourself wasting time searching for things in your office you know you saw a second ago? We know we do! But we may have found the answer:
5S Workplace Organisation
It's a technique that can help you get organised and boost your personal productivity.
The 5S originated from 5 Japanese words, described in English as follows:
sort
set in order
shine
standardise
sustain
This system is a method for creating and maintaining an organised, clean, high-performance workplace. It's fundamental to creating a Continuous Improvement Culture.
The 5S's
Sort
Sort means clearly distinguishing between what is needed, and should be kept, and what is not needed, and should be removed.
Red Tagging
One great way to sort out what we need from what we don't need is through a red tagging activity. Simply use bright red tag labels and attach to objects you think shouldn't be in the area, or aren't in good order.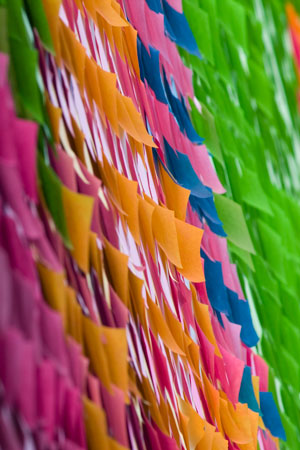 There are six key steps that need to take place here:
inform everyone ahead of time that a red tag exercise will be taking place in the office
identify an area to store your red tag items temporarily
agree what will be red tag targets and what criteria they must meet
attach your red tags to targets and document activity on a log sheet
move red tag items into the red tag area
review and dispose of the red tag items
Once all items are tagged, review each item and agree on the best course of action.
Typical actions are:
dispose of or recycle the item
reorganise the storage of the item
re-locate the item
give the item away to someone who will use it
repair the item
re-label the item
At the end of the Sorting Stage, we should have separated out the things we do need and the things we don't need. Just completing this first step can have such an amazing effect on your office space!
Set in Order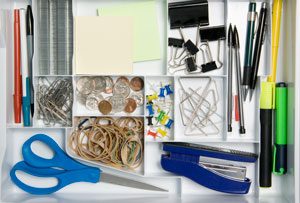 Set in order means arranging items in a manner that promotes smooth workflow. The trick is to make the office visual and make things easy to get to, with things you use most nearby. Items used together should be stored together in order of the sequence used. Make thing understandable at a glance using visual controls. Set in Order is meaningless unless everyone knows where things are kept and how to find them.
Shine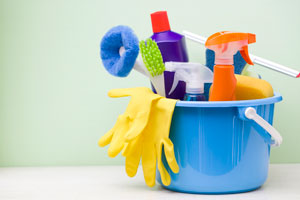 Shine is all about keeping the workspace clean and looking like new at all times. Do this by identifying and resolving chronic contamination issues, putting in countermeasures and carrying out daily walkabouts.
Standardise
Standardise involves developing a consistently organised workspace. You can do this by agreeing, setting and displaying the standard required in the area. It's about making sure everyone in the office understands what a good workspace looks like, and promoting the behaviours required to make sure standards are kept.
Sustain
Sustain means having a system in place for ongoing support and maintenance of the first four S's. Achieve this by:
sticking to the rules you've set out
auditing the workplace
continually improving and ensuring that all staff are fully trained in the 5S system
Summary
Sort
Separating what's needed from what's not
Set in order
Organising the way needed things are kept so anyone can find them easily
Shine
Keeping the office area free from clutter and contamination
Standardise
Setting and displaying the standard required in the area
Sustain
System to maintain the first four elements of the 5S
Try it yourself!
Give it a go! Have a think about applying some of these ideas to your own work and home environment. You could even save yourself some pennies by not having to buy something that you know you already have somewhere in your house but aren't quite sure where it is…!