Continuous Improvement blog

The Five Day Rapid Improvement Event
The Business Improvement Team recently had the privilege of facilitating a Five Day Rapid Improvement Event with University of Strathclyde's Advanced Forging Research Centre (AFRC) which is based at Inchinnan near to Glasgow Airport.
The AFRC is a collaborative venture between the University of Strathclyde, Scottish Enterprise, the UK Government and leading multinational engineering firms. The £35million facility focuses on developing forming and forging technologies to support the development of high integrity components.
So what did the Rapid Improvement Event involve?
Day 1: Lean Training and High Level Mapping
After some initial Lean training the Project Team started to diagnose the current condition by producing a high level chart of the process called a SIPOC. (Suppliers, Inputs, Process, Outputs, Customers). The team also gathered relevant data about the process to create a Data Wall. Measuring conditions before and after the event, and getting data to allow you to evidence the benefits of the improvement activity, are key to long term sustainability and success. The team then started to create a Metric Based Process Map of the current condition.
Day 2: Understanding the Current Condition and Wastes in the Process
The team continued mapping until the entire end to end process was captured visually on paper. The team then calculated the overall lead time, the processing time and the percentage complete and accurate of the entire process.
Day 3: Improvement Idea Generation and the Future State
Having reviewed the Data Wall, the Process Map and the wastes identified, the team set about coming up with ideas to improve the current condition. Many of the ideas were documented by creating a Future State Map of the new process. This was the day where we moved from possibility into reality with practical solutions that would be implemented.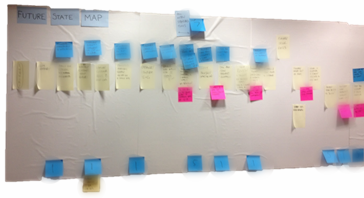 Day 4: Implementing Solutions
Day four involved putting activity plans in place to make step change improvements in the six key areas that had been identified. Some of the activities started immediately and some required further communication and development.
Day 5: Communicating Outcomes and Sustainment Planning
Throughout the event the team had formally communicated with the Team Leaders and Directors at the AFRC with updates on a daily basis. On the final day, with everyone in attendance, a wrap up presentation took place to summarise the outcomes from the event, and an outline of the next steps. The team achieved some potentially significant step change improvements in just a week.
Thanks to all of our colleagues at AFRC for making this a memorable Rapid Improvement Event, with excellent participation, enthusiasm and a passion to make improvements.