Continuous Improvement blog

Katacon 2018 – A Reflection Part 2 – The Kata Dojo, Kata Improvement and Kata Coaching
Key Learning - The Kata Dojo
The idea behind Kata Dojo is that it is a physical place that you set up to practice Kata, a bit like the training pitch attached to the big football stadium.
I am a great believer in "learning by doing" and during the conference, we got the chance to practice being the improver and coach in specific situations. Key Learnings for me from this session were:
Always fall back on the five Kata coaching questions:
What is the Target Condition?
What is the Actual Condition now?
What obstacles are preventing you from reaching the target condition and which one are you addressing now?
What is your Next Step and what do you expect?
When can we go and see what we have learned from taking that step?
Use open questions rather than closed questions
There are some good follow up questions to ask the improver - What does this mean in terms of data? - Could you show me how you determined the data?
Practice different scenarios to improve your coaching • Hear the different parts of the improvers answer, reflect, and then react to the part that will give the improver the biggest benefit
Get actual data by zooming in, by limiting the time scale and amount of data being reviewed
Key Learning - Kata Improvement and Kata Coaching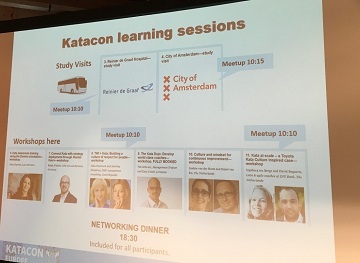 Kata involves scientific thinking patterns and techniques of deliberate, practice. To put in place Kata successfully there needs to be an improver, a coach, and a second coach. The second coach's primary role is to support the coach to become more effective with each coaching cycle.
Kata focuses on the coach helping the improver to get to the target condition.
One thought that I particularly picked up on, was the idea that the coach giving different feedback on different aspects of performance every day does not improve the improver's ability.
The coach should identify "fields of learning" and train on these specifically. i.e. what are the few things if done that well could have a major impact to help the improver reach their target condition?
Another important learning was the idea that the coach should challenge the improver to solve a problem. Solving a new problem helps the improver realise that they will have to invest some time in new thinking before they will be able to solve the problem that they have not solved before. A bit like asking someone to juggle three balls at the same time, when they have no experience of juggling.
In conclusion, there has been a lot to take back from this excellent conference. Now it is time to share some of these ideas and put them into practice in the University of Strathclyde.