Over the last few months, I have been in discussions with Pat Browne (University of Aberdeen), Lorna Prince (University of Stirling) and my colleague Graham Ross (University of Strathclyde) about developing and delivering a collaborative Lean for Leaders development programme.
The initial idea emerged from a dinner discussion that Lorna, Pat and I had whilst attending the Lean in Higher Education Conference held at the University of Waterloo, Canada in September 2015. We had earlier presented a joint delivery of a plenary session on our respective approaches to Lean in our universities at the conference and the conversation during dinner quickly moved on to how we could extend this collaboration further.
As fellow members of the Scottish Higher Education Improvement Network, we felt that we should lead by example to promote the benefits of sharing expertise and collaboration.
Delivering the Programme
This exciting and innovative collaboration became a reality on 1st March 2016, when Graham, Lorna, Pat and I jointly delivered a two-day Lean for Leaders programme, held within the Stirling Court Hotel at the University of Stirling. 4 delegates from Aberdeen, 6 from Stirling and 5 from Strathclyde participated in the programme.
During the two days we covered the following topics:
What is Lean?
5 Lean Principles
8 Wastes in Higher Education
Pull & Flow
Value and the Value Stream
Striving for Perfection
Current Higher Education Environment & Context
Different approaches to Lean in Higher Education in the UK
Measuring and Evidencing the Benefits of Lean/Business Process Improvement
Tools & Techniques (including Communications Cells, Standard Work, Creative Problem Solving, Process Mapping, 5S and Visual Management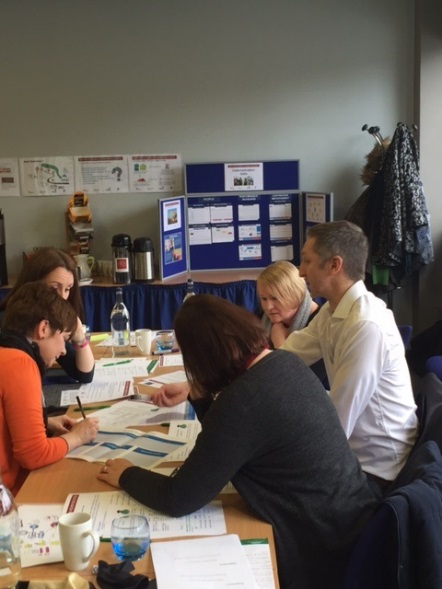 Highlights
The two days were a mix of presentations, group exercises and activities with excellent engagement and enthusiasm from the participants. We also wanted the training room to evolve as the days progressed so that participants could visualise their learning as lean leaders.
One of the many highlights for me was the 'Teach Back' session at the end of day one. We gave each of the three groups the task of presenting back to the trainers one thing that they had learned that day in a way that demonstrated a good level of understanding, but also in a creative and innovative way. The groups chose:
What is Lean?
Create Flow
Employee Talent
Each group decided to act out a scene to demonstrate their learning. This was highly entertaining for everyone, but for the trainers, it was also extremely pleasing as each of the groups exhibited an excellent level of understanding of the subject matter.
At the end of day two, we discussed potential projects that each participant will undertake as part of the Lean for Leaders Programme. There were some great ideas for projects and Pat, Graham and I look forward to mentoring the participants in the coming months as they progress to undertaking and delivering projects with evidenced benefits.
I would like to thank colleagues at the University of Stirling for being fantastic hosts for this event and I hope it's the first of many such collaborations.