Continuous Improvement blog

WPM Education Annual User Conference
Last week I had the pleasure of presenting at the WPM Education Annual User Conference 2016, which took place in the wonderful surroundings of Celtic Manor Resort in Wales.
WPM are process specialists and payment experts within the higher and further education sectors. In the Higher Education sector over 100 universities and other institutions all over the UK are using their systems to transform their efficiency in taking secure online payments from students, for everything from accommodation fees to library fines.
My presentation was titled "Efficient Universities? We Need More Evidence", which provided delegates with an overview of the financial challenges facing the sector and the current efficiencies agenda within Higher and Further Education across the UK. The presentation also highlighted the need for more evidence of the efficiency gains that HE and FE institutions were achieving through the successful delivery of their change projects, including IT Systems, Estates, Finance and Business Process Improvement projects.
A large part of my presentation was focused on the University of Strathclyde's Business Improvement Team's "Guide to Evidencing the Benefits of BPI in Higher Education", with examples of projects where this approach has helped to evidence the impact of transformational change projects in the University.
The majority of the delegates are currently using or are about to start using the WPM online payment platform. My challenge to them was that they need to evidence the impact that this has had. Whether it be increased revenue or improved student experience, they need to have the baseline data to be able to demonstrate the impact.
As well as presenting at the conference, I attended a number of other presentations and workshops, which opened my eyes to all of the activity that takes place in the area of online payments and the benefits to institutions in terms of efficiencies, increased revenue and improved customer satisfaction.
One of the highlights of the conference was the motivational session delivered by Sir Clive Woodward. Probably best known for being the head coach of England's Rugby Union World Cup winning team in 2003, Sir Clive provided delegates with an excellent insight on his 4 step approach to success:
1. Capture – Capture Information
2. Connect – Share with others/Turn into knowledge
3. Practice – Find & execute practices that build key skills
4. Perfect – Measure and Benchmark
A personal highlight for me was getting the opportunity to speak and have my photo taken with Sir Clive.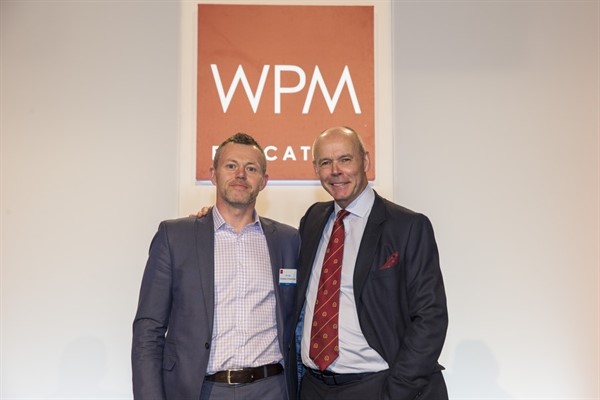 As with all conferences that I have attended, I valued the time to make new contacts with colleagues from other universities and organisations. This provides an opportunity to share experiences and get a better understanding of the challenges we are facing and potential opportunities.
Finally, I would like to thank Holger Bollmann and his team at WPM Education for inviting me to present and for their support and hospitality throughout.
Images courtesy of © Mark Hawkins / Composed Images http://www.composedimages.co.uk