Why this course?
As a teacher of chemistry you'll transform your existing knowledge of how matter works into a format which can be understood by, and spark the interest of secondary school pupils. You'll also train to teach general science, comprising of physics, biology and chemistry, to lower school pupils.
One of the highlights of the course for many student teachers is attending the residential Scottish Universities' Science School (SUSS) where you will meet the student teachers of science from the other Scottish Universities. SUSS offers an excellent opportunity to begin networking with other future science teachers.
Worldwide qualification
This course is a professional training course which qualifies you to teach secondary education. The qualification is recognised throughout the world and is regulated by :
the General Teaching Council for Scotland (GTCS)
the Scottish Government
What you'll learn
While on campus you will attend two general teaching modules:
Educational Perspectives & Policies (EPP)
Principles, Policies & Practice (PPP)
Educational Perspectives and Policies will develop your understanding of educational issues in a broader intellectual context while Principles and Policy in Practice is the companion module to Educational Perspective and Policies. It shares a focus on critical professional engagement informed by educational research and theory. Tutorials for both classes provide the opportunity to work with students from different subjects and from within the primary sector.
The course builds confidence in students to allow them to perform to their full potential by equipping them with the theoretical knowledge and practical skills they require.
Subject specific classes are known as Creative Contexts for Learning (CCL). Here, you'll learn about pedagogical approaches specific to chemistry with a highly experienced tutor.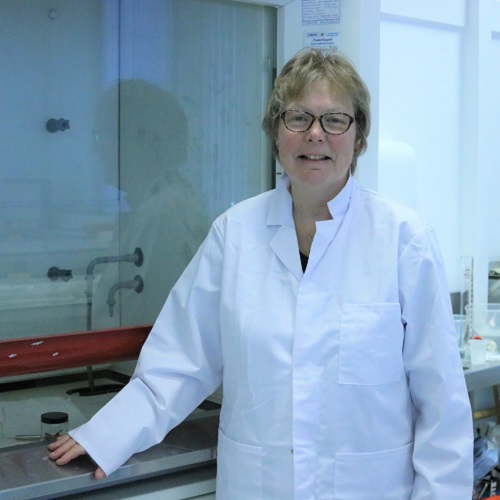 "I've worked with hundreds of successful student chemistry teachers and thousands of school pupils before that. Most of them have taught ME a great deal! My sustained impact in chemistry education led to my award of a Fellowship of the Royal Society of Chemistry." Jane Essex, Course Leader
The course also has links with several leading professionals in the world of chemistry teaching, who deliver school related aspects for the course. This time is used to familiarise you with the curriculum, allow you to collaborate with students and begin to plan lessons, develop materials, teach mini-lessons and to learn innovative and motivating ways to deliver the curriculum effectively.
All science teachers in Scotland have a specialist science teacher qualification in physics, chemistry or biology. They are also qualified to teach general science in first, second and third year in schools. In addition to learning about the pedagogy of teaching physics, chemistry or biology, student teachers of science also have an additional twenty hours of study to learn how to teach general science. This component is taught in mixed groups of physics, chemistry and biology student teachers to allow students to learn from one another and to simulate working in a school science department or faculty. The general science component is taught by a combination of experienced science teacher educators and seconded teachers.
In addition, the general science component draws on the expertise of science educators from the Glasgow Science Centre and includes a visit to the Centre or other suitable sites to consider out-of-classroom learning in science. The general science component of the specialist PGDE science courses makes it easy for qualified teachers to find employment as teachers outside Scotland.
You'll also complete a Professional Specialism (PS) module which can be self-directed or comprised of on-campus classes which aims to allow you to develop your knowledge in an educational area of particular interest.
Placement
You'll spend 18 weeks of the course on placement in a school within Scotland. You'll be continually assessed while there to show you meet the requirements for the Standards for Provisional Registration.
You must attend your placement school throughout the full working day. You must also attend school on staff in-service days, unless told otherwise by your school.
Placement is your chance to put what you're learning into practice. You'll explore your own teaching style, learn new techniques and develop relationships with your pupils.
You must keep a portfolio of progress while on placement. This placement file will form part of the evidence of your meeting the Standards for Provisional registration and prepares you for the continuation of professional development during your professional teaching career.
Guaranteed employment for Scottish & EU students
If you're a Scottish or EU student, you're guaranteed a job for one year in a Scottish school after you graduate. This is part of the GTCS Teacher Induction Scheme.
Following graduation you should contact the GTCS for provisional registration. Once you complete your probationary year, you'll be awarded full registration.
Work anywhere in Scotland
As a newly qualified teacher, you can receive an additional £8,000 under the Preference Waiver Scheme if you agree to work anywhere in Scotland for your induction scheme.