Chemical Engineering (MEng)

Ben Paterson
After taking part in our Scottish Space School during fifth year at school, Ben chose to study Chemical Engineering with us. Here he tells us what his first year of university has been like...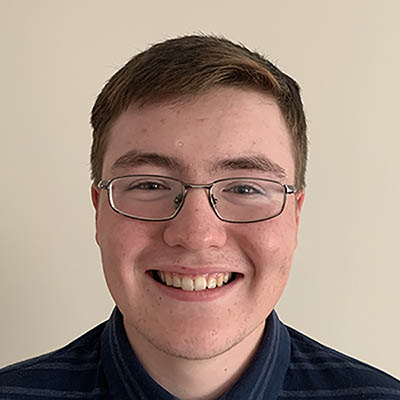 Why Strathclyde
When I was in my fifth year of high school I attended Strathclyde's Scottish Space School programme and stayed on campus for a week to learn more about the study and career opportunities available in Engineering. It was a once in a lifetime experience that I will never forget. It opened my eyes to what I could do with an engineering degree and the different types of engineering that exist.
I loved the campus and it was right in the middle of the city centre, so I thought it would be really handy. I also found out that Strathclyde is the best university in Scotland for engineering, which convinced me to apply for Strathclyde.
I always loved maths, chemistry and physics at school and the course is predominantly based on these subjects, so I find it really interesting as a result. The lecturers are so supportive and the students are friendly as well. The course is challenging but fun at the same time. I never get bored of it!
Online learning
At first, I struggled with online learning because it was something I had never done before and it was hard trying to find a plan for what I was going to do each day, but I quickly got used to it. I personally find it straightforward because I can take my time with copying down lecture notes unlike being in a lecture hall, where I would have to rush taking notes.
I have found it easy to ask my lecturers for help because all I have to do is email them with any questions that I have, or I could ask them in a Zoom session. I have also enjoyed being able to be flexible with my work because I can choose when to do everything instead of being forced to do things in a certain order by a certain time.
Staying connected
I have a course group chat where me and my course mates are able to ask each other for help with certain parts of the course as well as just getting to know each other. I am also able to communicate with my course mates individually on social media, and I am able to contact my lecturers via email or in Zoom lectures/tutorials whenever I have a problem.
There is support available for students, and I am aware of the Disability and Wellbeing Services as well as the Maths Skills Support Centre. I have used the Disability and Wellbeing Services and I have found them very useful.
Studying from home
I have undertaken my studies from home. I have had mixed feelings about this, I have saved a lot of money because I don't need to travel to campus every day, but I have also felt lonely sometimes because I am missing out on the social aspect of university as I am not in student halls.
Looking ahead
I want to graduate from Strathclyde and pursuit a career in chemical engineering, Strathclyde offer a lot of careers support services so I think they will be very useful when it comes to helping me achieve my goals.
My time at Strathclyde has been amazing so far despite the current circumstances, I would definitely recommend applying to Strathclyde if you are thinking of going to university!
Student support
We're here to support and help you throughout your time at Strathclyde. All of our services are available to all students.