Key facts
UCAS Code: 0BRT

Become a registered Strathclyde student

Options for paid summer placements
Study with us
provides a supportive transition to university study
choose from three seperate HNC programmes
take an enhanced HNC programme in your first year at one of our partner colleges
guaranteed progression into second year of selected programmes upon satisfactory performance
access to Engineering Academy Scholarships
Back to course
Why this course?
The Engineering Academy is a unique access route into university and employment. It is a collaboration between the University of Strathclyde, partner colleges and industry which will deliver a pathway to a range of engineering degrees in the University's leading Faculty of Engineering.
As a student in the Engineering Academy, you will be a registered student of the University of Strathclyde with access to all of the facilities. In year one, you will study an enhanced HNC qualification with one of our partner colleges and also attend the University of Strathclyde to develop your academic and practical engineering skills. In subsequent years, the Engineering Academy offers opportunities for paid summer work placements with our industry partners.
As part of the University's outreach objective, the Academy was established to increase widening access participation by delivering various pathways to a range of engineering degrees in our leading Faculty of Engineering.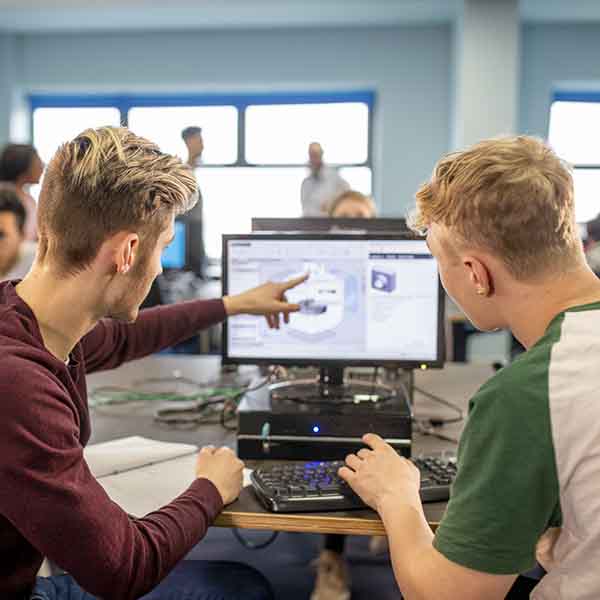 How the Academy works?
Your first year is taken as an enhanced HNC programme at one of the partner colleges, together with practical skills units and departmental activities which take place at Strathclyde. Students who complete the enhanced HNC award, gain an A in the Graded Unit and engage with Strathclyde activities are guaranteed direct progression into one of our undergraduate degree programmes:
HNC Chemical Engineering allows you to progress to Year 2 of the BEng Hons Chemical Engineering degree
HNC Electronics allows you to progress to Year 2 of the BEng Hons Electronic & Electrical Engineering degree
HNC General Engineering allows you to progress to Year 1 of the BEng Hons Biomedical Engineering degree and Year 2 of the following degrees:

BEng Hons Civil Engineering
BEng Hons Civil and Environmental Engineering
BEng Hons Product Design Engineering
BEng Hons Manufacturing Engineering with Management
BEng Hons Sports Design Engineering
BSc Hons Product Design and Innovation
BEng Hons Mechanical Engineering
BEng Hons Naval Architecture and Marine Engineering
BEng Hons Naval Architecture with High Performance Marine Vehicles
BEng Hons Naval Architecture with Ocean Engineering
For the Electronics and General Engineering programmes, you'll also attend the University of Strathclyde in year one to undertake a practical engineering skills qualification.
Check out our FAQs
Partner colleges
We currently work in partnership with seven colleges:
The course you're planning to study at Strathclyde will determine what college partners you're able to study at in your first year.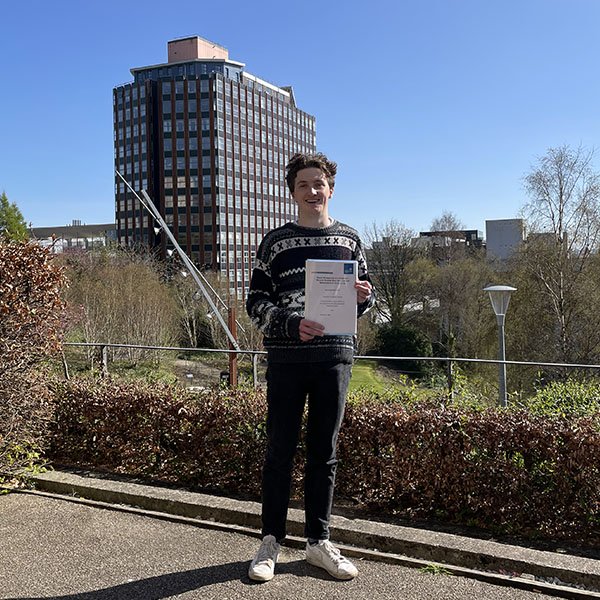 While the course begins in college in first year, the link to Strathclyde is strong right from the beginning. You are still registered as a Strathclyde student and all Strathclyde facilities are available for use and special classes are arranged with the engineering academy representative to ensure fundamental skills such as maths and programming are up to scratch.
Alex Paterson
Industry sponsorship & placements
A wide range of employers across Scotland and further afield have partnered with the Engineering Academy to provide sponsorships and summer work placements. This will allow you to put the theory you learn into practice and get hands-on industrial experience.
The placements take place during the summer break between Years 2 and 3 and 3 and 4. The continuous contact with your sponsor company ensures you have an enhanced CV, giving you an extra edge in today's competitive job market.
Key benefits
As an Engineering Academy student you'll:
be a registered student of the University of Strathclyde while you're completing year 1 in college
become familiar with University life
have access to an academic counsellor at Strathclyde
have electronic access to the University's Virtual Learning Environment
be given your own Strathclyde email address and login
be able to join Strathclyde Sport
have full access to the University Library
gain student membership of the University of Strathclyde Students' Union
be eligible to apply for accommodation on the University of Strathclyde campus
In addition, you'll have opportunities to apply for:
financial support from year 2 onwards via company sponsorships
specific mentoring and professional development with a sponsoring company
paid summer placements, allowing you to put your theory into practice, between year 2 and 3, and year 3 and 4
Back to course
Entry requirements
Required subjects are shown in brackets.
Highers

(Including Maths and Physics/ Engineering Science at B. For entry to Chemical Engineering, Higher Physics is not required but Higher Maths and Higher Chemistry at B are required, and for entry to Biomedical Engineering, Higher Biology or Human Biology at B is also required.)

(Including Maths and Physics/ Engineering Science at B. For entry to Chemical Engineering, Higher Physics is not required but Higher Maths and Higher Chemistry at B are required, and for entry to Biomedical Engineering, Higher Biology or Human Biology at B is also required.)

English language requirements

If English is not your first language, please visit our English language requirements page for full details of the requirements in place before making your application.
Additional information
Deferred entry is accepted
Access qualifications are also considered
SQA Higher Applications of Mathematics is not accepted instead of Higher Mathematics
Foundation Apprenticeship will be accepted as one of the non-mandatory Highers
Frequently asked questions
What are the minimum entry requirements?
We typically ask for three Highers at Grade B and one at Grade C and these must include Maths and Physics/Engineering Science at B. For entry to Chemical Engineering, Higher Physics is not required but Higher Maths and Higher Chemistry at B are required, and for entry to Biomedical Engineering, Higher Biology or Human Biology at B is also required.
*Standard entry requirements
Offers are made in accordance with specified entry requirements although admission to undergraduate programmes is considered on a competitive basis and entry requirements stated are normally the minimum level required for entry.
Whilst offers are made primarily on the basis of an applicant meeting or exceeding the stated entry criteria, admission to the University is granted on the basis of merit, and the potential to succeed. As such, a range of information is considered in determining suitability.
In exceptional cases, where an applicant does not meet the competitive entry standard, evidence may be sought in the personal statement or reference to account for performance which was affected by exceptional circumstances, and which in the view of the judgement of the selector would give confidence that the applicant is capable of completing the programme of study successfully.
**Minimum entry requirements
Glasgow is Scotland's biggest & most cosmopolitan city
Our campus is based right in the very heart of Glasgow. We're in the city centre, next to the Merchant City, both of which are great locations for sightseeing, shopping and socialising alongside your studies.
Life in Glasgow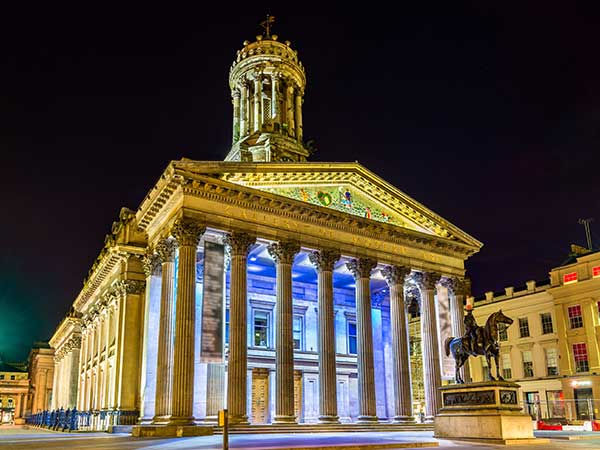 Back to course
Fees & funding
Fees may be subject to updates to maintain accuracy. Tuition fees will be notified in your offer letter.
All fees are in £ sterling, unless otherwise stated, and may be subject to revision.
Annual revision of fees
Students on programmes of study of more than one year should be aware that tuition fees are revised annually and may increase in subsequent years of study. Annual increases will generally reflect UK inflation rates and increases to programme delivery costs.
Go back
Scotland

2023/24: £1,820
2022/23: £1,820

Fees for students who meet the relevant residence requirements in Scotland are subject to confirmation by the Scottish Funding Council. Scottish undergraduate students undertaking an exchange for a semester/year will continue to pay their normal tuition fees at Strathclyde and will not be charged fees by the overseas institution.

Available scholarships

We have a wide range of scholarships available. Have a look at our scholarship search to find a scholarship.

Additional costs

Course materials & costs

The department provides a service whereby printed notes are available to the students subject to a small charge to cover copying costs. Students are recommended/required to have copies of such notes but we provide access to both printed copies and e-copies. The latter are provided without charge – in accordance with University policy. Any printed material that is mandatory (in that form) is provided without additional charge to the students.

In relation to mandatory books for modules, the requirement is for access and reading rather than purchase specifically. It's expected that students will, as part of their course, read around the subjects and consult text books.

EEE programmes have a degree of practical and project work that will require the use of consumables/components – again the cost of these are met by the department. Indeed it's made explicitly clear during the project work that students are not expected to purchase parts etc. for their project work.

We would envisage that typical expenditure by a student on course related materials to be around £30 for course notes. We also provide within our labs a quota for printing; over and above University provision. This expenditure is not mandatory. The other costs incurred with regard to books depends upon student preferences.

Placements & field trips

The department and student societies support a number of industrial visits throughout the year. These trips are not mandatory for specific programmes and modules and any incurred charge to cover transport is either met by the students or by the department.

Study abroad

Study abroad is possible in Years 3 to 5 but is only compulsory (in year 4) for the "with International Study" degree programmes. Students will bear some of the cost of this which will vary depending on country of study. (Support from SAAS and Erasmus may be available).

Other costs

Students are not required to purchase any specific software licenses – all software used is available on campus machines, either locally or remotely.

All undergraduates and PGI students are provided for the duration of their course with student-membership of IET (Professional Body) paid for by the department.

Some hardware (micro controllers, design boards) may be made available to students for loan subject to appropriate refundable deposit. Students may consider purchase of low cost microcontroller boards for 3rd year and beyond project work - cost from £10-£30.

Access to EEE Computer labs out of working hours is via card access - card cost is £20 - refundable on return of card.

Students are provided with an additional print-quota for use in EEE labs for EEE classes conducted in EEE computer labs. (Paid top-ups possible via University IT services).

Expected printing and report binding costs are around £15-£20 a year - will depend upon exact programme and class assignments. Binding is provided at cost (50p to £1.00) by EEE Resource Centre in R4.01.
Find out more about applying
Applying for the Engineering Academy couldn't be easier. Read our frequently asked questions to find out more.
Check out our FAQs
How can I fund my studies?
Back to course
Careers
Engineering Academy graduates have gone on to a wide variety of roles including:
Product Management Executive
Global Supply Chain Engineer
Offshore Project Engineer
Graduate Scheme Engineer
Design Engineer business owner
PhD study