Key facts
UCAS Code: CX63

Work placement: school/work placement in Year 3

International experience: partner institutions in Europe, the USA, Canada or New Zealand
Study with us
develop the knowledge and skills to make a positive impact on health and physical activity in a wide range of settings
opportunities to get involved in cutting-edge, internationally-recognised research with access to human performance and body composition labs on campus
learn from top sporting coaches about their methods
Studying at East Carolina University for my third year was an incredible experience. Other highlights during my course have been going on school placement and being involved in many extra-curricular activities.
Robbie Paterson, BSc (Hons) Sport and Physical Activity
Back to course
Why this course?
This is a very topical area of study, with health concerns related to physical inactivity a growing cause for concern. With a broad range of physical activity and sport topics from which to study, we equip you with the knowledge and skills to make a positive impact in this field.
This course is delivered by staff from our Physical Activity for Health group, which has an international reputation for research, teaching and knowledge exchange in physical activity, nutrition and childhood obesity.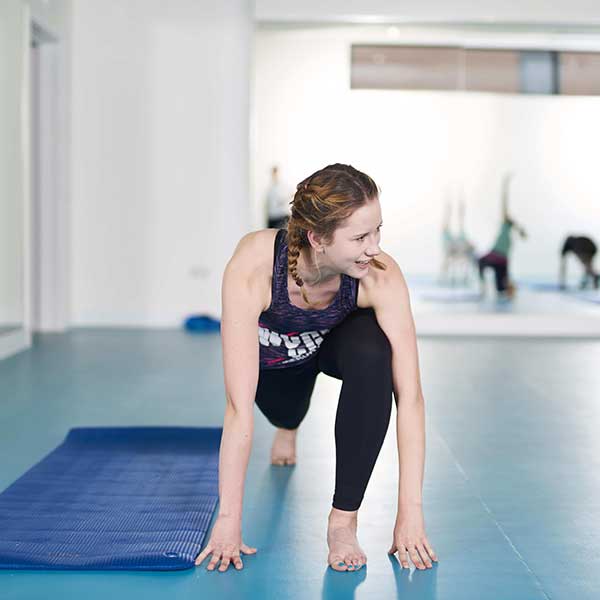 What you'll study
The first two years cover core elements of sports and physical activity, including:
Physical activity for health
Sport and physical activity psychology
Coaching and sports development
Physiology
Nutrition
Sociology in sport and physical activity
Research methods for sport and physical activity
Practical work includes:
volleyball
football
athletics
dance and health-related fitness
In years three and four, a research project leading to a dissertation is a key component of the course and students can choose from optional classes including physical activity for specialist populations, data analytics, physical education, biomechanics, sports injury, psychology and nutrition.
Increasingly through the programme, students will be expected to undertake self-study, to read around subjects and improve their writing, presentation, and research skills. The programme promotes not only academic learning and practical capability but also transferable skills and personal and professional development.
Work placement
In later years, students undertake a placement which will be spent in one or more professional settings, e.g. in a local authority facility, sports club, or sporting agency. Research methods begun in second year are developed and students may take an elective class from a wide range of options available across all University faculties.
Study abroad
We encourage our students to study abroad for a semester or full academic year. We have strong relationships with great universities in Europe and America.
Facilities
You'll have use of our Human Performance & Body Composition laboratories on campus. We also make use of the University's high-quality sports facilities including playing fields which are within easy reach of the campus.
Sport in its Social, Historical & Cultural Context 1
This module introduces you to the study of sport within an academic context. It will develop your understanding of the social, historical and cultural context in which sport has emerged and in so doing will provide you with the ability to contextualise your own sporting experience, and that of others. The module will help you develop a wider understanding of sport outside of your own experience and prepare you to work with others, at all levels, in sport and physical activity environments. Topics include the history of sport, the relationship between sport and politics, and why hostile behaviour is often found in sport.
Foundations of Physical Activity for Health
Physical activity for health is a fast growing field in terms of research and employment, offering significant opportunities for influencing people and policy worldwide. This module provides an introduction to the academic study of physical activity and health. You'll cover topics such as health promotion, public health, epidemiology, and socioecological approaches to physical activity and health.
Foundations of Sport & Physical Activity Psychology
This module introduces students to the core psychological principles of sport and physical activity. You'll develop an understanding of the key psychological issues individuals encounter in sport and physical activity contexts, including self-efficacy and motivation. You'll also develop an understanding of behaviour change theories and discuss current issues in sport and physical activity psychology, including addictive and unhealthy behaviours.
Introduction to Human Physiology and Nutrition
This module introduces you to the key fundamental concepts required for understanding human anatomy, physiology and nutrition. By exploring the structures and functions of key organ systems of the human body, it provides the basis for further development of knowledge, understanding and application of physiology and nutrition as it relates to physical activity.
Introduction to Research in Sport and Physical Activity
This module provides you with an introduction to carrying out research in sport and physical activity. You'll learn about the research process, the different types of research that are conducted in the area, and how you can use academic literature effectively in your work. You'll also learn some fundamental skills in using software to analyse data. By the end of the module, you'll also have a strong understanding of research ethics and how we can evaluate the quality of research.
Sports Practice 1
This module is designed to provide students with experience of a range of practical sporting activities, especially those that are commonly found in Primary and Secondary Schools in Scotland. As well as practical engagement, you will also develop your understanding of coaching strategies, methods of delivery, and group management and safety. You'll also learn about approaches to performance evaluation and resource management within applied sporting contexts.
Coaching Practice & Sport Development
In this module you'll build on your coaching knowledge and experience, learning more about national and international perspectives and their impact on local practice in Scotland. There will be a focus on increasing participation rates, as well as enhancing performance.
By the end of the module you will have a strong understanding of sports policy and planning in the UK and specifically to Scotland. Your own skills and expertise in coaching will have been extended, and you'll be able to engage fully in the discussion around coaching for performance and coaching for participation.
Physical Activity for Health, Fitness & Wellbeing
The purpose of this module is to increase your understanding of the importance of physical fitness to health, and why and how to assess and improve the components of health-related physical fitness (for example body composition, muscular strength & endurance, flexibility and cardiovascular fitness). You'll gain practical experience of assessing the components of health-related physical fitness, which are valuable skills for future careers in this field.
Key Concepts in Sport & Physical Activity Psychology
This is the second module in the degree that explores the relationship between psychology, sport and physical activity. In this module, you'll learn how psychological concepts can be applied to support athletic performance, and to increase the physical activity levels of everyone, not just athletes. You'll learn about goal-setting, self-talk and imagery, and by the end of the module you'll understand how psychologists work to improve performance in sport. You'll be able to refer to current research to support psychological interventions in sport, and show a good understanding of the ethical issues involved in such interventions.
Physiology of Aerobic Exercise
In this module you'll learn about the physiological responses that occur following endurance training and how to evaluate different testing procedures for assessing maximal aerobic capacity and lactate threshold. You'll be able to describe the principles of endurance training and identify potential causes of fatigue during prolonged exercise. The module will help you better understand key concepts relating to exercise physiology relating specifically to aerobic exercise.
Sports Practice 2
Building on the skills and knowledge introduced in the Year 1 Sports Practice module, you'll continue to engage in a range of different practical sports activities and extend your knowledge of the nature of the coaching process and the relationships between physical education and sport.
Placement & Professional Development
This module provides you with an opportunity to gain practical, work-based experience in an area of sport and/or physical activity that is professionally relevant to you. You can complete your placement at a range of different agencies including sports clubs, local authority facilities, private companies and so on. By the end of the module you'll understand the major managerial policies and describe the established management structure within your placement agency and evaluate and critically discuss the placement and university experience with regards to your personal and professional self-development.
Data analytics in Sport Physical Activity & Health
This module is designed to teach you how to confidently handle the large and unstructured data sets that are increasingly common in sport and physical activity. You'll gain an understanding of the challenges and complexity of such data, as well as develop a basic set of technical skills in handling, analysing and presenting large datasets. By the end of the module you'll be able to produce compelling visual representations of the data, and add elements of user interaction to your analysis.
Sports Practice 3
Building on the skills and knowledge introduced in the Years 1 and 2 Sports Practice modules, you'll continue to engage in a range of different practical sports activities and extend your knowledge of the nature of the coaching process and the relationships between physical education and sport.
Advanced Topics in Sport & Exercise Psychology
This module offers you the opportunity to engage in a range of current and multi-disciplinary issues within the area of physical activity with a specific focus on the application of key principles in relevant settings, contexts and populations. It introduces current trends and debates within physical activity and sedentary behaviour, provides you with the opportunity to advise and encourage physical activity behaviour change for individuals and groups, and encourages you to identify, reflect on and address the physical activity needs of specific client groups.
Biomechanics of Human Movement
In this module you'll learn about the kinematics and kinetics of walking, running and jumping. You'll find out how to process and analyse movement data collected during these activities and explore how these techniques can be applied to other forms of sporting movement, like balance and throwing.
Nutrition for Health & Exercise
Through this module you'll develop your knowledge of the fundamental principles of nutrition including nutrient requirements, dietary recommendations, and the functions of selected vitamins and minerals. You'll understand the extent to which the general population and those in sport are following dietary recommendations & meeting their nutrient requirements. You'll also develop your understanding of how to apply this knowledge to improving performance and minimising harm to health in sport.
Dissertation Research Skills
This module supports your work on your dissertation by giving students an opportunity to enhance and extend their research skills, think carefully about ethical aspects of conducting research, and learn more about the relationship between theory and research in sport and physical activity.
Dissertation
The final-year dissertation provides you with the opportunity to develop independent learning skills in the context of a substantial, individualised piece of scientific enquiry. You'll demonstrate an in-depth understanding of your chosen topic and build your technical knowledge of the research process. You'll use a variety of methods of gathering primary and secondary sources of information and demonstrate an ability to critically evaluate a wide range of relevant sources of material. You'll perform a substantial research project from conception of the problem, through design of appropriate methodologies to completion of a final report.
Practical Project in Physical Activity & Sport Development
This module offers a natural progression from the Year Three placement class by encouraging you to demonstrate autonomy and innovation within a placement agency setting. Students are encouraged to draw together learning from the thematic areas of psychology, physiology, sports coaching, sports development, physical activity and health promotion, pedagogy and measurement/evaluation in a single project. The module can be completed in a wide range of placement agencies including community sports clubs, schools, and professional and amateur sports clubs.
Physical Education in Schools
In this module you'll develop your understanding of physical education, building on your primary school placement in year 2. You'll cover relevant topics including physical education curriculum, assessment, and teaching methods. Through practical hands-on experience in school you'll gain practical understanding of current issues in physical education, and of the relationship between sport and physical activity.
Physical Activity with Special Populations
This module gives you the knowledge and skills to work with clients who have special exercise needs. You'll learn about a range of different health conditions and how physical activity can be an effective strategy for prevention or treatment of these conditions. You'll gain a thorough understanding of the research literature in this area, and gain confidence in selecting appropriate exercise interventions.
Sports Injury & Rehabilitation
This module provides scientific underpinning of sports injury, with a particular focus on the equipment designed to prevent injury and the principles of rehabilitation once an injury has occurred. You'll learn the epidemiology and mechanisms of sports injuries to understand how to optimise prevention and rehabilitation.
Assessment
Our assessment methods include:
exams (multiple-choice, short-answer and long-answer questions)
assignments, including essays and practical reports
presentations
Learning & teaching
Our teaching methods include:
lectures
small-group tutorials
laboratory sessions
practical sports sessions
placement experience
individual support sessions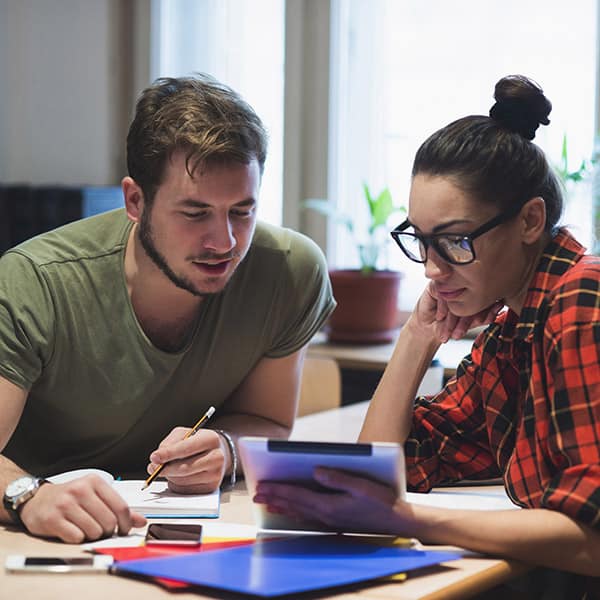 Our Sport and Physical Activity degree provides students with flexibility around future career choices by covering a diverse range of classes focused around both sport and performance and physical activity for health. We pride ourselves on delivering an up to date and evidence-based curriculum whilst allowing students real-word experiences in a range of placement opportunities (e.g., Active Schools, Glasgow Life, Scottish Rugby Union).
Dr Xanne Janssen, Programme Leader, BSc (Hons) Sport & Physical Activity
Glasgow is Scotland's biggest & most cosmopolitan city
Our campus is based right in the very heart of Glasgow. We're in the city centre, next to the Merchant City, both of which are great locations for sightseeing, shopping and socialising alongside your studies.
Life in Glasgow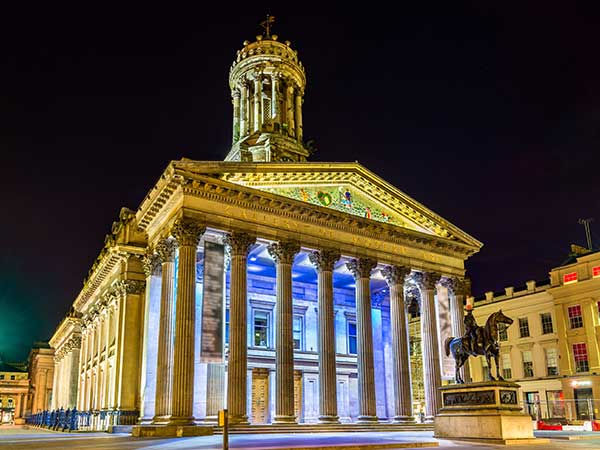 Back to course
Entry requirements
Required subjects are shown in brackets.
Highers

1st sitting: AAAB
2nd sitting: AAABB

(English B, Maths and/or a science at B)

1st sitting: ABBB
2nd sitting: AABC

(including English B or suitable alternative subject; and Maths B or a science B)

A Levels

ABB-BBB

(GCSE English Language 6/B or Literature 6/B or equivalent, GCSE Maths and/or a science (Biology preferred) 6/B)

International Baccalaureate

32-30

HNC

Year 1 entry: relevant HNC (eg Sports Coaching with Development of Sport; Fitness, Health and Exercise; and Applied Sport Science) A in Graded Unit; Higher English B (or equivalent); other courses may be considered on an individual basis

International students

View the entry requirements for your country.
Additional Information
Your personal statement must demonstrate a real commitment to sport and/or physical activity and an enthusiasm for working with others.
*Standard entry requirements
Offers are made in accordance with specified entry requirements although admission to undergraduate programmes is considered on a competitive basis and entry requirements stated are normally the minimum level required for entry.
Whilst offers are made primarily on the basis of an applicant meeting or exceeding the stated entry criteria, admission to the University is granted on the basis of merit, and the potential to succeed. As such, a range of information is considered in determining suitability.
In exceptional cases, where an applicant does not meet the competitive entry standard, evidence may be sought in the personal statement or reference to account for performance which was affected by exceptional circumstances, and which in the view of the judgement of the selector would give confidence that the applicant is capable of completing the programme of study successfully.
**Minimum entry requirements
Widening access
We want to increase opportunities for people from every background. Strathclyde selects our students based on merit, potential and the ability to benefit from the education we offer. We look for more than just your grades. We consider the circumstances of your education and will make lower offers to certain applicants as a result.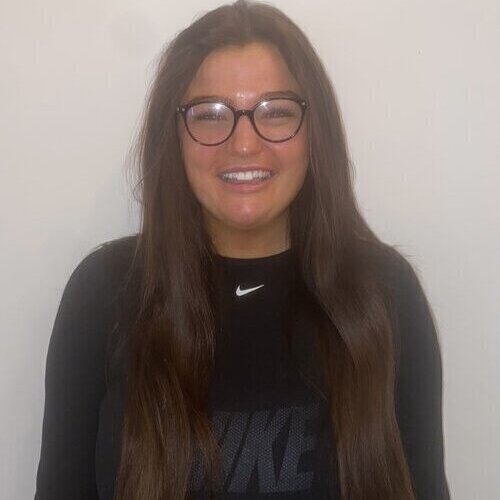 My advice to someone considering to apply for my course would be, DO IT! I'm not even half way through my course yet and I love how diverse and interesting the content is.
Mya Thompson
Chat to a student ambassador
If you want to know more about what it's like to be a Humanities & Social Sciences student at the University of Strathclyde, a selection of our current students are here to help!
Our Unibuddy ambassadors can answer all the questions you might have about courses and studying at Strathclyde, along with offering insight into their experiences of life in Glasgow and Scotland.
Chat to a student ambassador
Back to course
Fees & funding
Fees may be subject to updates to maintain accuracy. Tuition fees will be notified in your offer letter.
All fees are in £ sterling, unless otherwise stated, and may be subject to revision.
Annual revision of fees
Students on programmes of study of more than one year should be aware that tuition fees are revised annually and may increase in subsequent years of study. Annual increases will generally reflect UK inflation rates and increases to programme delivery costs.
Go back
Scotland

2023/24: £1,820
2022/23: £1,820

Fees for students who meet the relevant residence requirements in Scotland are subject to confirmation by the Scottish Funding Council. Scottish undergraduate students undertaking an exchange for a semester/year will continue to pay their normal tuition fees at Strathclyde and will not be charged fees by the overseas institution.

England, Wales & Northern Ireland

£9,250

Assuming no change in RUK fees policy over the period, the total amount payable by undergraduate students will be capped. For students commencing study in 2023-24, this is capped at £27,750 (with the exception of the MPharm and integrated Masters programmes). MPharm students pay £9,250 for each of the four years. Students studying on integrated Masters degree programmes pay an additional £9,250 for the Masters year with the exception of those undertaking a full-year industrial placement where a separate placement fee will apply.

International

£19,900

University preparation programme fees

International students can find out more about the costs and payments of studying a university preparation programme at the University of Strathclyde International Study Centre.

Additional costs

PVG scheme (Protection of Vulnerable Groups):

Students must pay for the PVG Scheme. Students who require a new PVG certificate will pay £59. If you have an existing PVG and need to add Strathclyde, the cost is £18.

Other course costs:

Strathclyde University t-shirt (approx £18.00). Additional kit optional.

Placements & field trips:

Travel to external sporting facilities for 3 classes; Travel to placement for 3 classes (cost for these are highly variable depending on where the student lives and where placement takes place)

International students:

International students may have associated visa and immigration costs. Please see student visa guidance for more information.

Available scholarships

Take a look at our scholarships search for funding opportunities.
Please note: All fees quoted are for full-time courses and per academic year unless stated otherwise. Find out more about fees.
How can I fund my studies?
Dean's International Excellence Award 2023/24
This scholarship offers full-time international students s £3,500 per year for the duration of their undergraduate degree.
Find out how to apply
Go back
International Students
We have a number of scholarships available to international students. Take a look at our scholarship search to find out more.
Back to course
Careers
Graduates are employed in areas such as coaching, health promotion and sport development, which may require additional postgraduate training.
Some choose to study postgraduate qualifications, which can lead to careers teaching in further or higher education, or careers in research.
The Sport & Physical Activity degree is also an excellent route into PE teaching, and the University runs a very successful postgraduate qualification (PGDE) as an entry to the teaching profession.
Have you considered?
We've a range of courses similar to this one which may also be of interest.