Making News in India
Real-time research at Strathclyde - just one of the many benefits MSc student Varadharajan Venkatesh experienced during his time at the University.
Providing an outstanding student experience is a key objective of the University, and it recently received an international seal of approval from one of its postgraduate Indian students.
Writing in The Hindu (Education Plus) of India, Varadharajan said:
After completing my bachelor's programme in engineering from Anna University, Chennai, and working for a year to gain some experience, I decided I wanted to have a career in the power sector. I started searching for universities abroad that would give me the right international exposure and platform to achieve my career ambitions. The Department of Electronic and Electrical Engineering at the University of Strathclyde in Glasgow was my choice. It offered the right selection of modules that I wanted to undertake for my MSc and handled my application efficiently.
"The University, itself, is located right in the heart of the city with a state of the art campus mixed with public and private city buildings, offices and shops. Glasgow is a wonderful city and a perfect destination for any student who wants to travel abroad. It was not just the people in the city but also the staff and faculty at the university who gave me a very warm welcome. To add to this the diversity of the international student population was extensive. The experience of working with students from different continents of the world is great.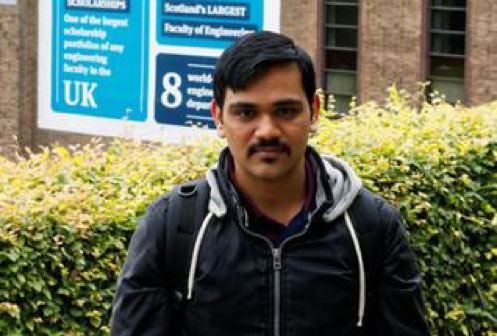 "The focus on learning at Strathclyde was on the ability to apply the theory learnt in the classroom. Assignments and course work encouraged students to think critically and innovate - we were required to write these not simply as academic reports but ones that could be submitted to professionals in the industry.
"The university has extensive links with the engineering world and classroom sessions were centred on current industrial trends and the latest developments. Students had the opportunity to visit the Power Networks Demonstration Centre (PNDC). It was an amazing experience, giving us insight into the development of power systems, hardware components in real-time and the research into the next generation of power networks."
University life is, of course, not just about studying. It is about gaining new experiences, meeting new people and getting involved in new things. Varadharajan went on to explain how he was actively involved in a number of different social, sporting and extra-curricular activities.
He continued:
There were clubs and societies such as 'Engineers without Borders' where students could meet up and discuss topics such as developing solutions for people struggling in developing countries. It was exciting to be able to participate, discuss and share ideas to bring about innovation. And it was not always about academic topics. There were many international societies which give an insight into various cultures from around the world - I was part of the Indian-Sri Lankan Society, and we organised events throughout the year.
"Glasgow is a place with a flourishing culture and a cosmopolitan atmosphere, with the added benefit of the magnificent Scottish Highlands within easy access of the city. For students, there is plenty of city centre student accommodation and this makes Glasgow an affordable place to live in. The local people are lively, cheerful and welcoming and always greet you with a warm friendly smile every day. In my opinion, Glasgow is an ideal international student destination."
Varadharajan graduated from Strathclyde on 11 November, with his MSc Electrical Power Engineering with Business with Merit