Naval Architecture, Ocean & Marine Engineering

A DAY IN THE LIFE WEBINARS: Celebrating International Women's Day on 8th March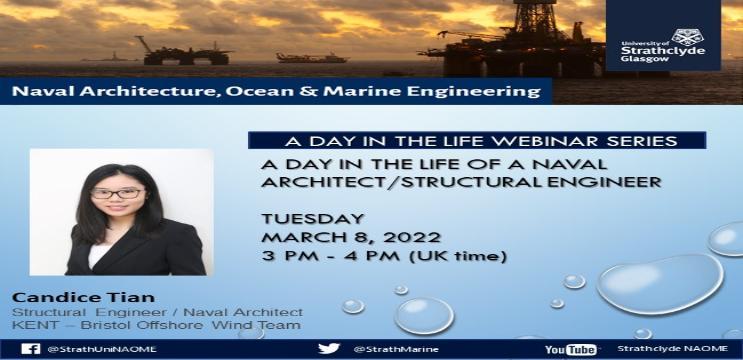 We are pleased to invite you to our upcoming NAOME A DAY IN THE LIFE WEBINAR on Tuesday 8 March to celebrate International Women's Day.
Topic: A day in the life of a Naval Architect/ Structural Engineer
Speaker: Candice Tian
Event Date: Tuesday 8 March, 2022
Event Time: 3:00-4:00 (UK Time)
Location: Online
Candice Tian graduated from University of Strathclyde in 2014 with a BEng in Naval Architecture with Ocean Engineering. She is currently working as a Structural Engineer/Naval Architect with Kent's Bristol offshore wind team. She has involved in many offshore wind fixed and floating wind projects, such as jacket substation platform design for Beatrice Offshore Wind Farm, primary connection design for Triton Knoll Wind Farm and secondary steel design for a TP-less monopile design. Candice is currently leading the grouted connection design package for a French wind farm. Alongside technical and project delivery roles, Candice is also the Resource Lead and Deputy Team Lead for the Bristol team. She supports the Team lead in terms of operational management, resourcing, recruitment and development of 28 engineers working in the design and integrity management of offshore wind structures.
Please get in touch if you would like to be part of NAOME A day in the life Webinar series.
Contact: Dr. Selda Oterkus
Email: selda.oterkus@strath.ac.uk
We celebrate and promote the excellent teaching and research work carried out by women in NAOME to encourage a supportive, inclusive, equal and diverse culture. Please meet our female role models in NAOME to recognise their excellent achievements:
https://www.strath.ac.uk/engineering/navalarchitectureoceanmarineengineering/athenaswan/womeninnaome/