As a department, we're over 100 years old. In that time, we've become a key provider of Marine Technology expertise throughout the UK, and the world.
We're building on Glasgow's rich heritage of naval architecture and shipbuilding. That's why we provide first class graduates and research for the maritime, oil & gas and offshore renewables industries across the world.
What we do
Our research supports industry and society in useful and innovative ways. Over the last twenty years we have made a major contribution to the safety of ships around the world through our pioneering work in the stability of damaged ships. We're currently researching a wide range of challenges from reducing carbon emissions from shipping to developing new types of floating wind turbines and new tools for modelling fluid loads on floating structures.
Our staff are internationally recognised for their expertise. We've state-of-the-art facilities, which includes the largest towing/wave tank of any UK academic institution.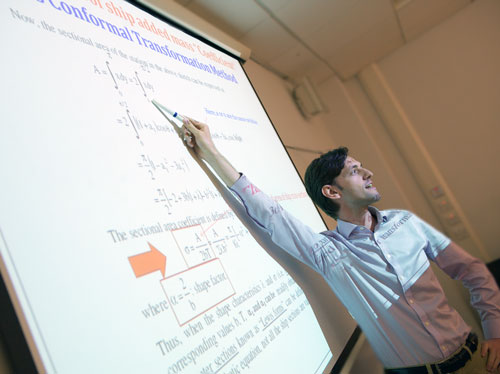 Along with our high standards of teaching, we take part in many different research projects and networks funded by the UK government, the EU and the Engineering and Physical Sciences Research Council. Our researchers also participate in research bodies such as:
the EU Research and Development Co-ordination Group
regulatory bodies such as the International Maritime Organisation (IMO) which sets worldwide standards for ship safety
international standard-setting bodies such as the International Towing Tank Conference (ITTC) and International Ship and Offshore Structures Congress (ISSC).
This means our students are learning from top-class researchers who are actively involved in industry and key international organisations.
Our students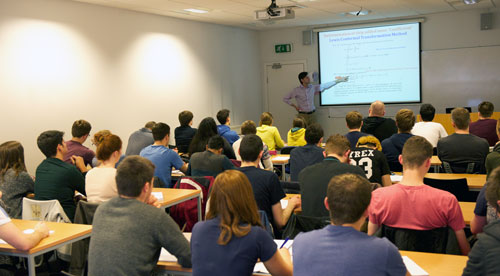 Our students come from all over the world, providing us with an international environment for all those studying with us. Over the years our students have come to Scotland from over 52 countries.
Our number one priority is to produce graduates who are great at what they do.
We want our students and graduates to take up exciting and challenging careers to contribute to the maritime, oil & gas and offshore renewables industries worldwide.
Our facilities
We have facilities based both on and off campus. We have our own building, named after Henry Dyer, a famous graduate of Strathclyde. It houses many of our teaching facilities, as well as our researchers and staff.
Most of our experimental research is carried out at Kelvin Hydrodynamics Laboratory, situated near the West of Scotland Science Park, a few miles from the main Strathclyde campus. Our yacht Catalina is based on the River Clyde at Rhu. It's available for both staff and students to use.