Young engineers of the future from primary schools around Renfrewshire recently attended a Primary Engineer Celebration Event held at the Advanced Forming Research Centre (AFRC).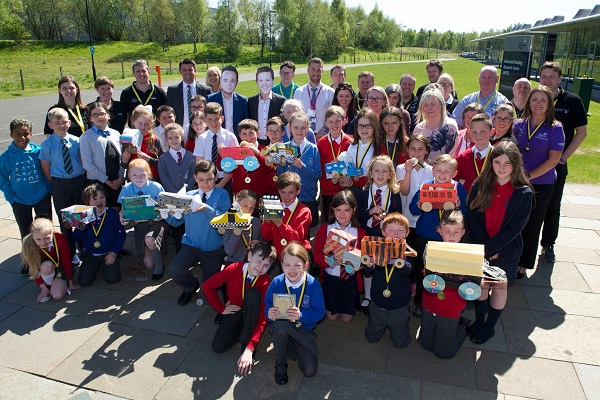 Over 30 children from seven local primary schools participated in a series of challenges which saw them test out their automotive inventions in front of a panel of judges which included members of the AFRC's technical teams.
The children, aged between five and 12, also enjoyed tours of the engineering facility and visits from the centre's silver-suited furnace engineers as well as AFRC's very own version of 'Ant and Dec', engineers Andrew Wylie and David Grant.
The young engineering hopefuls had the opportunity to meet and chat to senior industry professionals as well as the centre's team of engineers and researchers.
As the event drew to a close Dr Lynne O'Hare, Chief Business Development officer at the AFRC, presented a plaque to a team of school children from Lochwinnoch Primary school for being the best communicators throughout the car design task. The children all had a great time and went away with certificates, medals and an AFRC goodie bag.
Dr Susan Scurlock, CEO and founder of Primary Engineer Programmes said:
We greatly value the support of the AFRC in providing inspiration to our primary engineers, teachers and lucky members of our team that visited the centre and worked with its staff. We look forward to continuing to work with them to inspire future engineers in Renfrewshire schools."
Lise McCaffery, director of Primary Engineer said:
The AFRC was the perfect location for our Primary Engineer celebration. Winning pupils from schools across the region were able to share their engineering projects and, thanks to a wonderful tour of the facility, see engineering and manufacturing in context. The staff really went above and beyond to create a wonderful atmosphere on the day. Thanks to all involved."