In a bid to inspire the next generation of engineers The Advanced Forming Research Centre (AFRC) together with Spirit AeroSystems held a competition to name three of the centre's Kuka robots.
The competition involved school pupils from Kincaidston, Forehill and Doonfoot primary schools, all based in Ayrshire, a short distance from Spirit AeroSystem's UK base.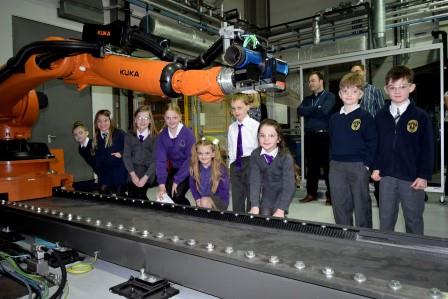 Each school was given a robot to name and the pupils had to submit their suggestions to their teachers and come to a decision amongst themselves.
The pupils chose the names: Robbie, Max and Lemmy and were invited to the AFRC to see the robots in action for themselves in the centre's flexible automation cell.
Each robot now has a plaque with its name and the logo of the school that named it.
Speaking about the competition, Tony Rodden, the AFRC's automation specialist, said:
It was great to see so many young people get excited about the robots and learning how the robots fit into the world of engineering. It is important that as a sector we work together to inspire the next generation of industry leaders and innovation pioneers."