AFRC celebrates its rising stars at the CeeD industry awards
Three rising stars from the University of Strathclyde's Advanced Forming Research Centre (AFRC) collectively scooped the award for Young Person of the Year at the inaugural Ceed Industry Awards on 28 February 2019.
Joshua Walker, 24, John Storr, 27, and May Tuckwood, 25, all walked away with the accolade, which recognises outstanding achievement from young people in the workplace.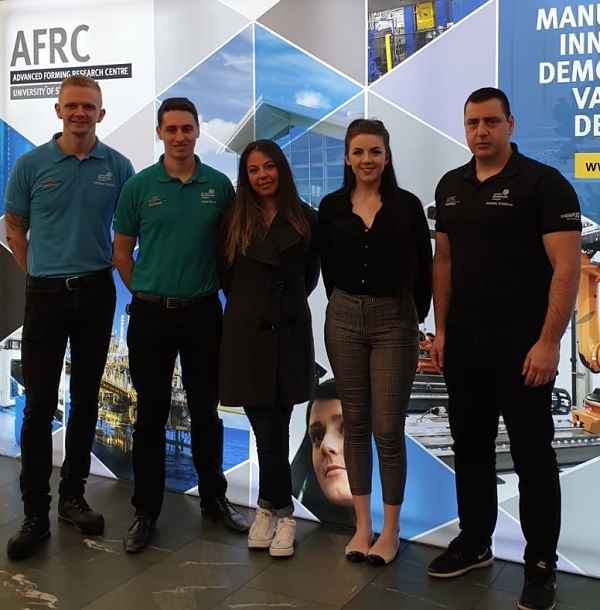 Pictured above (left to right) AFRC finalists for Young Person of the Year, Quality and Knoweldge Exchange categories: Joshua Walker, John Storr, Idil Temizyurek Paslioglu, May Tuckwood, Ioannis Violatos.
The AFRC's Young People of the Year
John Storr – From intern to project leader and high-level collaborator
27-year-old John began working at the AFRC as an intern in 2012 while studying for a Masters degree in Product Design Engineering at the University of Strathclyde.
While completing his first internship with the centre in the Quality Management Team, John helped to implement a Quality Management System, which led to the centre achieving ISO 9001:2008 and ISO/IEC 17025:2005 accreditations.
Seven years later and John now leads multiple project teams working primarily on design and development of components in collaboration with some of the world's leading aerospace companies.
Joshua Walker – Growing a stellar career from college and making waves in residual stress
Joshua, 24, is an excellent example of a young person who fresh from college went on to excel at each opportunity presented to him to help kick-start a successful career.
Joshua spent three years at college studying Mechanical Engineering and then joined the AFRC five years ago after attending an open day here.
Beginning with a role in the metrology team, Joshua is now a crucial member of our residual stress team, where he has already made a huge impact. He has developed significant expertise within the area of residual stress and contributed heavily to the team receiving ISO17025 accreditations, which are important for growth and reputation within industry.
May Tuckwood – Leading a cutting-edge aerospace project seven years after AFRC internship
Twenty-five-year old May is another shining example of an AFRC intern who is now fostering a brilliant career.
May joined the AFRC in 2012 as an intern while completing an Honours degree in Product Design and Innovation at the University of Strathclyde, before progressing to a full-time role after graduation.
May secured a role within the Forging and Incremental Technologies team, where she is currently leading a cutting-edge project for one of the world's leading aerospace manufacturing companies in partnership with one of its suppliers, looking at designing a new generation of aerospace components.
May has also managed complex collaborations with key stakeholders from throughout the supply chain.
"The future looks bright,"
Speaking about the awards, Michael Ward, Research Director at the AFRC said:
At the AFRC we value ambition and hard work and believe strongly in supporting young people at the start of their careers, helping them to grow and succeed. Every summer we welcome around 20 young interns to come and work at the centre in various positions, from technical to finance and marketing.

John, Joshua and May have all worked incredibly hard and already made a big impact on the success of the AFRC and the customers that we work with – adding real value to projects that will potentially bring benefits across wider industry. I am delighted to see them honoured in this way - the future looks incredibly bright for each of them."
Finalists in three categories
The AFRC was also a finalist in two other award categories for knowledge exchange and quality.
Its submission for knowledge exchange was based on two highly successful projects with firms MacTaggart Scott and WH Tildesley, which benefited from AFRC expertise in residual stress.
In the quality category, the AFRC demonstrated that it recently undertook a quality improvement project to develop competencies in measurements of residual stress and parts dimensions to achieve ISO 17025:2005 accreditation for three different laboratory and calibration techniques.