Advanced Forming Research Centre

News
(EngD) student scoops prestigious Materials Science and Technology Literature Review Prize
A University of Strathclyde student has beat off stiff competition from finalists from the Universities of Cambridge, Lancaster and Malaysia to scoop this year's prestigious Materials Science and Technology Literature Review Prize.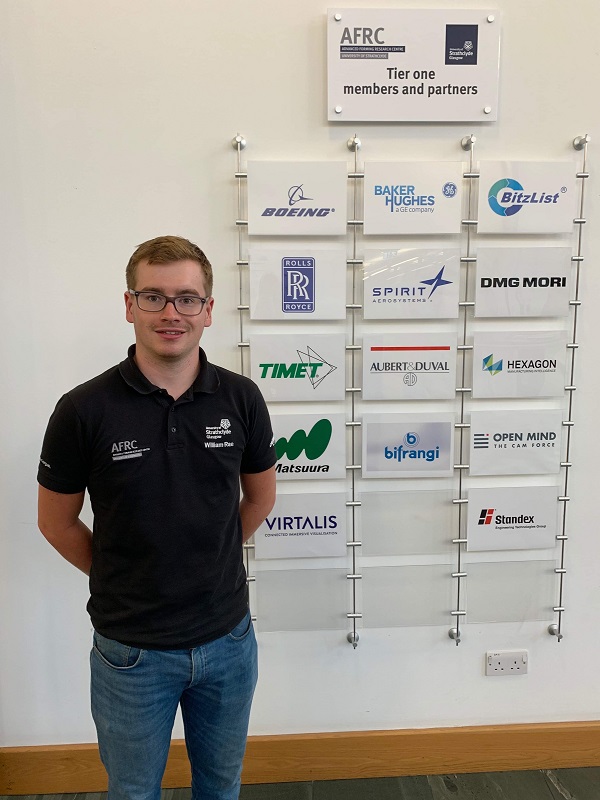 William Rae is currently in the final year of his four-year doctoral research programme based at the University's Advanced Forming Research Centre (AFRC).
Working under the supervision of the Materials and Residual Stress Team Lead, his research focus is on residual stress, which is also the theme of his winning paper titled, 'Thermo-metallo-mechanical modelling of heat treatment induced residual stress in Ti–6Al–4V alloy.'
An in-depth review of residual stress modelling
My paper is an in-depth review of the state-of-the art in the field of residual stress modelling. The work was peer reviewed and presented to four editors from the journal, all of whom are very senior academics, providing constructive criticism."
The annual Materials Science Literature Review Prize is awarded by the editors of Materials Science and Technology, which is the official journal of the Institute of Materials, Minerals and Mining (IOM3). It encourages definitive, critical reviews of the literature by students, while also making these available to a wider readership through publication within the journal.
William says,
Winning the prize has been fantastic and a brilliant opportunity for me to get my name out there within my field early on in my career. I was encouraged to submit my work by my academic supervisor, Dr Salah Rahimi, the AFRC Materials and Residual Stress Team Lead, and I was delighted when it was accepted in March.

Two months later, I was invited down to the IOM3 headquarters in London with four other students to present our papers to the editors of the journal. I was up against some tough competition and so it is a real honor to receive the prize."
"Contributing significantly to cutting edge science."
Salah Rahimi says,
I am truly delighted by William's achievement. It is an honor for me to see William's paper standing out among the excellent work done by other students, supervised by scientists at the world's most recognised Universities, such as Cambridge. This highlights that the research performed at the AFRC is contributing significantly to cutting edge science, along with providing industrial impact."
Dorothy Evans, EngD programme coordinator said:
William is an exceptional EngD student, who has always strived to succeed at everything he has done during this studentship. Winning this amazing prize has certainly made us all very proud."