The AFRC combines machining and additive manufacturing on the first hybrid platform of its kind in Scotland
The University of Strathclyde's Advanced Forming Research Centre (AFRC) has integrated cutting-edge laser metal deposition (LMD) technology within a CNC machine, creating a unique platform that is the first of its kind in Scotland, and one of very few across the world.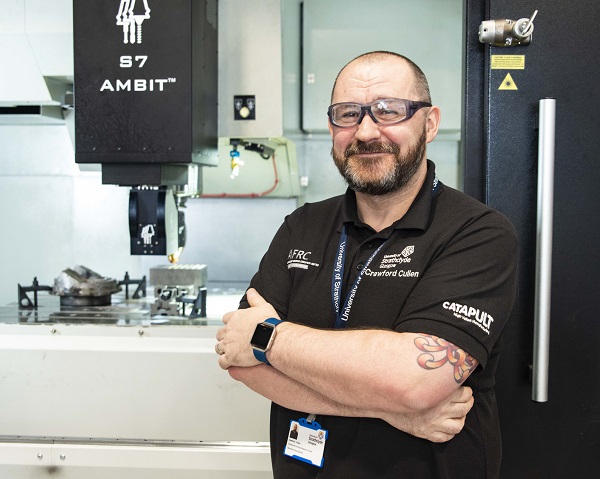 Providing an affordable way for SMEs to embrace additive manufacturing, the LMD Hybrid platform demonstrates that those with existing CNC technologies can retrofit their machinery to accommodate additive manufacturing, at a reduced cost compared to off the shelf.
The machine was integrated by Hybrid Manufacturing Technologies, a tier two partner at the AFRC. Firms can use the new technology to access new markets through hybrid manufacturing, for feature addition or remanufacturing high value components and tooling across sectors such as aerospace, oil and gas, textiles and food and drink.
The innovative platform allows the subtraction or addition of metallic materials on one machine with a simple tool-change. Integrating the new technology within existing machines offers firms a host of benefits, including reduced capital investment.
Along with machining and LMD, the equipment also performs rotational cladding, commonly used for the application of corrosion and wear resistant coatings, which is essential for high performance components in sectors such as aerospace and oil and gas.
A form of additive manufacturing, during the LMD process, metal powder is projected into the path of a high-powered laser. It is then melted onto a component or substrate in layers until the final desired geometry is achieved. Thanks to its high build up rate of material, LMD is frequently used for adding features to an existing surface or building products up from scratch.
The LMD hybrid platform is ideal for remanufacturing products that would otherwise be scrapped due to failing in service, wearing over time, or reaching the end of life. This provides savings on materials wastage, lead times and cost. It can even improve component performance and increase service life.
The AFRC's LMD hybrid platform is being used across a number of industry focused research projects, including DigiTool, which seeks to rejuvenate the UK tool and die sector through supporting the uptake of remanufacturing using digital technologies.
Stephen Fitzpatrick, machining and additive manufacturing team lead at the AFRC, said:
The LMD hybrid platform is a significant addition to the overall offering of the centre, allowing us to develop a completely new range of capabilities we can offer companies to help overcome manufacturing challenges.

The ability to machine a part through a variety of technologies within the one unit, before carrying out non-destructive analysis, is an exciting concept for the AFRC, which gives SMEs the chance to utilise numerous developed methods at a lower cost."