Advanced Forming Research Centre

News
A cutting edge conference: The AFRC hosts Scotland's first machining conference in over two decades
Scotland's first machining conference since the 1990s took place at The University of Strathclyde's Advanced Forming Research Centre (AFRC) this month, marking the largest ever event hosted by the Inchinnan based research centre.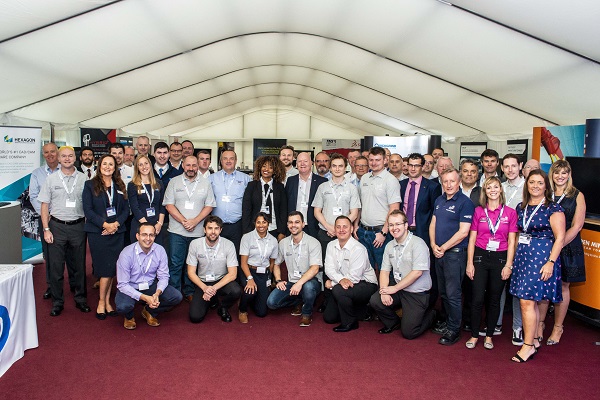 Designed to revitalise the country's engineering community, re-shore work and promote collaborations across the machining sector, the lively event was attended by over 300 delegates from firms large and small across Scotland and beyond.
Additive technology, innovative software and cutting tools
A collaboration between the AFRC and twelve of its industrial members and partners, Machining Scotland featured additive technology along with innovative software and cutting tools, all showcased through technical demonstrations, presentations and an exhibition.
Highlights included gear remanufacturing demonstrations on the AFRC's Hybrid platform. Supplied by AFRC Tier Two Member and event exhibitor, Hybrid Manufacturing Technologies, the platform combines machining and additive technology on one retrofitted CNC machine.
AFRC Tier Two Member, QuickGrind, also provided tooling and CAM capability for knee joint manufacture demonstration on the AFRC's recently installed Matsuura 5 axis machine.
Speaking about the success of the event, Lisa Block, Global Sales and Marketing Director, Hybrid Manufacturing Technologies, said:
It was a pleasure to have been included in such a ground breaking event at such a pivotal time. I believe that this is only the beginning and that this industry will continue to see bold strides because of events like this.

Hybrid made some great connections and explored other technologies that may prove beneficial to the additive solutions that we currently offer. We are proud members and look forward to next year."
"How great British manufacturing can be when we work together."
Another company in attendance was new AFRC Tier Two Member, Metrology Software Products (MSP), speaking about the conference, Margaret Toberty, Director of Operations at MSP said:
Exhibiting at the inaugural Machining Scotland was a must for MSP and as anticipated we made fantastic new contacts and even reinvigorated some old ones.

The event was well supported by industry experts and visitors, who all benefited from the presenters thought provoking and innovative insights. Technical demonstrations were excellent and showcased just how great British manufacturing can be when we work together."
"Huge opportunities across the machining sector."
Crawford Cullen, Senior Manufacturing Engineer at the AFRC said:
Machining Scotland went well beyond our expectations, with many people commenting on the buzz and real value of hosting a machining conference at a time when there are such huge opportunities across the sector for firms of all sizes and across various industries.

We would like to thank our members and partners for all of their support and collaboration and being instrumental in getting this event off the ground and look forward to coming back next year – even bigger and better."