Spirit AeroSystems and the AFRC join forces to boost UK aerospace sector

The University of Strathclyde's Advanced Forming Research Centre (AFRC) is teaming up with global aerospace components manufacturer, Spirit AeroSystems, to help shape the future of aircraft design and manufacture. Working together on developing innovative manufacturing technologies, the two organisations will seek to address the key challenges facing the industry to help the UK supply-chain achieve its full potential.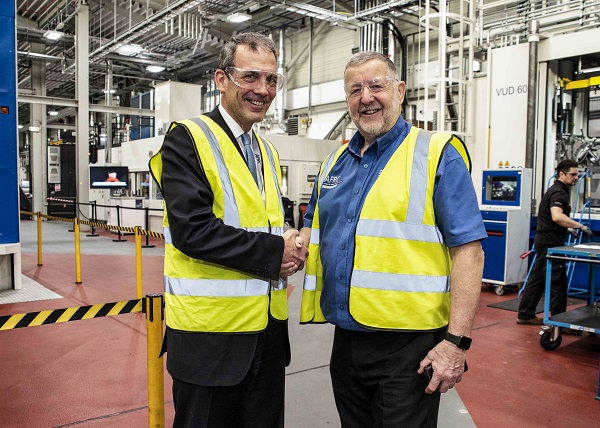 Joining the internationally acclaimed manufacturing and engineering research centre as its latest Tier One member, the collaboration will also see Spirit become one of the first companies to run projects out of the new Lightweight Manufacturing Centre. When the Centre officially opens later this year it will be the first new part of the National Manufacturing Institute Scotland (NMIS) which also includes the AFRC as part of a wider, global-scale, manufacturing centre of excellence and skills academy.
Spirit will be working with the AFRC's team of engineers and researchers to further develop the innovation agenda around four of the company's key capabilities: material systems optimisation; metallic fabrication; composites fabrication and accelerating the learning curve. The latter aims to rapidly progress technologies from the research and development stage through to production and flight.
Spirit's membership of the AFRC comes as a result of a number of successful collaborative projects between the two organisations and across the University of Strathclyde, including the widely applauded VIEWS project: validation and integration of manufacturing enablers for future wing structures.
The VIEWS project was the pre-cursor to the latest innovation-led project between the partners, which sees the AFRC's advanced metrology and digital manufacturing team work on the commercialisation of the technology developed in previous projects.
Tier One membership will see Spirit have a seat on the AFRC's managing and technical boards, as well as supporting the Centre's core research programme. Together with the AFRC's other Tier One members, Spirit will help to steer the wider research agenda and share cross-sector learnings and best practice with some of the world's leading manufacturing businesses including Rolls-Royce, Boeing and Baker Hughes, a General Electric company.
In welcoming the development, the Cabinet Secretary for Economy Derek Mackay, said:
I am delighted to see Spirit AeroSystems becoming the first major customer at the Lightweight Manufacturing Centre which is starting to deliver for companies now. The Centre is a key part of our investment in the £65 million National Manufacturing Institute Scotland (NMIS) as we take steps to develop an industry-led international centre of manufacturing expertise in Scotland where research, industry and the public sector will work together to transform skills, productivity and innovation."
Speaking about the membership, Professor Sir Jim McDonald, Principal of the University of Strathclyde and Rolls-Royce Chair in Electrical Systems, said:
We are excited to welcome Spirit AeroSystems to the AFRC as a Tier One member. We've been working closely with the team at Spirit's Prestwick site for a number of years, and we're thrilled to further strengthen the relationship.

It's a very exciting time for manufacturing in Scotland. The new Lightweight Manufacturing Centre will be formally opened later this year; it's the first step towards the National Manufacturing Institute Scotland, which will help the country become a global leader in advanced manufacturing through the Government's investment, industry leadership and Scotland's world class universities producing cutting-edge research and outstanding talent. Spirit's appetite to strengthen its relationship with the AFRC and the wider University of Strathclyde is testament to the growing appetite for innovation in the sector."
John Pilla, senior vice president, Chief Technology and Quality Officer, Spirit AeroSystems commented:
Collaboration of skills and expertise of both parties, and the exposure to advanced and innovative manufacturing processes that the AFRC offers, will enhance Spirit's ability to lead the way in structures research and development."