Three new members for the AFRC

The University of Strathclyde's Advanced Forming Research Centre (AFRC) has welcomed three major new members from the global manufacturing sector.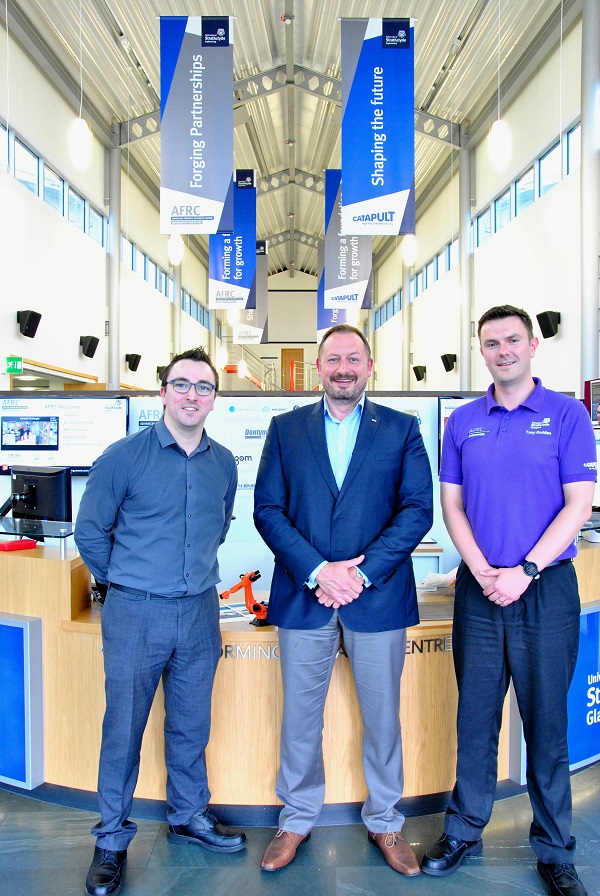 The centre has signed agreements with KUKA Robotics, OPEN MIND Technologies and Metalube, all joining as tier two members.
The companies will share knowledge with the AFRC, working with the £60-million research centre on collaborative projects, partnerships and solving specific problems in particular manufacturing processes.
The KUKA Group is a global automation corporation with sales of around 3 billion Euro, supported by a staff count of 13,188 employees. It is a leading international supplier of intelligent automation solutions with KUKA Industries, KUKA Robotics, KUKA Systems and Swisslog each part of the KUKA Group.
Keen to break into the Scottish market, the organisation sees its partnership with the AFRC as a first step towards establishing a permanent presence in the country.
KUKA Robotics CEO, Jeff Nowill, said:
The AFRC is a leading research and development facility renowned for its world-leading research, and to be presented with the opportunity of a partnership is extremely pleasing. The combination of the AFRC's thought leadership and KUKA's industrial robots and automation solutions, as a means to developing sustainable manufacturing solutions is an inspiring prospect."
OPEN MIND Technologies is one of the world's most sought-after developers of CAM Systems (computer-aided manufacturing) for machine and controller-independent programming.
Its modular CAM solution hyperMILL® integrates powerful 2.5D, 3D and 5-axis milling as well as mill turning strategies under one user interface. The innovative performance package hyperMILL® MAXX Machining allows enormous time savings for roughing, finishing and drilling operations.
A member of the Advanced Manufacturing Research Centre in Sheffield, the company is eager to replicate the successes resulting from this model, north of the Border.
OPEN MIND Technologies Sales Manager, Matthew Coulson said:
Following our ongoing success and partnership with the AMRC, we were asked by Professor Keith Ridgway to be involved in the AFRC. We are honoured to be a partner of the AFRC as it is recognised worldwide as a centre of excellence in innovative manufacturing technologies. The cooperation between the AFRC and OPEN MIND ensures that companies involved in ground-breaking collaborative projects with the country's only High Value Manufacturing Catapult Centre will have the opportunity to benefit from our innovative CAM solution."
Manchester-based Metalube is a specialist lubrication company focusing on ferrous & non-ferrous metal forming and processing with offices in China, Brazil, UAE and India.
The company's expertise will help the AFRC on projects relating to tool life, corrosion and surface finish. Through the partnership it will provide the centre with product and guidance with the two organisations exchanging knowledge on lubrication.
Wayne Thornhill, Global Product Manager at Metalube, said:
Metalube is very excited to become a member of the AFRC. Cross discipline partnerships like this are always fruitful, bringing new ideas and different ways of thinking together.We are looking forward to working on future collaborative projects with this world-renowned organisation, both in conjunction with our industrial partners and more academic projects. The opportunity to learn and advance production efficiencies will be useful for all involved and will benefit our customers greatly."
Speaking about the three new partnerships, Dr Lynne O'Hare, Chief Business Development Officer at the AFRC said:
The centre is working with some of the biggest companies in manufacturing, a symbol of our experience and capability. We're pleased to add another three highly innovative businesses to our list of partners and are looking forward to the collaborative projects which evolve as a result. The AFRC is a respected centre of manufacturing excellence, with an ever-evolving level of scope and expertise as we continue to secure even more relationships."