An internationally-renowned technology expert is to lead the University of Strathclyde's Advanced Forming Research Centre (AFRC).
Professor Keith Ridgway CBE has been appointed as executive chairman of the AFRC – a core partner of the UK High Value Manufacturing Catapult (HVMC).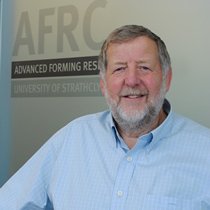 Professor Sir Jim McDonald, Principal of the University, said: "I am delighted to welcome Keith to his new role. I look forward to working closely with him, as we drive Strathclyde's leadership position in manufacturing research and innovation across a range of sectors including aerospace, oil and gas, renewables, nuclear, automotive and marine."
Professor Ridgway added:
I am very pleased to be joining at an exciting time in the development of Strathclyde's AFRC, and for this a fantastic opportunity to build on the University's world-class reputation in manufacturing research.


This significant appointment further strengthens Strathclyde's capability to support the UK and Scottish Governments' plans to grow high-value manufacturing (HVM). In particular, Professor Ridgway will provide leadership to grow the enhanced UK regional model for HVM Catapult and will work with Strathclyde's senior team to support delivery of the Scottish Government's emerging strategy on manufacturing.

The AFRC is a core partner of the UK HVMC. The HVMC represents a major strategic investment in manufacturing innovation on behalf of the UK government, which has seen seven leading centres of manufacturing excellence brought together as a collaborative entity, placing each as a national centre of excellence.

The AFRC has grown to be a £100 million-plus activity working to advance manufacturing in partnership with Rolls-Royce, Boeing, Timet, Aubert Duval, Barnes Aerospace, Bifrangi, and DMG Mori.

Established in partnership with Scottish Government, Scottish Enterprise, BIS and Innovate-UK in 2010, the AFRC has grown an international clientele, has a team of 150 highly qualified research and support staff, and created a total programme of more than £125 million.

The University of Strathclyde has created one of Europe's most intense manufacturing hubs for research and innovation, through the AFRC, the Centre for Continuous Manufacturing and Crystallisation (CMAC), the Fraunhofer Centre for Applied Photonics and the work underway across the Engineering Faculty in its departments of Design, Manufacture & Engineering Management, Mechanical Engineering, Electronic & Electrical Engineering, and the Advanced Materials Research Lab.

Through these activities, the University has developed deep collaborative programmes with global companies including: Aubert Duval, Astra-Zenica, Babcock International, Barnes Aerospace, Bayer, Bifrangi, Boeing, Bruce Power, DMG Mori, EDF-Energy, Novatis, Timet, Rolls-Royce, Scottish and Southern Energy, Scottish Power, Siemens, Spirit Aerospace, UK Power Networks, and Weir Group. Strathclyde also has strong manufacturing SME and supply chain engagement and provides collaborative R&D support for these companies with its Tier 1 industrial partners, building innovation support for this important segment of our industrial landscape.

As Executive Chairman of the AFRC, Professor Ridgway will work directly with the Principal, and the Executive Dean of the Faculty of Engineering, Professor Dimitiris Drikakis, to lead a new Strathclyde Manufacturing Strategy. This will build on Strathclyde's world-class capabilities and the major programmes in the AFRC and the HVM Catapult partnership.

Professor Ridgway will also work closely with the AFRC industrially-led board, the board of the HVMC, and colleagues in Scottish Government, to create an internationally-leading manufacturing capability and facilities.

Professor Ridgway worked in industry before moving to academia in 1980. He joined the University of Sheffield as a lecturer in 1988, and became Professor of Design and Manufacture in 1997.

He worked with businessman Adrian Allen to launch the Advanced Manufacturing Research Centre with Boeing in 2001. In 2009, he helped launch the Nuclear Advanced Manufacturing Research Centre.

Professor Ridgway was awarded an OBE in 2005 and CBE in 2012, and is a Fellow of the Royal Academy of Engineering, a Fellow of the Institution of Mechanical Engineers and a Fellow of the Royal Institute of Naval Architects.

Professor Ridgway will retain a leadership role at Sheffield and this will deepen and expand the strategic alliance between Strathclyde and Sheffield Universities - and the UK Catapult network more generally – creating an unparalleled concentration of manufacturing expertise, academic excellence and industrial collaboration.