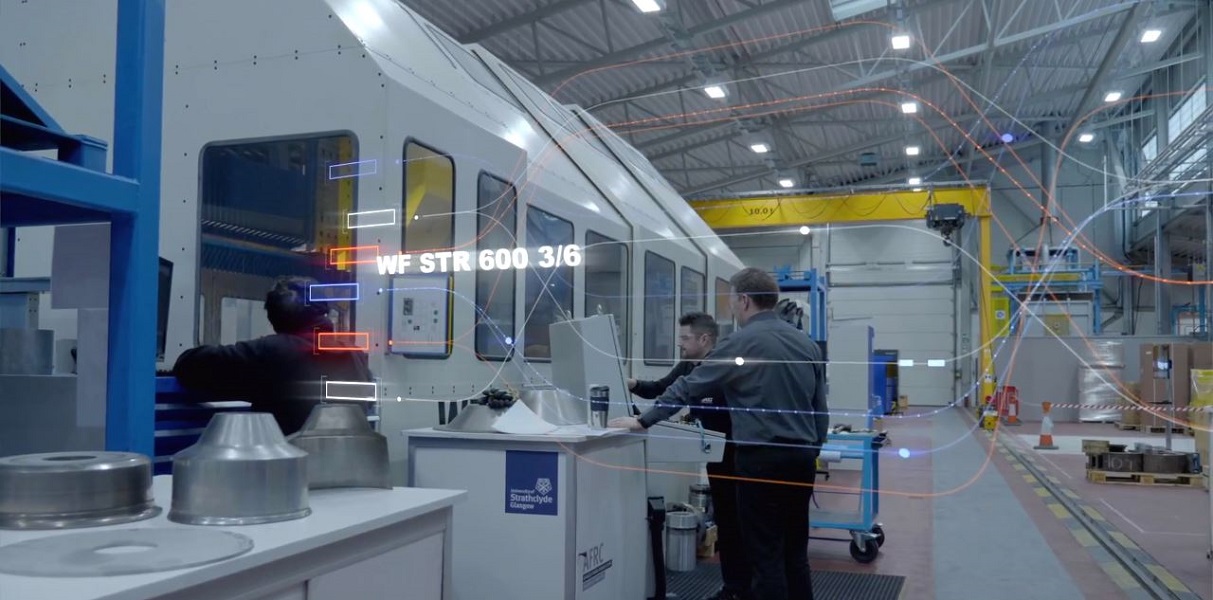 Advanced Forming Research Centre

Material processing
We specialise in forging research and will soon launch FutureForge, the world's most advanced hot forging platform complete with industry 4.0 ready demonstrator.
Forging is the manufacturing method of choice for high integrity products, such as aerospace discs and pressure vessels, which must be strong, durable and safe.
Increasingly, they must also be lightweight and made using more sustainable methods. As the global forging market continues to grow – it was valued at over $67 million in 2017 and is expected to reach over $107 million by 2024 – our goal is to make forging more predictive and efficient.
We are using forging and complementary heating technologies to convert materials so that they are ready for the next generation of products made using stronger, lighter metals for higher temperature applications.
Closed die forging
Closed die forging achieves a combination of the best set of material properties and final shaping. Heated raw material, shaped into the final part, is placed in the bottom die while a negative image of the final part is placed in the top die. This allows the forging of close to net products with great precision. We are working with customers to develop methods of manufacture using high integrity alloys, such as Inconel 718 and titanium 64. Our key piece of forging kit, a bespoke Schuler 3500kN Multiforge, also known as 'the upsetter,' is used for manufacturing preforms, which are then finally formed on our 2,100 tonne screw press.
Technical info:
Built by Schuler AG according to AFRC specification. Allows individual programming of clamping and upsetting movements. Can optimise forging parameters. Shorter contact times achieved in the clamping and upsetting work sequence in comparison to conventional presses. Equipped with two bolsters heated up to 250°C. One bolster can accommodate three small dies at 100 x 140 x 58 mm and another two, or one larger die.
Dual-action, horizontal forging press driven by 2 servomotors
High-performance servomotors enable programming of diverse ram speed profiles and stroke sequences Gripping capacity of vertical slide: 5,000 kN
Upsetting capacity of horizontal derive: 3,500 kN
Vertical and horizontal slide strokes: 140 x 200mm
Accommodates a 3-station bolster
Possibility of upsetting in the central station during the die closing with a force of 1,000 kN
Carbolite furnace HRF 7/324
Carbolite furnace GPC 12/131
Carbolite furnace LCF 14/350
Electrotherm rotary furnace – 5700
VFE/TAV TPH25/25/35 horizontal vacuum furnace
Open die
The materials designed to be strong and resistant to shape change when a product is in service are, by their nature, also difficult to shape during manufacturing. Open die forging is the process of deforming a piece of metal between multiple dies. We like to think of it like blacksmithing but on a much larger scale. It breaks a material's grain structure to create a fine strong structure, which is essential for high integrity products. Often used for simple products, such as discs and shafts, we are exploring new ways to use it because of its material benefits. These include increased strength and fatigue resistance gained during deformation due to the repeated working of the steel billet
Technical information:
Small but versatile hydraulic press with a 500 tonne capacity for sheet forming and bulk forming a variety of materials. We use it for sheet forming, cold forming of gears, and open/closed die forming trials. Uses flat dies for compression.
Max. sheet forming size: 350 mm x 250 mm
Max. daylight: 400 mm
Closing speed: 160 mm/sec – 250 mm/sec
Max. ram speed: 6 mm/sec
Technical information:
Widely used in industry and at the heart of what we do at the AFRC. One of the original pieces of our forging kit, we use it for manufacturing customer parts, high precision forging and fundamental research. Driven by direct electric drive, it benefits from excellent repeatability in subsequent strokes through enhanced speed and energy control. Integrated into an automated forging cell with robot loading/unloading and die spraying.
Max. die temperature: 360°C
Die with flat surface available at: 290 x 180 x 120 mm
Isothermal
The die and the workpiece remain at the same temperature during isothermal forging. A specialist type of forging, it allows the production of net shape components with fewer processing steps. It also opens up the use of super sensitive materials, like intermetallics, which can't be forged by other means. Lightweight and strong, these materials are brittle and difficult to work, but can survive at extremely high temperatures. With the launch of FutureForge, a bespoke 2000 tonne trimodal forging press will facilitate industry scale isothermal forging, allowing us to develop the next generation of alloys, also working to make Isothermal forging more energy efficient and accessible.
Rotary friction welding
A fast and highly energy efficient process that benefits from enhanced integrity of weld assemblies, rotary friction welding uses friction instead of melting a material, which is useful for joining materials with a favourable microstructure, providing a narrow thin joint. It also allows us to join combinations of materials that we would be unable to join by any other means. At the AFRC, we have two MTI rotary friction welding machines, the biggest of their kind in any UK research centre and use them in combination with other advanced manufacturing techniques.
Technical information:
Rotary friction welding is a process that benefits from enhanced integrity of weld assemblies, and is fast and highly energy efficient.
We use it in combination with other advanced manufacturing techniques at the centre to help clients boost sustainability and save materials.
Joint forging capacity ranging from 30,000 lbs to 300 tonnes
Direct drive friction welding (DDFW)
Inertia friction welding (IFW)
Hybrid friction welding (combining DDFW & IFW)
Solid cylinders or tubular welds can be achieved with outer diameters ranging from 35 mm to 250 mm
Automation of hot processes
Automating hot processes, such as forging brings significant benefits, such as improved productivity, part quality and repeatability. It can also enhance safety, by taking operators out of hot environments. These hot and dirty environments can however also prove challenging, with robots typically not dealing well with heavy parts. We offer significant expertise in this area and can provide advice on any forging automation project.
Temperature measurement
Temperature is a critical indicator of quality and consistency during manufacturing and so we offer a full suite of contact and non-contact temperature measurement. This includes bench-testing treatment, thermocouples, infrared cameras, thermal imaging, borescope and SPOT thermometer, alongside laser based measurement and phosphor thermometry. Devoted to enhancing process efficiency through temperature measurement, we are also proud to be part of EMPRESS 2, a collaborative project that boasts 27 academic and industry partners, including the National Physical Laboratory (NPL).
Heating technologies
Our pioneering work in heating technology cuts across everything that we do. At the end of manufacturing processes, we can use heat treatments for various purposes, such as removing residual stresses. We can also choose the right heat treatment regime to make changes in a material's microstructure so that it is harder, less brittle or impact resistant. Enhancing our understanding and control of heating during manufacturing processes also reduces our customers' energy costs, while increasing repeatability and efficiency during production.
An investment in Scotland's manufacturing future that will benefit the world.
FutureForge is a £19 million investment for a new advanced manufacturing facility in the heart of the Advanced Manufacturing Innovation District Scotland (AMIDS) launching in 2020.A truly unique and advanced hot-forging platform, it will help us support ambitious local firms and attract inward investment from global companies and OEM's.
We are currently experiencing an unprecedented rate of change in the digital manufacturing space. In response to this, we are introducing the world's most advanced hot forging platform, complete with one-of-a-kind, industry 4.0 ready, demonstrator. Allowing us to enhance our predictive power, explore less energy intensive methods of forging and accelerate the development of high integrity forged products, this will transform the forging supply chain.