Public lecture "Climate Change: Challenges and Opportunities for Litigation"
On the 3rd of May, a public lecture was delivered by SCELG Co-Director Dr Francesco Sindico, who explored the challenges and opportunities within the developing area of Climate Change Litigation. The slides from Dr Sindico's presentation are available here.
The presentation was based on an on-going global project led by SCELG and the University of Geneva on climate change litigation linked to the 2018 Biannual International Academy of Comparative Law Conference. SCELG is working to map climate change litigation in 40 countries using a scenario-based methodology with the goal of not only exploring current trends in climate litigation, but also identifying bottlenecks and challenges in jurisdictions where climate-related matters are not yet before judges.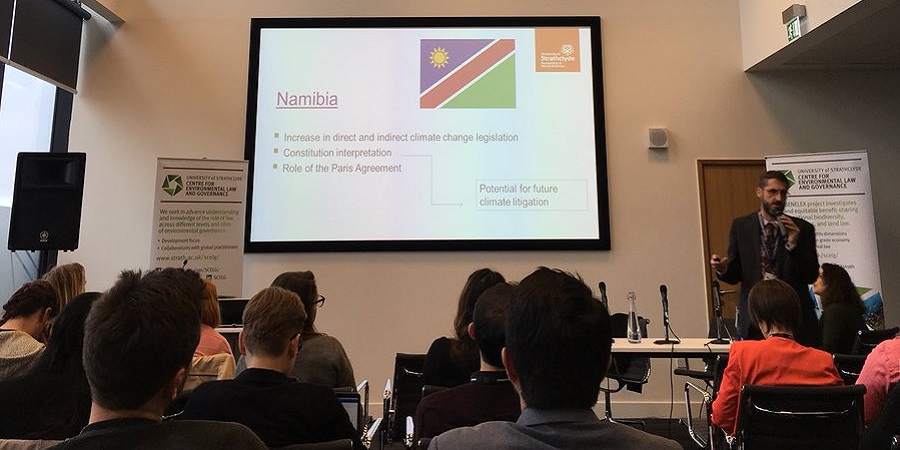 Dr Sindico's Lecture
Francesco's lecture drew upon the emerging body of Earth Jurisprudence and links with climate change litigation, considering whether there is space for cross fertilisation. Francesco discussed the eco-centric approach being adopted in some countries, with specific attention to the 2016 decision of the Colombian Constitutional Court on the river Atrato, exploring what this may mean for climate litigation in the future. The presentation gave reference to the need for operationalisation of Earth Jurisprudence and litigation which goes beyond the status of 'awarding' environmental rights towards the 'realisation' of the rights. Francesco demonstrated that there may be scope for Earth Jurisprudence to create opportunities for climate change litigation, by providing nature which is negatively affected by climate change with legal rights.
The project remains in its early stages and national rapporteurs will gather in Glasgow for a side event to the 2018 IUCN Academy of Environmental Law Colloquium on Tuesday 3 July. While this will be a closed workshop, in the afternoon SCELG will be organising in collaboration with the LSE Grantham Research Institute on Climate Change and the Environment an open (and free to attend) roundtable on climate change and litigation.
Dr Francesco Sindico is also the Programme Director of the Strathclyde LLM in Climate and Energy Law.