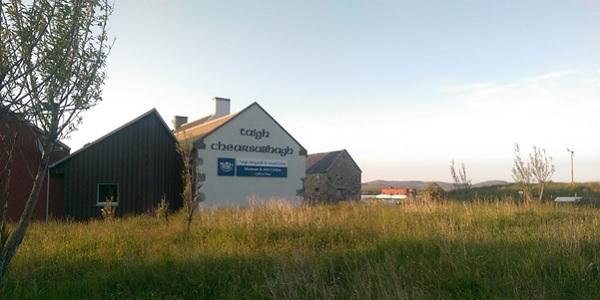 Taigh Chearsabhagh Museum & Arts Centre
The workshop brought together members of the local community, a lot of them with a strong creative and artistic background. The workshop had two main goals: to provide a forum to discuss resilience and sustainability on Uist and to present to the participants the Islands (Scotland) Bill. In the morning participants engaged in interactive and group discussion aimed at fleshing out what resilience means from an island perspective and listing sustainability challenges and opportunities on Uist.
In the afternoon SCELG Co-Director Dr Francesco Sindico delivered a presentation on the Islands (Scotland) Bill focusing in particular on the National Islands Plan and island communities' impact assessment, which led to a discussion about wider island policy related developments in Scotland. Participants also had the opportunity to learn more about the Islands Deal, which has been hailed as "transformational for the economies and communities of the islands" according to the three Island authorities in Orkney, Shetland and the Western Isles. The workshop concluded with a final discussion on how to bring in the "arts" into the project in a bottom up and community led manner.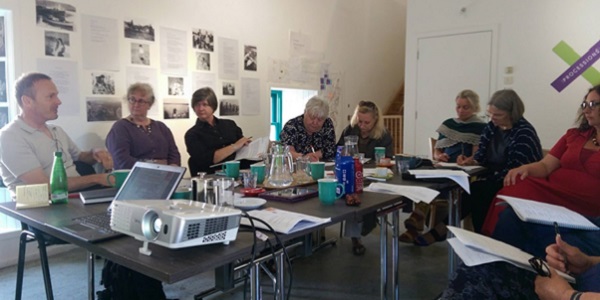 Workshop Participants
Apart from allowing members of the community to get together and exchange their views on the current sustainability challenges and opportunities facing Uist, the workshop was successful in bringing to the floor the Islands (Scotland) Bill to an interested audience. The latter, although critical about some parts of the Bill (concerns were raised in primis about the extent to which local communities will be able to meaningfully engage in the development of the National Islands Plan), acknowledged that the Islands (Scotland) Bill presents an important opportunity for islands and their communities to take centre stage within Scottish politics. The extent to which local communities on Uist will be able to seize this opportunity and the creative ways in which this can happen will be at the heart of the next workshop scheduled later in the year.
List of Participants
Andy Mackinnon, Taigh Chearsabhagh Museum & Arts Centre
Anna Wendy Stevenson, Head of Music at UHI/Lews
David Amos, Programme Director, Islands Deal by Western Isles/Orkney/Sheltand
Fiona Pearson, Beacon Studio
Francesco Sindico, Co-Director of the Strathclyde Centre for Environmental Law and Governance, University of Strathclyde
Keith McIntyre, Chair of the Taigh Chearsabhagh Trust
Jane Morrison-Ross, CEO, Taigh Chearsabhagh Museum & Arts Centre
Laura Donkers, Duncan of Jordanstone College of Art and Design PhD student
Mary Schmoller Mairi, Operations Manager of Ceolas and Vice Chairperson of Storas Uibhist
Meg Rodger, Birlinn Yard Company
Simon Bradley, Lecturer on the BA Applied Music and the MA Music and the Environment, UHI
Susan Brind, Reader in Contemporary Art: Practice and Events, Glasgow School of Art
Theona L Moireasdan, Sgilean agus Iomairt, Comhairle nan Eilean Siar, Griomasaigh, Uist