SCELG Contributes to Conference on Human Rights Innovation in Scotland

With Talks on Leadership, Brexit and Substantive and Procedural Environmental Rights
November 2018: On 14 November 2018, SCELG Co-Director Professor Elisa Morgera and Professor Aileen McHarg participated in a Conference on Human Rights Innovation in Scotland, organised by the Centre for the Study of Human Rights Law, University of Strathclyde. The Conference marked the 20th Anniversaries of the Scotland Act 1998 and the Human Rights Act 1998.
Continuous Leadership in Times of Political Turmoil
The Conference brought together a wide range of academics, legal practitioners, politicians and students, working within various sectors and legal fields with direct and indirect links to human rights protection. The First Minister of Scotland, Nicola Sturgeon, provided the opening keynote emphasising the continuous need for ambition and leadership on Human Rights, especially in this time of political turbulence when society's first reaction is to secure current levels of protection.
Partnerships and Collaborations on Human Rights
Professor Aileen McHarg chaired the afternoon session on shared responsibility in the context of human rights. Professor Elisa Morgera provided substantive contributions to sessions on human rights leadership and innovation in human rights implementation. Building upon the work of SCELG on environmental human rights, notably in the context of Brexit, Professor Morgera emphasised the importance of enhanced collaboration among lawyers with different areas of expertise (environmental, human rights, constitutional, etc) working at local, national and global levels.
Within the context of environmental law and human rights, Professor Elisa Morgera said:
There is catching up to do on upholding procedural environmental rights and opportunities for exercising leadership in recognizing and realizing substantive environmental rights. There are opportunities for human rights and environmental experts to work together more systematically, including in integrating tools such as human rights law and environmental impact assessments, and to learn from each other's experiences. Where separate efforts have fallen short to address fundamental issues of national and global concern, great potential lies in these collaborations. There are also opportunities internationally to exercise leadership through regulatory dialogue, sharing of evidence and provision of support for environmental rights efforts abroad so Scotland may explore several paths towards becoming an influential global international player in this field".
Prof Elisa Morgera at the Conference on Human Rights Innovation in Scotland
Human Rights Advisory Group
The Conference highlighted the work by Advisory Group on Human Rights Leadership, which provides independent advice to the government on how Scotland can continue to promote and support human rights, with a focus on social, economic and environmental rights.
Many of the members of the Group, including Professor Morgera and Professor Alan Miller, Chair of the Advisory Group, were present at the Conference. The Group's recommendations to the First Minister will be published on the 10th of December. For more information, visit the Group's official website.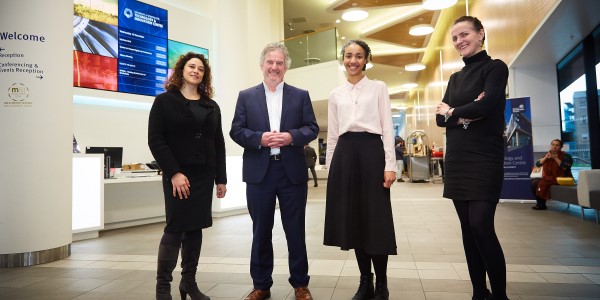 Prof Elisa Morgera, Prof Alan Miller, Dr Elaine Webster and Ms There O'Donnell at the Conference on Human Rights Innovation in Scotland, University of Strathclyde