SCELG contributes to Scottish environmental governance discussions related to Brexit
December 2018, SCELG has been involved in various processes analysing risks and identifying ways forward for Scotland's environmental governance and environmental rights in the context of post-Brexit scenarios.
Human Rights Leadership in Scotland
On 10th December 2018, SCELG Co-Director Prof Elisa Morgera presented, together with the other members of the Advisory Group on Human Rights Leadership, recommendations for a new human rights framework post-Brexit to Scottish First Minister Nicola Sturgeon. The Group recommended adopting a new Human Rights Act of the Scottish Parliament, including the right to a healthy environment as:
the right of everyone to benefit from healthy ecosystems which sustain human well-being as well as the rights of access to information, participation in decision-making and access to justice.
The content of this right will be outlined within a schedule in the Act with reference to international standards, such as the Framework Principles on Human Rights and Environment developed by the UN Special Rapporteur on Human Rights and the Environment, and the Aarhus Convention.
The recommendations also call for new remedies in Scots law "to provide for an outcome to be achieved rather than a process to be followed", a "sunrise clause" to move beyond a due regard obligation to ensure compliance with human rights, and extensive action on capacity building on human rights for various public authorities.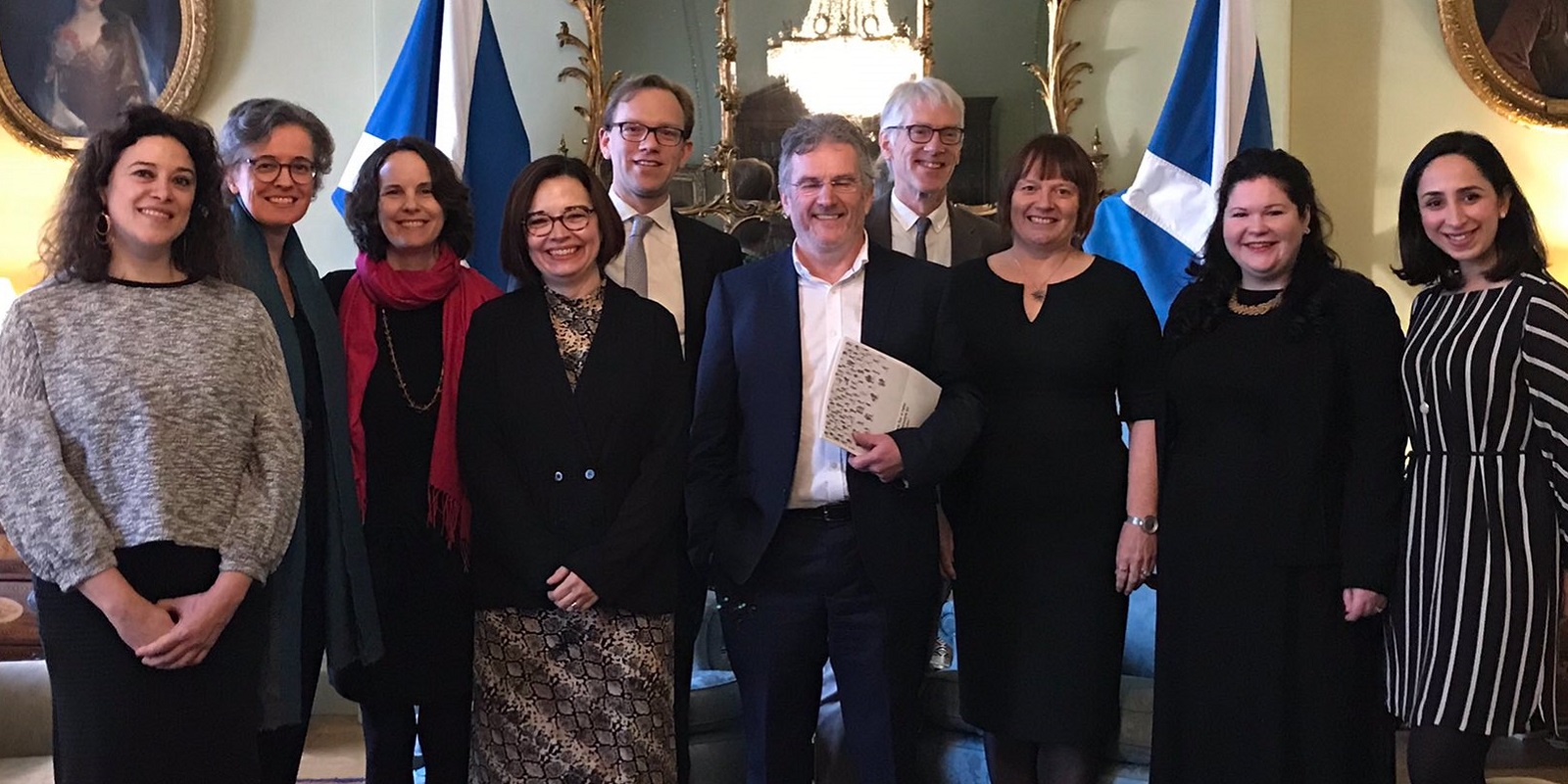 First Minister's Advisory Group on Human Rights Leadership
The report was warmly supported by the First Minister, all parties in the Scottish Parliament and environmental NGOs in Scotland. Implementation of the recommendations is expected to start in earnest in 2019 with the creation of a Task Force on Human Rights Leadership. For more information, visit the Group's official website.
The official launch of the report was preceded, on 14 November 2018 by a Conference on Human Rights Innovation in Scotland, organised by the Centre for the Study of Human Rights Law, University of Strathclyde.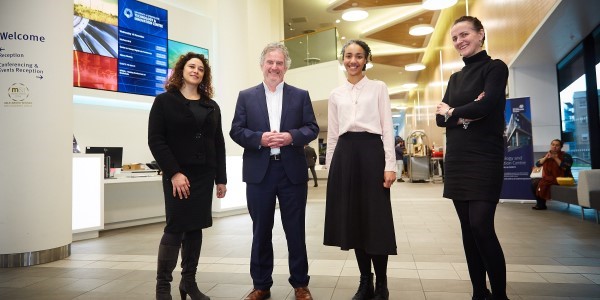 Prof Elisa Morgera, Prof Alan Miller, Dr Elaine Webster, and Ms Therese O'Donnell
SCELG contributes to assessment of environmental governance in Scotland after Brexit
From January to June 2018, SCELG member Antonio Cardesa-Salzmann contributed to the Sub-Group on Environmental Governance of the Scottish Government's Roundtable on Environment and Climate Change. The Sub-Group was commissioned a detailed, sector-specific study on the possible issues relating to future environmental governance in Scotland on the UK´s withdrawal from the EU. In June 2018, the Scottish Government released the report, which focuses on maintaining Scotland's global position as a leader in environmental governance and performance. Whilst much depends on UK-EU negotiations and arrangements provided and agreed with the UK, and much remains uncertain at this point, key risk were identified in the following areas: access to expertise in professional policy and practice networks, access to skills, and oversight mechanisms with regard to compliance with and enforcement of environmental law. Options for retaining membership of professional networks and securing appropriate oversight mechanisms were also identified in the report.
Practice-led Teaching
Elisa and Antonio teach on the LLM Global Environmental Law and Governance and involve LLM students in SCELG's research on Brexit-related questions for environmental governance in Scotland on the basis of international, EU and comparative environmental law.