SCELG @ COP26
COP26 has been a momentous time for SCELG. So many projects have arrived at either their conclusion or at an important milestone with web pages, maps, reports and other research and policy related work being launched or presented throughout the two weeks. Please find below a short summary of what we launched and presented during COP26.
Climate Change Litigation Initiative
On Saturday 6 November SCELG, together with the LSE Grantham Institute for Climate Change and the Environment and the IUCN World Commission on Environmental Law, organised a high-level event on "Climate Change Legislation, Litigation and the Rule of Law" kindly supported by FILE. At the start of this event the C2LI web site was launched – www.c2li.org Through an intuitive search engine users can find qualitative legal information from 27 countries framed around C2LI's three scenarios. The seeds of C2LI started in 2017 and stemmed from a book co-edited by Dr Francesco Sindico, "Comparative Climate Change Litigation: Beyond the Usual Suspects".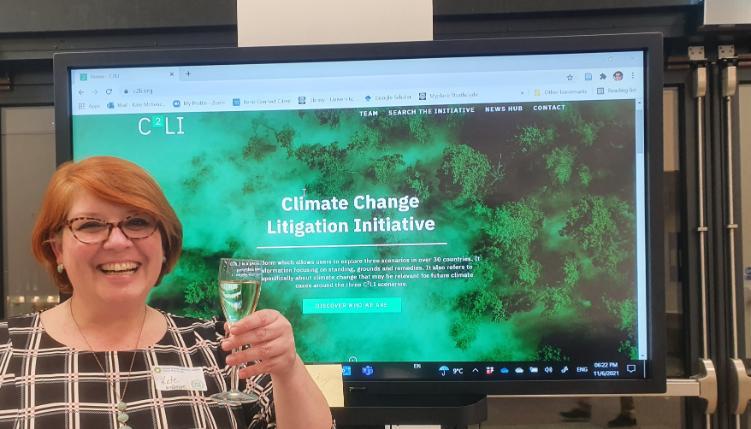 C2LI Legal Analyst Kate McKenzie at the launch of C2LI
COVID-19 Island Insights Series
On Thursday 11 November SCELG, in collaboration with the University of Prince Edward Island Institute of Island Studies and Island Innovation, organised an event on "Climate Change and Islands". At the beginning of this event the final report of the COVID-19 Island Insights Series was presented. The Series was led by the same institutions organising the event and mapped how 25 islands around the world, both island states and subnational island jurisdictions, have dealt with COVID-19 and better understand how their governments are trying to move beyond the pandemic boosting more resilient and sustainable practices. The COVID-19 Island Insights Series started just after the summer of 2020 and built on a previous global survey carried out by SCELG and Island Innovation in the first months of the pandemic in 2020.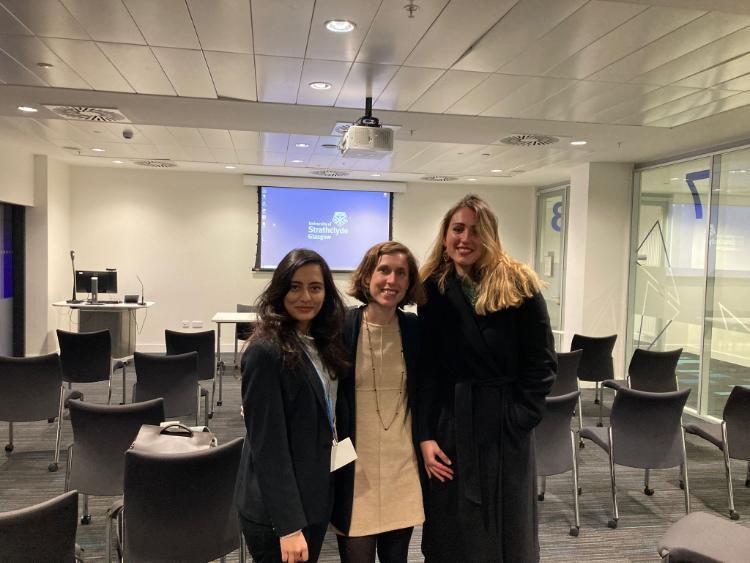 SCELG member Giulia Sajeva with Law School LLM alumni Aditi Shetye and Manon Rouby
Climate Change Message in a Bottle
On Wednesday 3 November SCELG launched two key products from the project Climate Change Message in a Bottle at an event co-organised by SCELG and Island Innovation as part of the virtual Island Space at COP26. A film produced by Taigh Chearsabhagh Museum & Arts Centre was launched with a trailer presented at COY16 the week before. Together with the film, Island Innovation produced a map/web page that showcases messages from each island included in the project. The latter presented the voice of young islanders at COP26 delegates and will now return to the islands to report back from the global summit and start discussing with the young islanders how they see their island going forward in a net zero post Glasgow world.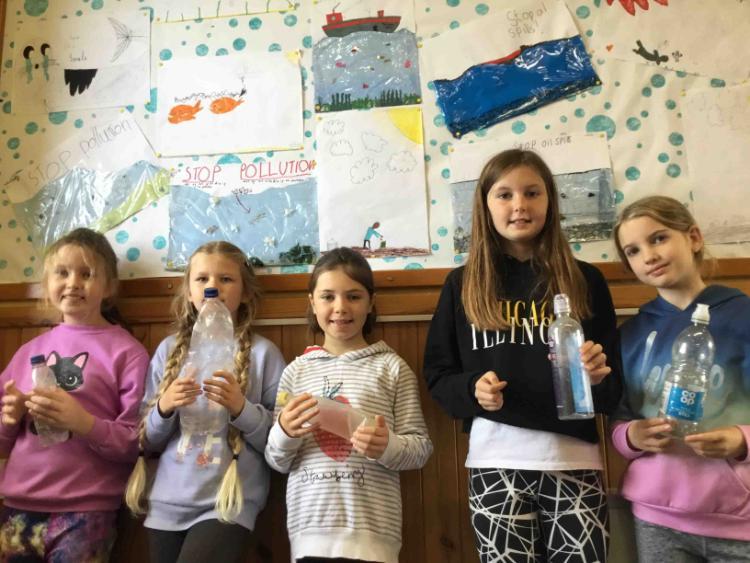 Pupils at Sandness Primary School in Shetland
Other events and activities
Check out the SCELG COP26 events web page for information about all our other events at COP26.