Welcome to Rebecca Williams, new Interim Director of SCELG
Sep 2021 — Following Dr. Francesco Sindico's secondment to Scottish Government, Ms Rebecca Williams has joined SCELG as Interim Director. In addition to her role in SCELG, she is also the Acting Convener of Strathclyde's Global and Environmental Law LLM, and a Teaching Fellow in the Strathclyde Law School.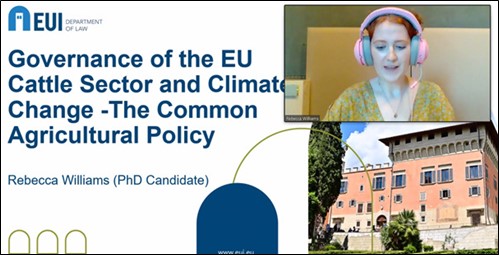 Before joining Strathclyde Rebecca was course convener for International Environmental Law at the University of Passau, Germany, in addition to the EUI's Environmental Law and Governance Working Group Co-Convener. Rebecca is currently in the final stages of completing her PhD on the climate impacts of livestock production at the European University Institute (EUI), Florence. Her research interests include the intersection of the agricultural sector and environmental law and governance, particularly with respect to climate change, forests, nitrates management, trade, public health, food security and climate justice. Rebecca has been invited to speak on issues surrounding the environmental impact of livestock production at events such as the Thoughts for Europe series and the FAO and Future Food Institute's 'Food & Climate Shapers Boot Camp'. Rebecca also has a keen interest in improving Youth participation in climate decision making, and in April 2021 co-organised an event on Transnational Youth Climate Participation and Mobilisation' at the EUI, bringing together young climate leaders from the Global South, civil society workers, policy makers and academics.
Related items