Civil & Environmental Engineering
Industrial challenges
The research carried out within the Engineering Geosciences and Geomechancis group is greatly motivated by real engineering challenges. Key features of the group's research are knowledge exchange with industry and international collaborations. The industrial collaborations include consultants (e.g. Donaldson Associates), contractors (e.g. Keller Ground Engineering) and public bodies (e.g. Environment Agency).
The main industrial applications of our research are listed below.
Geological disposal of radioactive waste
Professor Rebecca Lunn currently leads two EPSRC consortium on geological disposal of radioactive waste:
Researchers in BANDD are investigating the potential use of biomineralisation for:
the solid phase capture of radionuclides
as a low pH grout for sealing fine aperture rock fractures
The SAFE Barriers consortium, which began in November 2012, investigates the thermo-hydro-mechanical-chemical (THMC) evolution of Engineered Barrier Systems (EBS) under a wide range of environmental conditions present in geological repositories. The project aims to deploy advanced monitoring technologies to improve understanding of the EBS by embedding state-of-the-art micro-to-nano scale wireless devices in bentonite combined with micro-scale geophysical and magnetic monitoring surveys.
The SAFE barriers project will investigate the performance of the Engineered Barrier System under a range of different thermo-hydro-chemical gradients as illustrated in this figure. 
Carbon capture & storage
One of the major challenges related to carbon capture & storage is the identification of potential leakage pathways and the prediction of leakage rates. Professor Zoe Shipton has investigated the Crystal Geyser, Utah (pictured), a natural analogue for a leaking CO2 storage site. This geyser has erupted CO2-charged groundwater since an oil exploration well was drilled in 1935. Research on ancient spring mound deposits along the Little Grand Wash fault zone in Utah show that similar groundwaters have been migrating to the surface through fractures associated with the fault for hundreds of thousands of years.
Dr Stella Pytharouli, Professor Rebecca Lunn and Professor Zoe Shipton have recently been awarded £73k by the UK Carbon Capture and Storage Research Centre to investigate '3D mapping of large-scale subsurface flow pathways using nanoseismic monitoring.
Hydrocarbon industry
Predicting geosphere evolution and in particular understanding the temporal and spatial evolution of the geosphere  is important for hydrocarbon production and exploration, alongside geological disposal and carbon sequestration. Particular research topics include:
investigating the hydro-mechanical evolution of geological faults
spatial and multivariate statistical characterisation of fault architectures using mapped faults from multiple field exposures
Recent projects in this area have been funded by Total Oil:
"Deriving field-based statistical relationships to characterise the geometry and permeability of deformation band faults" (£150K, 2009-2012)
Nuclear Decommissioning Authority "Predicting spatial and temporal variations in along-fault fluid flow" (£80K, 2009-2011)
NERC "The simultaneous evolution of seismicity and permeability within geological faults (£408K, 2007-2010)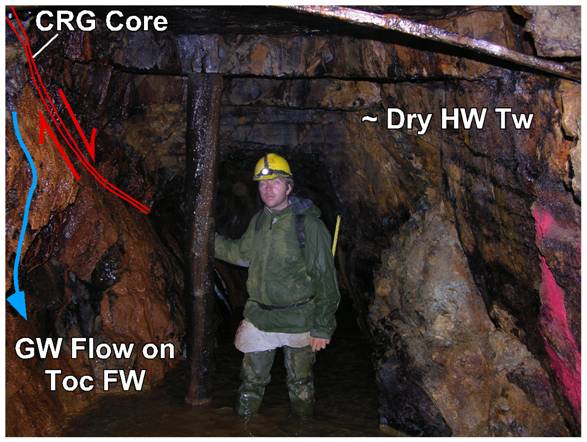 Evidence of a fault core behaving as a fluid conduit in an underground mine.
Construction on soft soils
In an increasing number of regions worldwide major civil construction works, ranging from large infrastructure projects to housing developments, have been or will be built on soft soil deposits. In many countries up to 70% of the population live in coastal areas with predominantly soft soils.
Research in this area is focused on the development of innovative constitutive models that can account for creep, anisotropy and destructuration of soft soils. Prof Minna Karstunen also has strong links with PLAXIS, the developers of finite element software intended for 2-D and 3-D geotechnical analysis of deformation and stability of soil structures. Our research also looks at ground improvement methods applicable to soft soils including the installation of stone columns and deep mixing techniques using lime or cement.
Current research projects include:
GEO-INSTALL "Modelling Installation Effects in Geotechnical Engineering", PIAP-GA-2009-230638, EC/FP7 Marie Curie IAPP (Total €1.28M, 2009-2013)
"Modelling Progressive Failure of Embankments and Slopes", Academy of Finland Research Project (Total €513K, 2009-2013)
Flood embankments
The geotechnical stability and deterioration of flood defence embankments is a topic of rising importance with the onset of climate change. Research in this area includes:
experimental investigation of the saturated and unsaturated mechanical behaviour of earth fill used in flood embankment construction
the process of desiccation in clay fill materials
field studies at operational flood embankments
the development of monitoring techniques for assessing embankment condition
Current projects include:
a Marie Curie Fellowship awarded to Dr Marcin Zielinski to investigate "Measurements and Assessment of Desiccation Cracks Integrity in Soils with the Application of Remedial Solutions" at Texas A&M University (€251k EC, Grant 254794, 2011-2013)
the development of "New eco-tracers for monitoring the fissuring of flood defence embankments using geophysics" led by Dr Philippe Sentenac. EPSRC Doctoral Training Award, 2009-2012
Contaminated land remediation
Dr Christine Switzer is collaborating with researchers at the University of Edinburgh and the University of Western Ontario (Canada) in the development of in-situ smouldering technology for soil remediation (Patent Pending). Also of interest is the influence of remediation processes on the hydraulic and mechanical behaviour of treated soils.