Undergraduate

Before you apply
Our courses
With almost 250 undergraduate courses to choose from you'll not be short of options here at Strathclyde. Take a look at our course search to find out more about your range of options across our Business School and Faculties of Engineering, Humanities & Social Sciences and Science.
You can also download a prospectus, which tells you all you need to know about courses as well as some useful information about why Strathclyde is a great place to study.
How should I choose my course?
Choosing what course to study is an important decision and there are a lot of things to consider. It's also a very exciting time, so it's good to look at all the different options and use all the help that's available to you. Here at Strathclyde, we're here to help you every step of the way!
Some university courses may require you to have studied a specific subject to get on a course, others may not. Our guide on choosing your subjects has plenty of helpful advice.
You can also take a look below at our tips to help you choose the right subjects and university course:
When I was applying, Strathclyde stood out for being one of the top engineering universities in the UK. During the interview and accompanying tour, all the staff in the Electronic and Electrical Engineering department were very professional and knowledgeable and gave me a fascinating insight into the research that's done in the department.

Martin Riis, Electronic & Electrical Engineering
Talk to someone
Before you choose your course, it's important to get as much advice as possible to help you make the best decision.
In addition to talking to parents, carers and careers advisers, there are a number of ways you can talk to us about your options. These include:
Speak to a student ambassador
Our team of student ambassadors are happy to answer your questions about the university, its facilities, student life, accommodation and more. If you have a question email our ambassadors at askanambassador@strath.ac.uk.
Funding your studies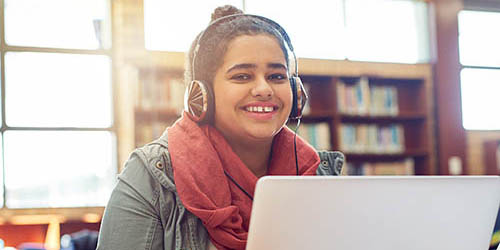 Find out all you need to know about tuition fees, student loans and other costs by visiting our funding your studies pages.
Campus life
The Strathclyde campus is a great place to stay for students. We're based in the heart of Glasgow city centre – Scotland's largest, and most cosmopolitan, city.
Our campus village offers warm, comfortable and secure accommodation – within five minutes' walk from all your classes, the Strathclyde Library and a stone's throw from the city centre's shops, bars, restaurants and museums.
It's all about Glasgow!
Glasgow is very much the place to be for students. The words of our students speak for themselves!
Glaswegians are the friendliest people I have ever met. I live in the city centre, which is very handy for getting about and meeting people. I'm very glad that I chose to come and study here. Glasgow is home for me now."

Carly Cullen

"I'd recommend the Riverside Museum, that's really good and I just love walking along the Clyde and seeing all the bridges and buildings down there."

Katie O'Neill