Principal's Welcome
The University of Strathclyde is the only higher education institution in Scotland founded during the Enlightenment. The essence of the Enlightenment movement, crystallised in its motto, 'Dare to Know', is reflected in Strathclyde's founding mission as "the place of useful learning". Today, the University of Strathclyde is a leading international technological university which is socially progressive. We deliver high-quality education, world-leading research and cutting-edge innovation for the benefit of students, staff, our community and wider society.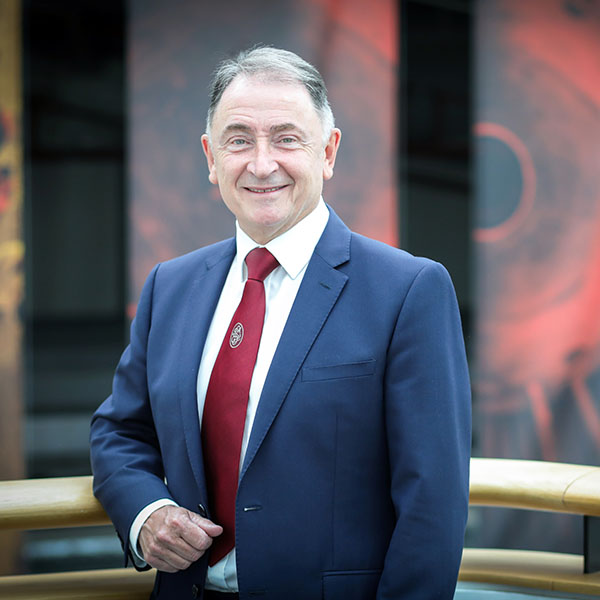 Founded in 1796, Strathclyde is home to many extraordinary people whose innovation and ambition led to discoveries that continue to have impact. From the scientist who developed fingerprinting, through to the innovator responsible for the earliest successful commercial application of wind power, we have a rich and proud history of entrepreneurs. Today we continue to: attract, enable and celebrate extraordinary people; grow our community of innovation leaders and entrepreneurs; and empower our staff, students and alumni to transform their lives and the lives of others through innovation, creativity and entrepreneurship.
We are a catalyst for positive change, for economic benefit and for social impact and we want to do more to enable inclusive and sustainable growth. We are focused on ensuring that our entrepreneurial actions continue to address local issues and global challenges.
Our role as the anchor institution for Scotland's first innovation district - Glasgow City Innovation District (GCID), a hub for entrepreneurship, innovation, and collaboration which builds on Scotland's rich tradition of scientific excellence and industrial collaboration - provides us with a platform for delivering a step-change in our entrepreneurship offering.
Strathclyde Inspire, our Entrepreneurship Strategy 2020-25, is a statement of our ongoing commitment to be a world-leading enabler of entrepreneurship, and a globally-recognised provider of impactful entrepreneurship education and practice. We remain committed to driving economic and social benefits through innovation, an entrepreneurial mindset and by using our leadership position as a driver for positive change.
Professor Sir Jim McDonald
Principal and Vice-Chancellor
What is entrepreneurship?
Entrepreneurship is about having a passion for problem-solving, being inspired to instigate change and create impact, identifying and acting on opportunities. It is about learning, developing and building upon the skills of adaptability, resilience and determination, to succeed in everyday situations. It is about being empowered to overcome and learn from setbacks.
Strategic goals
Entrepreneurial ecosystem
At the heart of every successful entrepreneurial ecosystem is a vibrant and engaged community of entrepreneurs.
Strathclyde Inspire will be underpinned by three cross-cutting initiatives: an Entrepreneurship Hub; a diverse programme of events; and a managed network of global supporters.