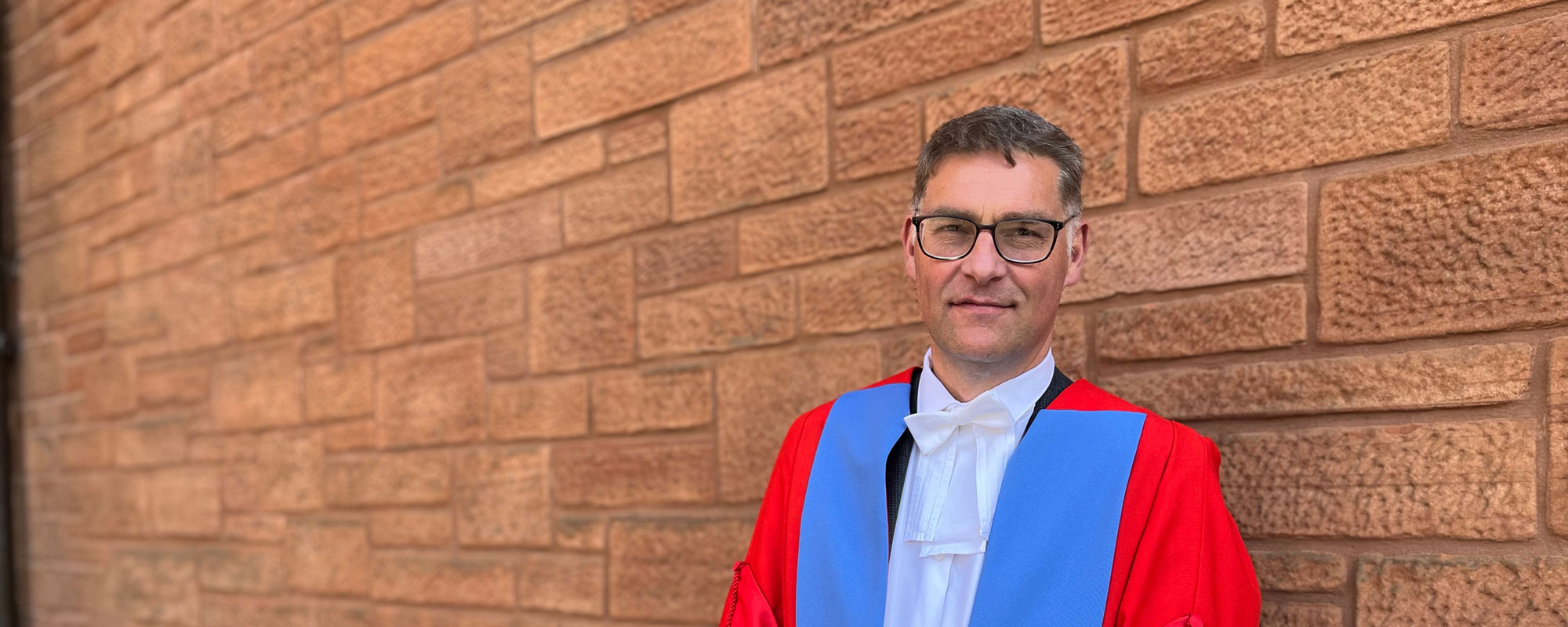 Honorary Degrees

Magnus MacFarlane-Barrow
Meet Magnus
Magnus MacFarlane-Barrow is a Scottish social entrepreneur who founded the global charity Mary's Meals, which provides daily meals to 2.4 million children in their place of education across 18 countries. Recognised for his humanitarian work, Magnus has received numerous awards including:
OBE (2011 New Year's Honours List)
Top 10 Heroes (2010)
TIME's 100 Most Influential People (2015)
Scotland Entrepreneur of the Year
Mary's Meals
By providing daily meals to children across the world (often the only meal they get each day) in their place of education, Mary's Meals helps communities to thrive by improving attendance and engagement with learning, along with the value given to education in local communities. This means more children attend school, and will therefore have more opportunities to advance both their own lives, and their community, as they can become teachers, doctors, and more. They also ensure every part of their organisation is valued, from the volunteers who make and serve the food, to fundraisers/donators, and (where possible) the money raised goes to local suppliers/farmers, which helps improve the overall local economy.
As well as providing meals to kids in their place of education, they charity also provides emergency relief after conflicts and natural disasters. Magnus started Mary's Meals from his shed, and through hard-work and sacrifice (including leaving his job and selling his house), he's now the chief executive of an international charity, has written two books, all while being a father to seven children. He has kept his values and beliefs (and his shed) at the forefront of everything he does.
Watch
Watch Magnus MacFarlane-Barrow receive his Honorary Degree, and hear what he had to say to our students at their graduation ceremony.
We caught up with Magnus ahead of receiving his Honorary Degree.
Congratulations! How do you feel about receiving your Honorary Degree from the University of Strathclyde today?
Hugely excited. Just deeply honoured and a little bit nervous as well! But very excited.
What's the most important life lesson you've learned that helped you get to where you are today?
I think, really just trusting in the goodness of human beings - that's really what the story of Mary's Meals is built on.
What advice do you have for our graduates?
Really treasure the gift of education. So many young people in the world are desperate for an education and don't have the possibility of that. Don't underestimate what everyone can do as an individual to make this world a bit better.
What makes you happy?
One of the good things about getting older is just seeing how things can change for the better. Things that look like they might be impossible and I see that in the story of Mary's Meals, how things get better over the generations, and that makes me happy. As does my own family and watching them grow up.
What's the most important thing you do daily for you?
I spend quiet time in prayer every day.