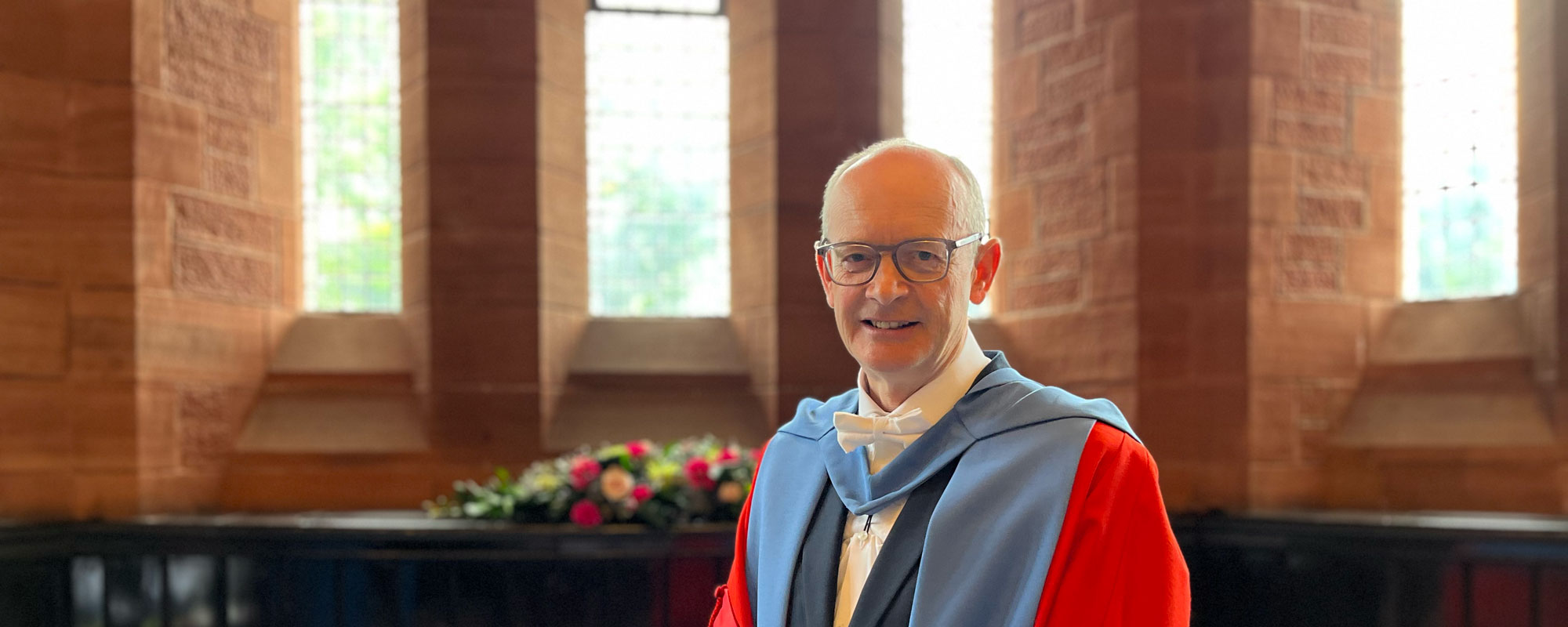 Honorary Degrees

Peter Duthie
Meet Peter
Peter Duthie is the Chief Executive Officer (CEO) of SEC Limited, the award-winning events venue and national asset based in Glasgow, and one of Europe's most successful event venues. SEC has a significant economic impact bringing nearly £0.5 billion to Glasgow annually.
Career
Peter joined SEC on its inception in 1984 (before it was even built!), holding various roles and becoming CEO in 2014. He's been an integral part of the SEC journey, including major developments of the main exhibition space as well as the Armadillo which opened in 1997, and the OVO Hydro which opened in 2013.
The OVO Hydro has since been established as one of the busiest live entertainment venues in the world with more than 1 million visitors per year, and is the first arena in the world to achieve 'A Greener Arena Certification'. This has allowed the SEC campus to host events that are on the world stage, including the 2014 Commonwealth Games, European Championships, and other global conferences and entertainment events.
CEO
Since taking over as CEO in 2014, Peter has led the company, rebranding the business as the Scottish Event Campus, and developing the dynamic vision for the SEC 'to be the best event campus in Europe'. Peter is now focused on a further £150m expansion of the SEC.
Sustainability
Driven by Peter's passion for sustainability, the SEC notably secured COP26 for Glasgow, a massive success for the city and Scotland. The SEC has committed to becoming a net zero campus by 2030 and Peter has led the development of a comprehensive sustainability strategy supported by the five pillars of Climate, Resource, People, Partnerships, and Governance.
COVID-19 pandemic
When COVID hit, Peter led the team to provide a temporary hospital - NHS Louisa Jordan - during the pandemic providing over 32,000 urgent outpatient and diagnostic appointments, a clinical skills education hub and over 175,000 COVID vaccinations.
Industry leader
Peter, as one of the UK's most respected event industry leaders, is Chair of the Event Industry Advisory Group (EIAG) which provides representation for the events sector to the Scottish Government in the national response and recovery planning effort required to address the devastating impact of the pandemic on the industry in Scotland. A prominent voice on Scottish Tourism, he has contributed significantly to the Scottish Tourism Recovery Taskforce. He also chairs SEC's wholly-owned event management company, QD Events Limited, and is a Director of the Glasgow Chamber of Commerce.
Watch
Watch Peter Duthie receive his Honorary Degree, and hear what he had to say to our students at their graduation ceremony.
We caught up with Peter ahead of receiving his Honorary Degree.
Congratulations! How do you feel about receiving your Honorary Degree from the University of Strathclyde today?
Very excited and very privileged and honoured. It came as a bit of a surprise as you can imagine, but it's nice to get the recognition from a personal point of view but obviously from the success that the SEC has enjoyed for many years.
What's the most important life lesson you've learned that helped you get to where you are today?
Talk less, listen more. Often people are too keen to express their own views before hearing those of others and I think sometimes if you can assess what's going on around about you, sometimes it balances your opinion of life a bit more carefully.
What advice do you have for our graduates?
Keep an open mind and stay flexible. Look for opportunities, the world is changing so fast that new opportunities are going to come along very quickly, and be open to it.
What makes you happy?
My family. Last Saturday I was at my daughter's wedding which was a hugely happy occasion, and that's just an extension of what's the most important thing in my life.
What's the most important thing you do daily for you?
Not so much every day but at least once a week I try to get on the golf course where I can get 4 to 5 hours of headspace just focusing on the golf.