Strathclyde's first-ever spin-out
Professor David Birch of the Department of Physics is co-founder of Strathclyde's first-ever spin-out company – IBH. Today it is part of HORIBA and the global market leader in fluorescence lifetime spectroscopy, a specialist technique for measuring atomic to molecular scale distances and kinetics, with Professor Birch having served as a Director for over 40 years.
IBH was incorporated in 1977 by Strathclyde postdoctoral fellow Dr Tony Hallam and lecturer in Applied Physics Dr Bob Imhof along with David who was working in industry at the time. David moved to Strathclyde a year after the Company formation, becoming the University's first and one of the earliest in Scotland. A long history of successful collaboration with Strathclyde followed.
IBH's products and services emerged from research carried out as part of Professor Birch's PhD at the University of Manchester into the measurement of the nanosecond timescale of fluorescence – the emission of light from a substance that has absorbed light or radiation – when he realised that he could build and sell better quality equipment for its measurement than was currently available.
The measurement of fluorescence, or rather the lifetime of the fluorescence from a substance, is useful in a range of multidisciplinary applications, including biomedical areas where it can monitor fundamental molecular interactions inside cells and tissues and analyse tumours and neurons.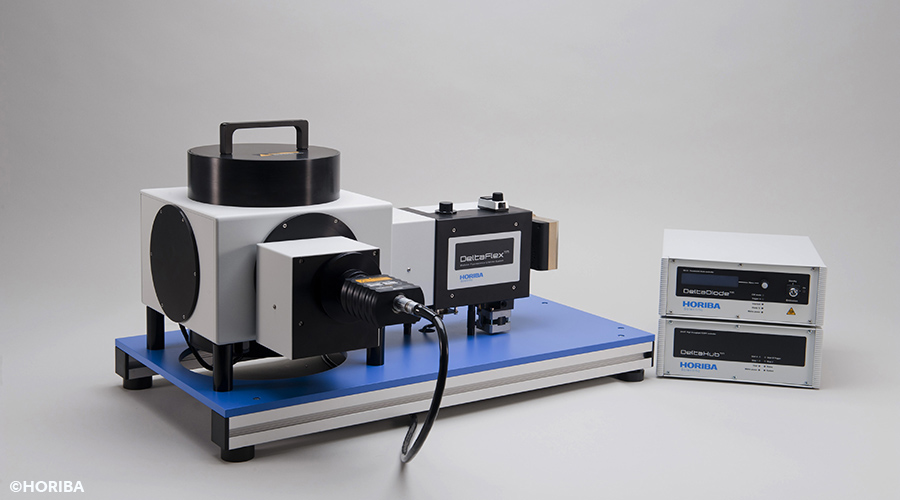 From its roots in David's design of his own time-correlated single-photon counting (TCSPC) fluorescence lifetime spectrometer, the Company's technology highlights include:
produced the first compact lifetime system with full spectroscopic capability in 1989,
was the first to develop deep UV-based LED sources allowing protein researchers to easily access time-resolved information in 2003, and
developed the best resolution timing electronics on the market in 2015.
In 2003 IBH was acquired by the multinational precision instrument manufacturer HORIBA. As part of HORIBA Glasgow-based IBH continues to be a leading manufacturer of advanced fluorescence instrumentation used in research laboratories worldwide with a team including a number of Strathclyde graduates.
Strathclyde has now formed over 60 spin-out companies. As of 2020, these companies employ 1100 people and have sales of £150M per annum.