The University of Strathclyde has received a transformational donation of £50 million from alumnus Dr Charles Huang – the largest gift Strathclyde has received to date.
The gift is set to make a significant contribution to the delivery of our University-wide entrepreneurship strategy, Strathclyde Inspire, which supports and encourages staff, students and alumni at every stage of their entrepreneurial journey.
£30M of the gift will support the construction of a new building named after Dr Huang in the University's Technology and Innovation Zone in the heart of Glasgow City Innovation District. This new building will house a new state-of-the-art Entrepreneurship Hub which will be the focal point of Strathclyde Inspire on campus.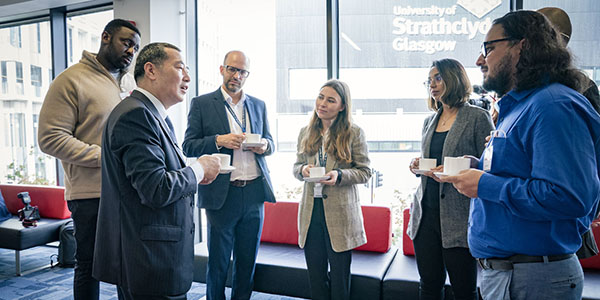 Another share of the gift will directly support the next generation of Strathclyde entrepreneurs through the creation of the 'Stephen Young Entrepreneurship Awards'. The awards will become a key component of Strathclyde Inspire, and have been named in memory of the late Professor Young, a former Head of the Department of Marketing and Dr Huang's supervisor and mentor during his PhD studies.
The Awards programme will include a brand new, prestigious annual award which will reward research which has commercial potential and the capability to make a real-life impact on the world.
Catherine Breslin, the University's Head of IP & Commercialisation, said: "We are enormously grateful to Dr Huang for this incredibly generous gift, which will enable us to provide this financial boost to opportunities in our pipeline, and to celebrate the successful translation of research to real-world impact."
The programme will also include a range of smaller awards embedded into existing Strathclyde Inspire programmes, enabling the University to support a larger number of early-stage entrepreneurs, stimulating business creation and growth.
Awards will be incorporated into: the investor-ready accelerator, increasing the level of grant funding available to participants; the biannual Inspire 100 pitching competition; and the Strathclyde Inspire Entrepreneurs Fund, a donor-based fund which bridges the early-stage funding gap.
The gift was made at a ceremony on the University campus on Tuesday 21 September, and was attended by Strathclyde Inspire-supported entrepreneurs who gave Dr Huang an insight into the impact his support will have on the next generation of Strathclyde entrepreneurs.
Electronic and Electrical Engineering graduate and Founder of Gibson Robotics, Joe Gibson, outlined how his business is developing a fixed-wing counter- UAS platform to provide around the clock air safety. Gibson Robotics was a participant on the investor-ready accelerator and has recently received investment through the Strathclyde Entrepreneurs Fund.
Business School graduate and Co-Founder of WashR, Lesley Thomson, presented her cup washing system that allows users to quickly clean their reusable coffee cups on the go, removing the barriers which prevent routine use of reusable coffee cups and allowing individuals and organisations to deliver zero waste. WashR was a participant on the investor-ready accelerator and were announced winners of the last Inspire 100 event, giving them £10k which they will use to secure a patent on their technology.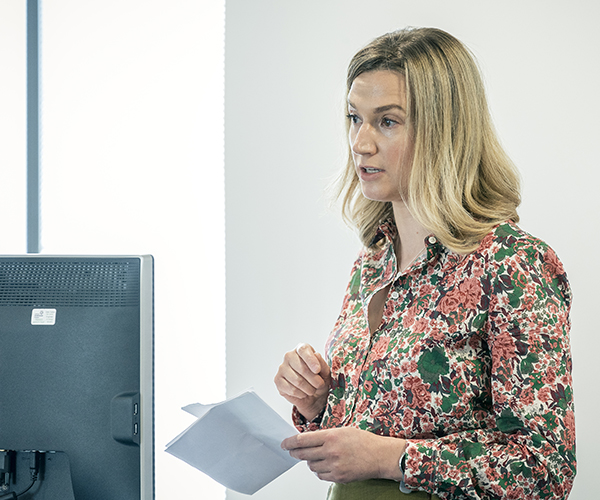 Dr Huang gained his MBA from Strathclyde in 1989 and his PhD in Marketing in 1994. A successful entrepreneur, he is a global business leader and founder and chairman of Pasaca Capital Inc, a California-based private equity firm established in 2016 with a global focus on investing into innovative technologies and products.
Fiona Ireland, Head of Enterprise, said: "Our alumni community has always played a central role in entrepreneurship activity and over the years we have successfully engaged experienced entrepreneurial alumni in support of the next generation of entrepreneurs. Dr Huang's gift is a transformational example of this in action and we look forward to seeing the difference his very generous gift makes on the entrepreneurs we are supporting."