Continuous Improvement blog

Staying connected through remote Daily Stand Ups
Introduction
Susan – Graeme and I decided to write this blog together to share our belief in the importance of staying connected with your team during this period of remote working. We had a chat over Zoom and transcribed our conversation so what you see is pretty much how the conversation went. We felt this was the most natural way to do this post, as it's typical of the way we communicate with each other.
Graeme – Susan did the typing though as my spelling leaves a lot be desired!
Susan – While Zoom is great, we didn't use the transcription function as it doesn't seem to like our Glasgow accents. I don't recall what I actually said here but I know I didn't have two lunches while listening to Queen on a trip to the airport!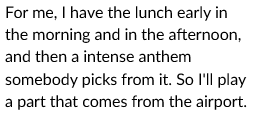 Graeme – Are you sure you didn't have two lunches?
Susan – ………….
Remote Stand Ups - or Sit Downs?
Susan - For as long as we have worked in Continuous Improvement, Daily Stand Ups (DSUs), or Communication Cells, have been how we started each new day. So much so we've written a few blog posts about their contribution to how we work and now added to this to help us stay connected.
Graeme – Daily Stand Ups? Remotely they're more of a Daily Sit Down.
Susan – Lazy.
Susan - As a team who meet every morning without fail for 15 minutes, we didn't want to lose this short, yet vital meeting from our daily routines when we moved to remote working.
Graeme – Couldn't agree more, the communication cell starts the day with updates, structure, and the ability to take dynamic decisions. It's one of the foundations of our standard work.

Susan - There are lots of online tools available to support meeting online and, like many people, we're using Zoom.
Graeme – Zoom is a great tool for bringing people together, the gallery view ensures eye contact and real engagement and you can have a bit of fun with the backgrounds, I have a corporate one for training and workshops but a hot tub one for those lighter moments!
Susan – Yeah, keep that one to yourself please Graeme!
Susan - As we're no longer together throughout the day in the office, we miss out on a fair bit of chit-chat, so with that in mind, we often log into the meeting a few minutes early so that we can catch up.
Graeme – Yes, some only get a quick listen when logging in early! It's a valid point though. Remote working emphasises the differences in our situations and whether it's looking after small kids, home schooling or maybe living alone, the human contact via the daily comm cell is vital to wellbeing and the team dynamic.
Susan - A quick listen? Are you trying to say some of us hog the mic? I can't think who you would mean!
Susan - We have added a section to our agenda to cover the previous day. This is not necessarily work related, although it can be. The main purpose is to give people an opportunity to share anything they might want to about the day before. Maybe they got a surprise delivery, or tried a new recipe.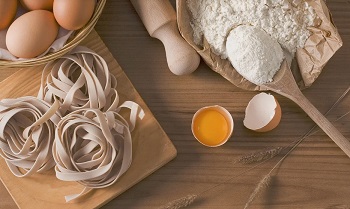 Graeme – It's become a long list of goodies I never got to taste!
Susan – Well the key is in the word Graeme, recipes. You're supposed to make them!
Graeme – My Tesco hasn't had self-raising flour since 2019!
Graeme – Don't forget the new Wellbeing checklist replacing our work place assessment.
Susan – Getting to that. We usually have a workplace assessment check at the end of each day to check the office meets our 5S standards. Instead we now have a wellbeing checklist. It has questions such as, 'did you take regular screen breaks?' 'did you take some time out for you and/or your family?' and so on.
Graeme – This may seem like overkill but it gives security and confidence to the individual and is a simple system to regularly contribute to employee well-being. And it provides a bit of humour to others as I occasionally forget to complete it.
Susan - *coughs* yes, just occasionally.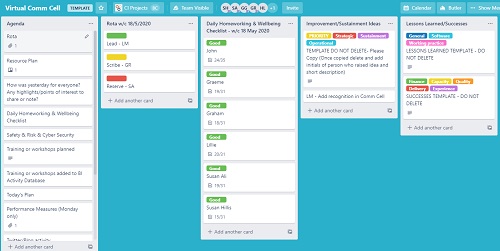 Susan – We've always stressed the importance of sticking to an agenda at a communication cell to manage it successfully, and a remote one is no different. There are several different management tools to help make this visible and collaborative, and of those, we use Trello.
Graeme – Trello is a great match with our needs. The agenda is clear to all, we can link to other boards to record our improvement ideas, successes and lessons learned and finally link to performance measures in PowerPoint on our shared drive.
Susan – We've replicated everything from our physical comm cell board, onto a virtual one on Trello. We still follow a rota for who is leading, scribing, and who is reserve. The lead shares their screen on Zoom and we run through the agenda together. This way we're still sticking to approximately 15 minutes for the meeting, and we can make sure we cover everything necessary. You mentioned lessons learned Graeme, have you learned anything while we've been writing this blog together?
Graeme – Is it to do with not using my hot tub background at the comm cell?
Susan – Yes! Thank goodness, my eyes!
Graeme and Susan – Stay connected, stay positive, and stay safe.