Continuous Improvement blog

The show must go on
With everything that's going on at the moment we realised that at some point quite soon we would probably not be able to have our Communication Cell / Daily Stand Up meeting face to face... after nearly seven years of doing it every weekday morning what were we to do?

As a team we had a discussion and thought about what we needed to do in order to hold our daily stand-up meeting for 15 minutes, with all of us in different locations, but still have the same impact.

We achieved this as a team in three steps:
1. Created a Virtual Comm Cell
The first thing we did was to simulate our physical Comm Cell board using an online tool called Trello
We always use a standard agenda and we replicated that on Trello with areas for Continuous Improvement, Successes and Lessons Learned. We also created a link from Trello Board to our Performance Measures so that we can review them together online.
2. Tested the solution
One of the tools that our University has been looking at for video content delivery is called Zoom. We downloaded Zoom onto our laptops and mobile phones and did a trial by going to different parts of the University so that we could simulate dialling in from home.
It is very simple to set up and schedule a meeting in Zoom. Having used other types of video conferencing tools before, I was delighted at the quality and ease with which it all worked. We could see each other and the cameras displayed the person who was talking which I think is pretty cool.
Anyway that all seemed to work quite nicely.


3. Implemented the solution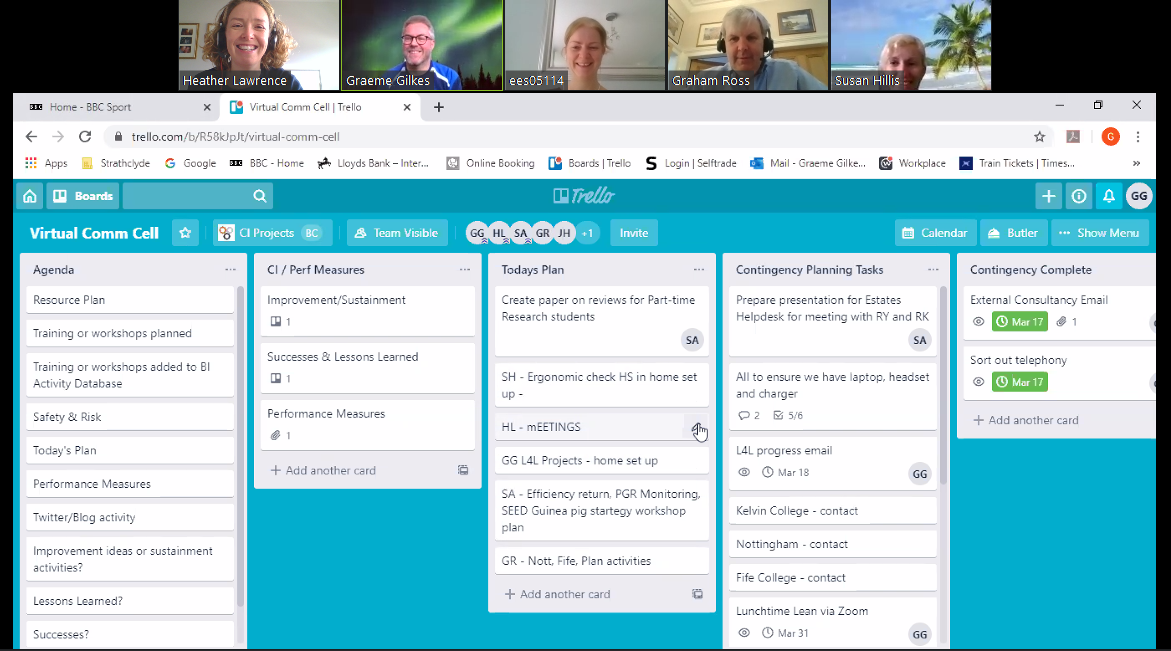 Yesterday and today we all dialled in live from home at 9am and therefore we still have not missed a Comm Cell in almost 7 years! The Show Must Go On!

It all worked really well and everyone seemed to be in good spirits despite the current difficulties

It may be something you and your team could try to keep connected during these challenging times for everyone.

Watch this space to find out how some of my colleagues are experiencing working from home.