Continuous Improvement blog

Workplace Organisation - Introduction to the 5S fun
In this series of 6 blogs I would like to share with you my experience of applying the 5S Workplace Organisation principles to our own Continuous Improvement Directorate workspace at the University of Strathclyde. Part 1 provides the context as to why our team wanted to rejuvenate our work environment.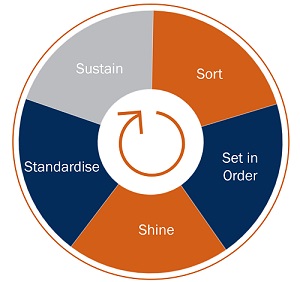 We are very lucky in that our office has a beautiful view over-looking Glasgow.
In contrast to our external view of the world, our whole team felt that that the office area was not up to the standard that we had set for ourselves. At times, the area felt cluttered and did not reflect the work environment that we all wanted to work in, and be proud of.
So one of the first things we did was to "Go and See". I recommend you always have a walk through the area and make critical observations before you embark on any type of improvement activity.
We tried to view our work environment through the lens of a visitor to our area.

Could they get a sense of what we are about within a few minutes when they entered the area? Did they get a sense of wow, this is impressive?
Did they get a sense that we are living the Lean principles that we teach others?
Trying to see the area through our visitor's eyes was a wakeup call for all of us. This inspired us to review our area and to make improvement by applying the 5S Workplace Organisation Principles.
If you would like to find out what happened next, please look out for the blog post "Sort it Out", which will be coming soon.