Throughout October, we celebrate Black History Month.
Black History Month encompasses the history of African, Caribbean and Asian people in this country; people who often have a direct link with Scotland through slavery, colonialism and migration. Black History Month focuses on people whose sacrifices, contributions and achievements against a backdrop of racism, inequality and injustice are often overlooked or forgotten about.
Get involved
Union Black: Britain's Black cultures & steps to anti-racism
Through our ongoing partnership with Santander Universities, Strathclyde staff and students have the unique opportunity to participate in an e-learning course developed by leading Black academics, artists and activists in partnership with the Open University.
The course takes six hours in total (three 2-hour sessions) and is self-directed. Access to the course is via the Santander Scholarship platform (click the 'Enrol' button). Upon registration learners will receive an email from FutureLearn with the link to access the course within 24 hours. Enrolment is free and you have until 3rd December to complete the course. Any technical issues, please contact santander.universities@santander.co.uk.
Legacy Rooms: Interrogating Whiteness
Have equality and decolonisation initiatives in Scottish heritage achieved positive change for the sector? How can anti-racist thinking decentre whiteness in heritage institutions? Join a panel discussion looking at the legacies of empire and slavery in the Scottish heritage sector and the challenge of confronting structural barriers.
Organised by University of Strathclyde academics Dr Churnjeet Mahn and Dr Nathar Iqbal in partnership with Glasgow Life and The Hunterian Museum.

Tuesday 19th October, 4:30-5:30pm
White Thinking Book Launch
Professor David Murphy, Head of the School of Humanities, has been working closely with the Lilian Thuram Foundation for Education against Racism. Lilian Thuram is an ex-French international footballer who has since published widely on race and identity, curated major museum exhibitions, and organised countless anti-racism workshops. David has edited the English-language translation of Thuram's bestselling book, Mes Etoiles Noire (My Black Stars) and is now translating his latest book, White Thinking: Behind the Mask of Racial Identity.
Publication on 20 October. Details of launch events to be confirmed.
Lunchtime Talks with the National Graduate Schools
Throughout October, the Scottish Graduate School of Social Science (SGSSS) and the Scottish Graduate School for Arts and Humanities (SGSAH) have joined forces to deliver a series of free 'Lunchtime Talks' for researcher communities, celebrating the history, achievements and contributions of Black and minority ethnic people across and beyond Scotland.
Find out more about Lunchtime Talks
'Merchants City' History Walking Tours
On the University of Strathclyde's doorstep, CRER's hugely popular walking tours take participants on a historical journey through Glasgow's mercantile past and examine the city's connections with tobacco, slavery and the abolition movement. Tours will be led by Yasmin Luqman and Nelson Cummins. The walking tour will leave from the David Livingstone Statue, Cathedral Square. The tour will end outside GoMA, Royal Exchange Square.
Sundays 3rd, 10th, 17th, 24th and 31st October, 1pm-3pm. Meet at the David Livingstone Statue, front of Glasgow Cathedral, Glasgow, G4 0QZ. Free event with booking, email nelson@crer.org. External event.
Black History Month 2021 Programme
The Coalition for Racial Equality and Rights in Scotland (CRER) has co-ordinated a uniquely Scottish Black History Month during October since 2001. The official 2021 programme offers a fascinating range of free events, talks, tours, concerts and film screenings.
Visit CRER's Black History Month webpage for more information, or download the BHM Scotland 2021 Programme (PDF).
Better Tomorrow
We invite you to "Better Tomorrow", an online forum meeting aimed at inspiring and connecting students and staff in fostering diversity and inclusion, especially in but not exclusive to the chemical sciences. The event is jointly hosted by the departments of Pure and Applied Chemistry and Chemical & Process Engineering at University of Strathclyde.
This event will feature guests* from diverse backgrounds and career stages speaking about their experiences and discussing what needs to be done today to make our disciplines fairer, more equal and diverse. Time will be set aside for audience Q&A and general discussion.
Register in advance for this event below.
Date: Wednesday 20 October, 1 pm (See tentative programme below)
*Tentative Programme
1:00 pm - Opening remarks
1:05 – 1:25 pm - Student panel sharing of experiences
1:25 – 1:35 pm - Q&A and general discussion
1:35 pm - Break
1:40 – 2:00 pm - Career panel sharing of experiences
2:00 – 2:10 pm - Q&A and general discussion
2:10 – 2:30 pm - General discussion and closing
(Feel free to join any part of the programme that best suits your schedule.)
Guests
Invited guests already confirmed who will share their stories at "Better Tomorrow" include both students, staff and career professionals:
Student Panel: Mechelle Williams (Year 3 UG Chemistry, Strathclyde); Kiani Jeacock (Chemistry PGR and EDI committee member, Edinburgh); Morgen Mukamwi, Christine Tambe, and Justina Ikudehinbu (Chemical Engineering PGR, Strathclyde).
Career panel: Ebele Ezeadi (Study Delivery Lead at GSK, former member on RSC's Inclusion and Diversity Committee); Tosin Somorin (Chancellor's Fellow and Lecturer in Chemical Engineering, Strathclyde); Adeolu Oluwasanmi (Postdoctoral research associate in Chemistry, Strathclyde); Sulaiman Hanif (Chemistry MSci alumnus & Audit Associate at PwC)
Cross-Border Queers / Desi Diasporas and LGBTQ+ Activism
Dr Churnjeet Mahn is currently leading a British Academy-funded project called Cross-Border Queers with Dr Rohit Dasgupta (University of Glasgow), examining the missing histories of LGBTQI+ South Asian migration to the UK. Churnjeet and Rohit recently hosted a panel discussion on 'Desi Diasporas and LGBTQ+ Activism' as part of South Asian Heritage Month. They also recently published an article in Gal-Dem magazine reflecting on their research.
Anti-racist Social Work in Scotland: A space for discussion
Black Lives Matter is being supported by different activities in Scotland to develop an anti-racist response. This two hour seminar aims to bring people together to discuss how we might work more collaboratively and purposefully towards our vision for anti-racist social work.
Wednesday 13 October, 3pm - 5pm
Anti-Racist Curriculum (ARC) Project: Phase 1 Launch Event Invitation
Advance HE, Quality Assurance Agency Scotland, and the Scottish Funding Council are delighted to be launching the Anti-Racist Curriculum (ARC) 'Guide' this Autumn. Phase 1 of ARC was a short-lived project focused on 'starting the conversation' and resulting in a final 'Getting Started Guide' designed to help institutions begin their journey towards developing Anti-Racist curricula. The soon to be launched web based 'Guide' will serve as an online library of resources for tertiary colleagues to explore at their own pace and adapt to their own needs.
We warmly invite you to join us in celebrating the launch of these resources. Book onto the Anti-Racist Curriculum (ARC) Project: Phase 1 Launch Event.
Khadija Mohammed (Chair of ARC Project), Senior Lecturer and a Senior Fellow of the Higher Education Academy in the School of Education and Social Sciences, University of the West of Scotland
David Bass (ARC Executive Group Member), Assistant Director for Equality, Diversity & Inclusion, Advance HE

Strath Union
This year Strath Union is focusing on the spirit of creating lasting change all year round. There will be a variety of events throughout the month of October alongside our ongoing campaigns, such as the Decolonise Campaign.
Check the Strath Union website to stay up to date with what's on.
Advancing race equality at Strathclyde
As a socially progressive and people-oriented organisation, the University of Strathclyde strives to be an inclusive community which recognises the potential, talents and contribution of all people.
We greatly value the diversity of our student and staff populations, and seek to create a culture where everyone is welcome and thrives within our institution, and are treated fairly and with respect.
We're committed to creating an environment for students, staff and visitors in which behaviours that detract from the safety and collegiality of our University are not tolerated. The University will take prompt action in response to any alleged discrimination, victimisation, or harassment based on race and ethnicity, nationality, and religion and belief.
Our commitment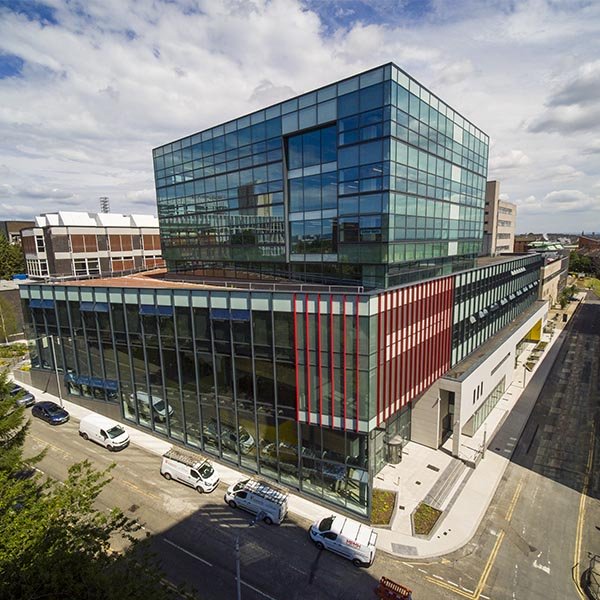 Race Equality Working Group
Following Strathclyde's formal endorsement of a landmark declaration against racism from Scotland's universities and colleges, the Race Equality Working Group was convened to inform the advancement of race equality work. Chaired by Professor Krishna Paudyal from Strathclyde Business School, the group works to ensure and promote an inclusive environment for Black, Asian and Minority Ethnic (BAME) students and staff, promote racial diversity across the University and, address educational and employment outcomes for BAME students and staff.
During 2020-21, the group has been reviewing existing evidence and consulting across the University to identify areas for action, with particular regard to the representation and progression of staff and students, and developing recommendations for specific actions.
Meet the group
Report & Support
If you experience or witness bullying, harassment and violence on campus and/or relating to university staff and students, you can report this via Strathclyde's Report & Support system. Reports can be made anonymously.