SCELG Co-Director Appointed to Human Rights Advisory Group
January 2018: Professor Elisa Morgera, SCELG co-director, has been appointed by Scotland's First Minister to a new Advisory Group on Human Rights Leadership. The group will provide independent advice to the government on how Scotland can continue to promote and support human rights, with a focus on social, economic and environmental rights.
At the group's first meeting, First Minister Nicola Sturgeon stressed the need for ambitious recommendations, so that Scotland's commitment on human rights makes a practical difference to people's lives. Professor Alan Miller, Chair of the Advisory Group, said that:
"Human rights leadership is needed more than ever in our uncertain times. For decades now we have benefited from the protection of certain rights guaranteed by membership of the EU and of the European Convention on Human Rights. Brexit removes the former and imperils the latter.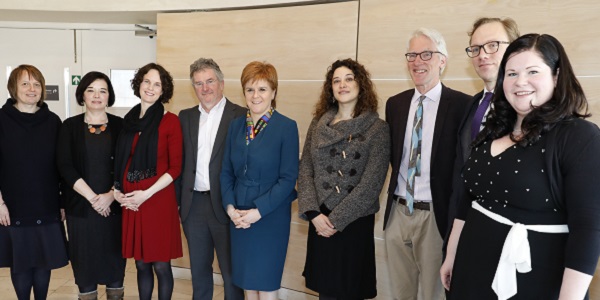 The advisory group on Human Rights Leadership
Professor Morgera said, "I very much look forward to working with my colleagues on the Advisory Group on Human Rights Leadership and other interested parties, in 2018. Access to justice in environmental matters, and the linkages between ecosystems and the human rights to health, water and food are critical to manage the risks arising from Brexit. Leading by example in these areas can both have significant local impacts and be of global relevance."
The appointment will provide an opportunity to further explore with other experts and stakeholders SCELG's earlier contributions procedural and substantive environmental human rights as part of Scottish debates on Brexit.
The Advisory Group also includes Professor Nicole Busby of Strathcyde Law School, Professor Paul Hunt (former UN Special Rapporteur on the Right to Health), Dr Katie Boyle, Dr Tobias Lock, Shelagh McCall QC, Professor Aoife Nolan and Judith Robertson (Chair of the Scottish Human Rights Commission).