Scottish Government Taskforce recommends recognising the human right to a healthy environment in Scotland
Mar 2021 — The Scottish Government's National Taskforce for Human Rights Leadership has made 30 recommendations to introduce a new human rights framework for Scotland, including recognising a human right to a healthy environment. The Taskforce, which was established in early 2019, is co-chaired by University of Strathclyde's Professor Alan Miller and also includes Strathclyde's Professor Elisa Morgera and Dr Elaine Webster on the Taskforce's Advisory Panel.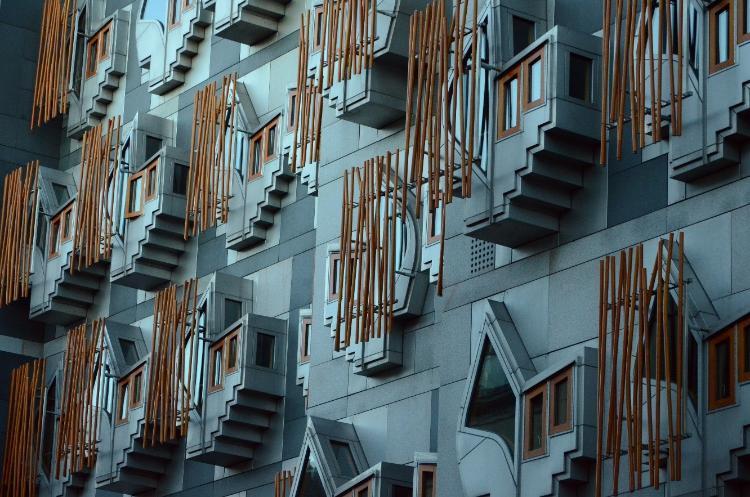 Scottish Parliament Building, Edinburgh. Photo by Chris Flexen in Unsplash.
Its task was to set out a new statutory framework to bring internationally recognised human rights into domestic law following Brexit which was understood to have weakened the present framework of human rights and social protections and which gave impetus to the need for a new framework.
In a newly-published report the Taskforce makes a total of 30 recommendations which have been accepted by the Scottish Government. Dependent upon the outcome of the Scottish general election in May, the government will introduce in the next session of the Parliament a Bill to introduce the new framework.
Recommendations include a right to a healthy environment
Included amongst the package of rights that the Bill seeks to introduce lies the internationally recognised right to a healthy environment. Scotland's express recognition of a right to a healthy environment will help it to achieve the policy objective of becoming a global leader in environmental rights, and will also promote policy coherence and co-benefits for a fair green recovery from the COVID-19 pandemic — in line with the UN call to "build back better".
Professor Miller, Professor of Practice in Human Rights Law, said: "Scotland has become increasingly confident and internationalist throughout the past twenty years of devolution and this set of recommendations clearly shows the next step on its human rights journey.
"Our recommendations are challenging, ambitious and will need continued bold leadership to implement. It would be by far the biggest step taken in Scotland's human rights journey. This proposed new framework would, for the first time, bring into our law and put in a single place the range of internationally recognised human rights – civil, political, economic, social, cultural and environmental – which belong to everyone."
Collectively, this package of new human rights protections will enable Scotland to learn lessons from the pandemic and ensure no one is left behind in its recovery, to improve the economic and social security of everyone, to end the interference with the natural environment which has caused the pandemic, and to urgently address the underlying climate crisis.
Reactions to the Report from Scottish authorities and civil society were very supportive of the recognition of the human right to a healthy environment:
Environmental NGOs :https://www.ercs.scot/news/plans-for-human-right-to-a-healthy-environment-in-scots-law-welcomed/
@nourishscotland: It's a big day for human rights and the #RightToFood in Scotland! We welcome the Taskforce on #HumanRightsLeadership recommendations and the commitment of @scotgov to incorporate economic, social, cultural and environmental rights
@ScottishLandCom: New recommendations from National Taskforce on Human Rights to reduce inequality and advance human rights #LandReform and the Land Rights and Responsibilities Statement provide lessons and approaches for the human right to a healthy environment
SCELG's support to the National Task Force
SCELG organised three roundtables on the right to a healthy environment, supporting a dialogue among environmental and human rights stakeholders in Scotland and direct engagement with the former and current UN Special Rapporteurs on Human Rights and the Environment and on Toxics and Human Rights.
SCELG's work on Scottish islands, climate change and Brexit has also contributed to the thinking within the Task Force on the human right to a healthy environment. SCELG will also support the identification of opportunities to showcase globally Scotland's progress in this area at the awaited Climate COP in Glasgow in late 2021.
Read more on SCELG's work in these areas at the following links:
SCELG and the National Task Force on Human Rights Leadership:
SCELG and Brexit
SCELG and Scottish islands