SCELG collaborates with the Tilburg Institute for Law, Technology and Society (TILT)
Dr Francesco Sindico was invited by the Tilburg Institute for Law, Technology and Society (TILT) as part of the Institute's celebrations for its 25 year anniversary. Every month in 2019 TILT has focused on a specific topic and in October Dr Sindico was asked to join TILT for a month as the Climate Change Visiting Professor. In this role he delivered a public lecture titled "Climate Change Tipping Point: Civil Society Turns to Litigation" on 22 October. The public lecture was delivered in Tilburg's public library, LocHal, a truly magnificent public space that allowed SCELG's work and research to be accessed by the general public in Tilburg.
Commenting on his stay at TILT Dr Sindico said:
I spent almost a month in what I could only define as a magnificent university and an incredibly dynamic institute. I would like to thank in particular Dr Leonie Reins and Ms Anna Berti Suman for inviting me and for making me feel at home from the first to the last moment of my stay. I would also like to thank TILT's Director, Prof Leenes and all the staff, including the great support staff, who has helped me throughout my stay. Finally, I would like to thank all those who attended my Public Lecture and I can say for sure that this will not be my last time visiting the Netherlands and collaborating with Tilburg.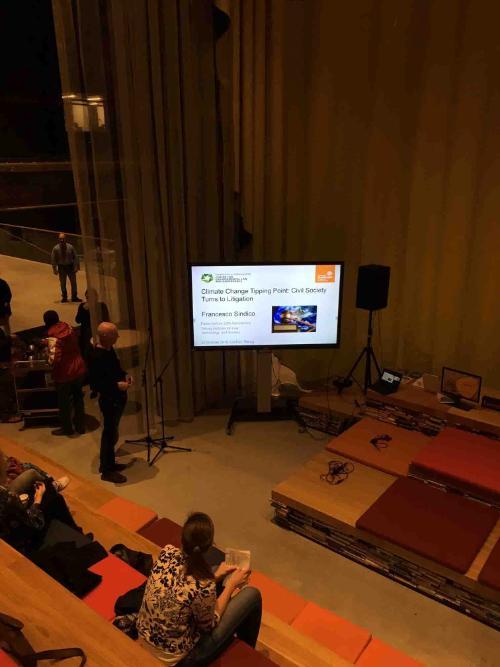 Climate Change Litigation Initiative
In his public lecture, Dr Sindico presented the work that SCELG is undertaking on climate change litigation. In collaboration with Prof Makane Moise Mbengue of the University of Geneva Dr Sindico is leading an edited collection titled "Comparative Climate Change Litigation: Beyond the Usual Suspects" that will be published by Springer in 2020 and that will discuss climate change litigation in 30 jurisdictions around the world using a scenario based methodology. As follow up to the book, SCELG, in collaboration with the University of Geneva and the National University of Singapore, is leading the Climate Change Litigation Initiative where users will be able to access information about climate change litigation from over 30 countries in an accessible format. SCELG PhD researcher Kathryn McKenzie has been instrumental in the production of the book and in working with Dr Sindico on the Climate Change Litigation Initiative, which SCELG plans to launch at COP26 in Glasgow in 2020.