Professor Harald Haas, Director of the LiFi Research and Development Centre which recently relocated from the University of Edinburgh to Strathclyde, talks about his ground-breaking research into light-based communications technology (LiFi), his long links with Strathclyde and the reasons that led him to move the Centre to Glasgow.
Over the summer, the Lifi Research and Development Centre (LRDC) and its 15 staff relocated from the University of Edinburgh to Strathclyde. The LRDC, founded in 2013 and headed by Professor Harald Haas, is now part of the Department of Electronic and Electrical Engineering.
LiFi technology is a ground-breaking technology which makes use of visible light waves instead of radio waves to deliver data.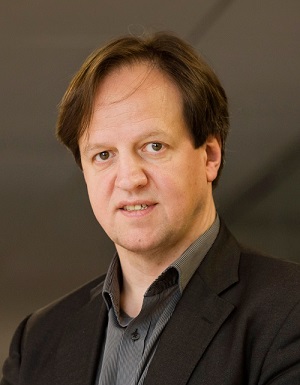 The LRDC is dedicated to accelerating the development of light-based communications (LiFi) as a major global industry, through the creation of a pipeline of innovative ideas, technologies, products and partnerships.
LiFi technology can transmit data and unlock capacity which is 1,000 times greater than that available within the radio spectrum. The visible light spectrum is plentiful, free and unlicensed, mitigating the radio frequency spectrum crunch effect.
The LRDC focuses on using light from LEDs or fluorescent bulbs to transmit data in applications such as cellular communications, cyber-security and defence, electromagnetic sensitive environments, augmented reality, localised advertising, underwater communications and indoor navigation.
"We see synergies with many of the research clusters established by the University of Strathclyde within the Technology & Innovation Centre zone of Glasgow City Innovation District," says Professor Haas. "In fact, I see avenues to connect to all six existing clusters of excellence with the three closest ones being Quantum Technologies, 5G communications and Health Technologies."
World's first
Professor Haas's and the Lifi Centre's links with Strathclyde go back many years.
"I have had very successful research collaborations in the past with colleagues at the University of Strathclyde," he says. "Between 2012 and 2016 we were part of the first major UK programme grant on visible light communication, UP-VLC, led by Professor Martin Dawson at the Institute of Photonics.
"This work produced many of the world's first demonstrations and has provided a massive boost for visible light communication and LiFi internationally. More recently, we were partners in the DCMS funded project RuralFirst, led by Cisco in collaboration with Professor Robert Stewart.
"In this project, we have shown in a real-world use case that ordinary solar panels can act as LiFi data receivers whilst maintaining their function as energy harvesting devices. We developed a prototype that was trialled for a three-month period in the Orkneys."
It is the real-world application of research and Strathclyde's expertise in research translation that has drawn Professor Haas and the LRDC team to the University.
He says: "I was intrigued by the leading position of the University of Strathclyde in pulling technological innovations through to real-world adoption. Strathclyde has demonstrable success in bridging the fundamental divide in the UK between basic research and industrial adoption. It clearly embodies all the traits and excellence of a Technological University which while common in mainland Europe, has so far not been part of the UK academic landscape.
With my German heritage, I found the establishment of the first Fraunhofer UK a great step as I am aware of the important role of the Fraunhofer Institutes in Germany in driving world-leading innovations through to industrial adoption.
"This is one of the reasons for the existence of a rich SME eco-system (Mittelstand) in Germany which underpins general economic success. My idea has always been to model the LiFi Centre on the German Fraunhofer mission.
"In the UK I often encounter the widespread belief that research will either be fundamental or applied. I strongly contest this view in the context of engineering and computer science where the ultimate goal must be to 'create' novel solutions that improve our lives and ensure that future generations will find a habitable planet.
"Research, in this context, will inevitably have to be applied, but real improvements can only stem from ground-breaking innovations which are driven by a deep understanding of the fundamentals of physics and mathematics and sciences in general.
There is clear evidence that the University of Strathclyde embodies academic excellence and has found pioneering ways to channels this excellence to make knowledge useful to mankind.
"I look forward to working with my new colleagues at Strathclyde to drive fundamental innovation. It is exciting to see innovative ideas which often start on a blank sheet of paper develop into ground-breaking new solutions. My clear aim is to help drive innovation which will deliver tangible and measurable improvements to the end user."
Industrial projects
Despite the uncertainty and disruption caused by Covid, the LiFi team has settled in very well and continues to work on a number of important H2020, EPSRC and industrial projects.
Professor Hass says: "Obviously, we are restricted by Covid and have to accept that face-to-face contact with new colleagues is limited. However, thanks to modern communication technologies the consequences of this limitation are somewhat softened. We have experienced outstanding support from the university management, colleagues and support staff. This really led us to experience a very warm welcome.
"We have recently published new theoretical studies on the performance of LiFi wireless networks and have restarted our experimental work which we hope to ramp up gradually during the next six months.
I am massively proud of the whole team including all the people from the start of the journey 16 years ago. Some of my former PhD students are now leaders in optical wireless communications. Others have become ambassadors for LiFi within their industrial environment. Throughout this time I have had the honour and the privilege to work with truly wonderful and highly talented people.
"Our current LiFi Centre team is outstanding and is working as a vibrant and highly mutually supportive team. This has led to a number of the world's first demonstrations such as: a world record data of 3 Gbps from a micro LED developed by the Institute of Photonics led by Professor Dawson and in collaboration with colleagues at Oxford University; 20 Gbps from white laser light over 3m demonstrated as CES together with our industrial partner SLD Laser; the world's first demonstration of a solar LiFi link at the Orkneys; a world record demonstration of 1 Gbps from an organic LED together with our collaborators at the University of St Andrews; and a world record data link of 2.5 Gbps using a GaAs solar cell in collaboration with the Fraunhofer IES in Freiburg/Germany.
"I am massively proud of all these and many other achievements of the team. I am delighted that we have been able to shift the boundaries of wireless light communication many times in the past, and I do very much look forward to continuing to move research boundaries and at the same time, effectively translate these break-throughs to prototypes which can easily be taken forward by industry to build products that will touch us all.
"We will continue to work with our industrial partners to prove the technology in new use cases. We will continue to support the Light Communication Alliance as well as IEEE 802.11bb standardisation.
"We are preparing LiFi demonstrators for major trade shows such as CES 2021 in collaboration with our industrial partners. Furthermore, we have improved our outdoor solar LiFi backhaul system which we trialled on the Orkneys.
"We are working with an industrial partner to showcase the advanced system in a defence related use case. In the medium term, we will ramp up the number of LiFi projects – preparations are currently on the way.
"We will grow our engineering and research teams and develop industrial-scale prototypes for new use cases in the areas of 5G, health, quantum communication, space and security/defence. We will hopefully establish strong internal partnerships to deliver large-scale and meaningful impact to society.
In the long term, I am hoping that the LiFi Centre will help to create a new LiFi industry and that it will maintain its status as one of the most attractive one-stop-shops for industrial partners who wish to innovate in the wider field of optical wireless light communication.
"I am absolutely sure that in 20 years' time all the billions of mobile devices for personal communications, but also machine-type communications, will have some form of optical wireless communication capability. I am hoping that many of our technologies will have found their way into these future mobile devices.
"I am convinced that the future of LiFi is bright and now with the move to the University of Strathclyde, even brighter."
Professor Harald Haas biography
Born in Neustadt an der Aisch (Germany), Professor Harald Haas graduated as an electrical engineer in 1994 from Technische Hochschule Nürnberg (Germany). He subsequently received a Heinz-Nixdorf scholarship to gain experience in South-East Asia and lived in Mumbai for a year working for Siemens Mobile Communications then joined Siemens Semiconductor (now Infineon) as an application engineer for a GSM (2G cellular) chipset in Munich in 1995.
He came to Scotland to embark on a PhD programme at the University of Edinburgh and on completion in 2001, returned to Germany to work as a research manager on 4G cellular communication systems with Siemens in Munich. In 2002, he became an Associate Professor at the Jacobs University in Bremen then rejoined Edinburgh in 2007, where together with one of his former postdoctoral students, Mostafa Afgani, founded pureLiFi Ltd, in 2012. He remains its Chief Scientific Officer and a member of the Board of Directors.
The company has two registered PhD students who are employed as part of an H2020 Marie Curie Initial training network, ENLIGHT'EM. Haas was elected a Fellow of the Royal Society of Edinburgh in 2017, Fellow of the IEEE in 2017 and Fellow of Royal Academy of Engineering in 2019. When he is not working, Professor Haas enjoys outdoor activities – canoeing, hiking and riding.