Continuous Improvement blog

Workplace Organisation - Sort it Out
In my previous blog post I mentioned that we weren't happy with the standards in our office, and we wanted to improve them by applying the 5S Workplace Organisation principles.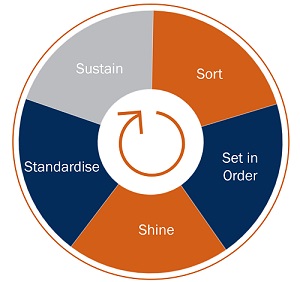 The first S of the five principles is Sort.
Sort means clearly distinguishing between what is needed and should be kept, and what is not, and which items should be removed. So what did this mean for us?
How did we go about applying the principle of Sort and what steps did we take to achieve this?
Having walked through the workspace, we created a map of the area, dividing it into zones, always thinking about our visitor experience. At this stage, we took point photographs to capture what each area looked like before any improvements were made. It is always something that people forget to do and it is too late once you have made the improvements to be able to demonstrate the impact of the changes made.
We then ran a red tagging exercise zone by zone. We did this by using brightly coloured red tag labels and attached them to objects that we felt shouldn't be in the area or weren't well organised and in good order .We set up a "Red Tag Area" (see banner picture above) where we stored red tag items temporarily. Just clearing some of the clutter into the red tag area opened our eyes to how we could better use our space. It can do the same for you!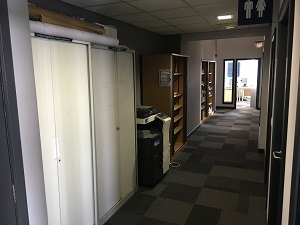 It also helped us realise how much "stuff" we actually had that we no longer needed and was just taking up valuable space. Another attraction of completing this sort phase made us realise that many items that we did need were in the wrong location. Removing the clutter also made it easier to find the things that we actually do need. By sorting out our environment, we managed to get rid of three large double door cupboards (pictured), which were taking up valuable space unnecessarily, and looked unsightly.
So having sorted the area we were ready to organise the things we actually used and needed. I am sure you are excited to hear what happened next…. I will reveal all in my next blog post entitled "Set in order if you are a hoarder". Poetry was never my strong suit as you can tell!