Here you will find helpful information for attending an event at the Technology and Innovation Centre. Visit our dedicated webpage for the safety measures we have put in place in the context of COVID-19. You can also download our Conferencing & Events A-Z.
The Glasgow Convention Bureau has information and resources on travelling to Glasgow and finding accommodation. Downtown Maps offers a complete city guide so you can make the most of your visit to Glasgow, including interactive maps, dining locations and leisure activities.
Attending an event in our virtual venue? Check the FAQs for everything you need to know, from logging on and navigating the portal, to attending sessions and engaging with other delegates.
Take a look at our campus map
Getting here
Bike
As part of our commitment to more sustainable travel, we have worked to improve the facilities available to cyclists and have been recognised as a Cycle Friendly Campus by Cycling Scotland. Secure bike racks are available around the perimeter of the Technology and Innovation Centre and across the Strathclyde Campus. Take a look at our Campus Map for more information on locations.
People Make Glasgow Next Bikes are available to rent from as little as £1 for 30 minutes and e-bikes from £2 for 20 minutes. The closest Next Bike location is at 40 George Street, outside the Graham Hills Building. Find out more on the Next Bike website.
Rail
The closest railway stations are:
Queen Street (0.4 miles), 7 minute walk
Glasgow Central (0.9 miles), 14 minute walk
High Street (0.1 miles), 4 minute walk
Queen Street (0.4 miles), 7 minute walk
Argyle Street (0.6 miles), 10 minute walk
Glasgow Central (0.9 miles), 14 minute walk
Buchanan Street Underground is an 8 minute walk away.
Bus
Buchanan Bus Station is 0.6 miles away, with frequent services to Glasgow International Airport.
A direct bus connection to Glasgow International Airport is also available from North Hanover Street, outside Queen Street Station, every 15 minutes. This is a 10-minute walk and the single fare is approximately £10. Depending on traffic, the journey time is around 20-30 minutes.
Car
Discounted parking is available nearby. The 24hour Duke Street Car Park currently offers an all day special rate at £5.00. Or you can validate your ticket at Reception in the Technology and Innovation Centre for the capped rate of £5.00 for 24 hours.
For discounted parking at the 24hour NCP George Street, download the ParkPass app and register with the code L6PN4FX. Scan the QR code using the app on entry to the car park rather than taking a ticket to receive your discounted rate - visit NCP George Street for prices via the ParkPass app.
Discounted parking is available at Q-Park Candleriggs if pre-booked online. Please enter code TICUOS20 to receive a 20% discount at point of booking. The car park is open 07:00-00:00, Monday to Sunday.
From 1 June 2023, a Low Emission Zone (LEZ) came into force in Glasgow. All vehicles entering the city centre zone area must meet the less-polluting emission standards or face a penalty charge. There are some exemptions. Please visit Glasgow City Council's webpage for full details.
(prices correct at June 2023)
Sustainable Travel
We encourage conference and event attendees to plan their travel to our campus as sustainably as possible. Please visit Sustainable Strathclyde for information on various modes of public transport, cycling in the city and greener driving.
If you are travelling to and from the Technology and Innovation Centre with other delegates, or organising excursions as part of your conference, you may wish to consider group travel options. The Glasgow Convention Bureau can assist with finding local providers, from taxis and coaches to chauffeur travel.
Places for Everyone is a £2M collaboration project led by the University of Strathclyde with Glasgow City Council, City of Glasgow College and Sustrans, aiming to form an active, safe and walkable Learning Quarter through the creation of an innovative urban realm. The project will deliver a range of active travel solutions including local community footpaths, footways and streets to allow people to move freely between the University of Strathclyde, City of Glasgow College, Glasgow Caledonian University and the city centre.
Accessibility
All our conferencing spaces in the Technology and Innovation Centre are fully accessible, and our friendly, professional team is on-hand to offer directions, assistance and advice.
there's level access to the building (Level 2 is the ground floor), with lift access available to all floors
all Auditoria have wheelchair spaces for those unable to transfer into a seat
all Auditoria and Conference Rooms are fitted with induction loops
there are accessible toilets on all floors, which are clearly signposted
there are designated safe areas throughout the building for any delegates unable to evacuate using stairs in the event of an emergency situation
If you or any of your delegates have specific access requirements, please let our Operations team know and they'll be happy to take you through our emergency arrangements in more detail, if appropriate.
Please visit our AccessAble, Euan's Guide and Accessibility Guides profiles.
Strathclyde Community Commitment
The University of Strathclyde is proud to be a diverse, socially-progressive institution, welcoming staff, students and delegates from around the globe and from all walks of life.
In line with our Values and our pledge to provide a safe and secure environment in which the whole community can thrive, the University expects those booking and using our spaces to respect and behave in accordance with the Strathclyde Community Commitment.
Find out more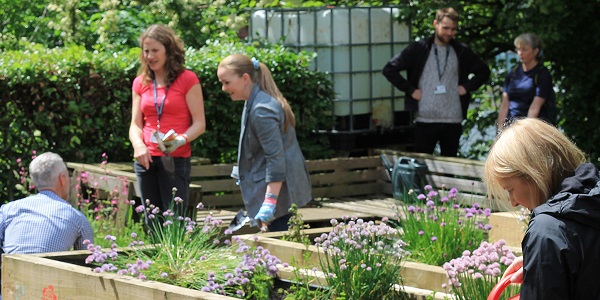 Wifi
We have a dedicated WiFi circuit available for organisers, exhibitors and delegates in all conference spaces and public areas on Levels 1, 2, 3 & 9 of the Technology and Innovation Centre.  To connect, select  TIC Conferences from the list of available networks and enter the password. The password is changed regularly – your Event Manager will confirm it the week prior to your event.
Access via Eduroam is available to those visiting from other academic institutions, provided your account has already been configured – simply log on using the credentials provided by your home institution.