Key facts
Start date: January 2024

Accreditation: The aim is to have the MSc course accredited by the Energy Institute and IMechE

Application deadline: December

Study mode and duration: Fully online and part-time, over 36 months
Study with us
designed for those who are working full-time in industry and are seeking further training for new job opportunities and enhanced career trajectory in the offshore renewable energy sector
gain skills in engineering problem-solving, energy transition and renewable energy technologies
become equipped with the necessary training to work as a future leader in offshore energy transition
this is a distance learning course delivered through pre-recoded lectures and live Zoom sessions
for an MSc degree 180 credit are required, however, other exit routes are available which include PGDip (120 credits) and PGCert (60 credits)
although the average duration for completing the part-time online learning MSc course is 36 months, the candidates can complete their 180 credits anytime between 18 and 60 months
Back to course
Why this course
With the increasing demand for energy transition solutions around the world, there is an urgent need to train a sufficient number of experts with the required skillsets to take up the relevant technical and managerial positions in industry.
This course has been designed in response to this essential need and facilitates career change for those who have previously worked in relevant industrial sectors and are keen to take part in the emerging renewable energy industry.
What you'll study
You'll study four compulsory modules which will develop a fundamental understanding of the offshore energy transition key concepts, needs and solutions. In addition to these core modules, you'll select four optional modules based on their strength, interest and the technical area that they would like to specialise in.
After completing the modules, you'll work on a literature review-based individual thesis project followed by a case-oriented dissertation project to design an energy transition roadmap for your current company or a nominated company from the list of suggestions provided by the course leader.

Facilities
During this course, you'll have access to a wide range of computer software packages which would be required to make informed engineering decisions for various aspects of energy transition. You'll also work with leading academics in the offshore energy sector who have strong track records in the development of clean energy solutions for various industries.
Our facilities
Go back
Course content
You'll take 180 credits made up of 120 credits of taught modules and 60 credits individual project. The part-time MSc course spans 36 months (typically) as follows:
Year 1 - 60 credits of taught classes
Year 2 - 60 credits of taught classes
Year 3 - 60 credits dissertation
Energy Transition Barriers & Readiness
This module aims to:
cover implications related to global warming and climate change risks as industries transition to net zero futures
cover set targets at the UK, EU and non-EU contexts with a view to distinguish opportunities and new business models
provide students with the fundamentals for decision-making under uncertainty
This module covers:
energy and climate change economics, and the business landscape
energy balance sheet towards net-zero
risks, uncertainties, barriers and opportunities in a changing landscape
energy and environmental law and policy
gap analysis, leadership and change management
technology and innovation
net-zero business strategies for resilient organisations
case studies of successful business models
On completion of the module, you're expected to:
appreciate the impact of climate change to traditional businesses within the UK, EU and non-EU context and evaluate the requirements and influencing factors towards net-zero strategies
analyse the technological and operational uncertainties and incorporate them into a risk analysis
identify and manage risks and opportunities to an organisation's internal and external context and appraise the impact of policies and regulations to inform future strategies
identify gaps within the organisation and understand the role of technology and innovation to the development and implementation of net-zero strategies
Techno-Economics of Energy Systems and Integration
This module aims to:
introduce fundamentals of techno-economic assessment of energy systems and key aspects of their integration in future energy systems.
provide students with myriads of ways in which energy can be produced, stored, distributed for national, regional, local and individual consumption
emphasise on wind energy systems and thermo-chemical conversion technologies, and their integration into national grid and district heat networks
This module covers:
energy conversion technologies and their key performance indicators
economics and policy of energy systems
links between energy systems, environmental systems and the economy
life cycle cost modelling of renewable energy technologies (DEVEX, CAPEX, OPEX)
energy system definition based on different policy scenarios (tools, scenarios and criteria)
optimisation of energy systems at different scales
net-zero energy systems (CCUS, Hydrogen, Storage, Power to X)
case studies (Wind Energy Systems to Power Grid; Biomass for District Heating)
On completion of the module, you're expected to:
understand the main stages of a renewable energy project's lifecycle and explain the role of emerging technologies in the development of future net zero energy systems
explore the links between energy systems, environmental systems and the economy
identify key performance and cost indicators for renewable energy systems
discuss variety of economic and policy scenarios, formulate optimisation problems and analyse objective functions and constraints in energy systems modelling, assessment and optimisation
Environmental Impact Assessment
Environmental impact assessment (EIA) relates to the process of identifying, evaluating, and mitigating the biophysical, social, economic, cultural and other relevant effects of development proposals prior to major decisions being taken and commitments made. This class, run by the Department of Civil & Environmental Engineering but open to all MSc and MEng students across the University, introduces the methods used to predict environmental impacts, and evaluates how these may be used to integrate environmental factors into decisions.
The class draws principally on the UK planning context of environmental impact assessment of individual projects (project EIA), but also takes account of EIA experience in other countries and international organisations. Participants evaluate the quality of Environmental Statements (or EIA Reports) and of the EIA process using the Institute of Environmental Management and Assessment (IEMA) methodology.
The class discusses how EIA can be used a pro-active design tool for projects and how it can contribute to the enhancement of environmental, social and health issues. Students are also introduced to key principles of Strategic Environmental Assessment (SEA) and biodiversity net gain (BNG). Class has the contribution of key practitioners in the field and includes different case studies, such as proposed onshore and offshore windfarms.
Health & Safety for Offshore Energy Systems
This module aims to demonstrate how health and safety-related risks are identified and managed in offshore energy systems.
Numerous principles and methods will be introduced to aid effective safety management. Managing health and safety-related risks require learning from safety events (i.e. incidents and accidents) and considering human and organisation as a whole to manage and change organisational safety culture. The module will provide fundamental knowledge in the key areas of safety in offshore energy systems and will provide tools and techniques to enable professionals involved in offshore energy systems to manage and implement operations in a safe manner. Module will also cover safety assessments and support decision-making in safety-related considerations.
This module covers:
safety, risk and risk analysis; key terminology
accident Investigation: Procedure, taxonomies, human error and causal factors
lessons learnt from past experience
human capabilities and limitations
safety assessment and key components
decision support and cost-benefit analysis
organisational factors and safety culture
On completion of the module, you're expected to:
understand the concepts and importance of safety, risk and of all requisite fundamentals enabling quantification of risk
developing frameworks (including methods and tools) for collation and application of effective learnings from safety events, accidents and near misses
understand human factors in safety critical operations and implement tools and techniques to enable integration of human factors in maritime.
be able to appreciate components of a safety assessment and apply it for indicative problems of offshore operations
Risk Management & Technology Qualification
This module aims to:
provide students with an understanding of risks involved in the design and operation of marine structures subjected to various deterioration mechanisms (fatigue, fracture, ultimate strength, etc.)
present and apply the analytical and numerical methods to assess the reliability of structural systems
present and apply the appropriate methods for risk-based asset management for marine structures
This module covers:
introduction to risk, reliability, and structural safety
fundamentals of uncertainty modelling and reliability analysis
structural Reliability Methods
reliability updating based on Bayes' theorem
risk-based inspection and maintenance planning
On completion of the module, you're expected to:
identify the sources of uncertainties and quantify the uncertainties within the context of risk and reliability analysis.
formulate appropriate limit states for reliability analysis subjected to relevant deterioration mechanisms.
apply the structural reliability methods to analyse the effect of uncertainties on the performance of structural systems.
perform a risk assessment considering reliability and consequence and develop effective risk management strategies.
Materials & Structures in Marine Environment
This module aims to:
develop an understanding of the material degradation and structural failure mechanisms in marine environment
provide an understanding of pertinent issues concerning the use of engineering materials and practical tools for solving structural integrity and structural fitness-for-service problems
presenting the theoretical and applied methods for design and life assessment of offshore structures
This module covers:
structural design considerations for marine applications
material degradation and damage evolution in marine environment
fatigue crack initiation and growth analysis
regulatory requirements and life assessment procedures
fabrication effects on design and integrity of offshore structures
environmental damage effects on design and life assessment
linear-elastic and elastic-plastic fracture mechanics theories and applications
fracture and failure analysis
defect assessment in offshore structures
On completion of the module, you're expected to:
gain a systematic understanding of material selection and design requirements for offshore applications
demonstrate an in-depth awareness of the design and life assessment procedures for structures operating in marine environment
develop a critical and analytical approach towards the engineering aspects of structural design and asset integrity management
be able to confidently assess the applicability of the tools of structural integrity to new problems and apply them appropriately
Offshore Wind Turbines Dynamics I: Environment Modelling & Wave Loading
This module aims to:
provide the student with the knowledge necessary to model and analyse:
the marine environment (wind, waves, currents, soil) characteristics
the wave loading characteristics
This module covers:
marine environment modelling

wind (turbulence, wind shear, wind spectrum)
waves (Regular, Irregular, short- and long-term predictions)
marine currents (intro)


hydrodynamic loads on the substructure

wave loading regime: Diffraction parameter and Keulegan-Carpenter number
loads on large volume bodies: potential approach (radiation and diffraction)
loads on small volume bodies: Morison Equation
On completion of the module, you're expected to:
propose the most suitable analytical and numerical approach to model the relevant aspects of the marine environment conditions: wind, waves, marine currents – normal conditions
propose the most suitable analytical and numerical approach to model the relevant aspects of the marine environment conditions: wind, waves, marine currents – extreme conditions
evaluate how to model the wave loads acting on the substructure and foundation of an offshore wind turbine
Offshore Wind Tubines II: Aero-Hydro-Servo-Elastic Coupled Dynamics with OpenFast
This module aims to:
provide the student with the knowledge necessary to model and analyse:
the marine environment (wind, waves, currents, soil) characteristics
the wave loading characteristics
This module covers:
hydrodynamic loads on the substructure: Hydrostatics
equations of motion: frequency approach
environmental loads in the time domain:

Wind loading on fixed bodies and on rotor (Actuator Disk theory, Blade Element-Momentum theory, correction factors to the theory)
Hydrodynamics loads in time domain: Cummins equation
Mooring system dynamics
Soil dynamics
Intro to control strategy and structural dynamics (modal approach, blades and tower)

offshore wind turbine aero-hydro-servo-elastic analysis in the time domain:

state of the art
time domain analyses: static equilibrium, free decay, wave only (regular/irregular), wind and wave
postprocessing: basic statistics, FFT, RAO
On completion of the module, you're expected to:
perform a preliminary assessment of the dynamic response of the platform in the frequency domain
select how to model the dynamic response of the offshore system, in the time domain
set up and run a numerical aero-hydro-servo-elastic coupled dynamics analysis of an offshore wind turbine, critically reviewing the results
Data Analytics & AI for Energy Systems
A strong part of the business case for smart grids is using intelligence and automation to gain more capacity from existing assets to avoid large expenditure on further assets. Also, autonomy and intelligence is key to the flexible operation of smart girds, integration of low carbon generation and effective interaction with consumers.
This module teaches the key AI and data science methods that are applicable to smart grids, and provides case studies of their application. We are moving to a future where much more can and will be monitored and new techniques, leveraging data analytics, are needed to fully exploit the data. Areas covered will be machine learning, knowledge based methods, distributed intelligence methods and architectures, applications in asset management, applications in network management and control.
This module aims to provide you with an in-depth insight into marine pipelines, emphasising the overall design process, pipeline hydraulics analysis, installation methods, environmental loading and stability, materials selection, and corrosion prevention.
This module covers:
design overview and process; Diameter and wall thickness; Installation methods; Operation and integrity management; Environmental conditions; Dynamic loading; Lateral stability; Scour; Free span; Trenching
internal fluids; Single and two-phase flows; Pressure and thermal profiles; Wax; Hydrate; Thermal insulation; Flow assurance; Drag reduction
materials and corrosion; Pipeline material; Steelmaking; Manufacture of linepipe for onshore and offshore applications; Internal corrosion; Corrosion detection and control; External corrosion and mitigation
On completion of the module, you're expected to:
have an overview of marine pipelines with regard to their design, installation, operation, and maintenance
gain an understanding of some fundamentals of marine pipeline design and analysis
apply analysis tools for pipeline hydraulics, multi-phase flows and thermal protection
identify the differences between pipe grades and pipe manufacturing methods
identify risk areas for internal and external corrosion in marine pipelines and describe the methods for corrosion inspection and control and select appropriate mitigation methods
Assessment will be in the form of coursework.
Finite Element Analysis of Floating Structures
This module aims to provide you with a theoretical and practical knowledge of the finite element method and the skills required to analyse marine structures with ANSYS graphical user interface (GUI).
This module covers:
introduction to finite element analysis and ANSYS GUI
truss elements and applications
solid elements and applications
beam elements and applications
plane stress, plane strain and axisymmetry concepts
plane elements and applications
plate & shell elements and applications
assembly process and constructing of the global stiffness matrix
At the end of this module you'll be able to:
understand the basics of finite element analysis
understand how to perform finite element analysis by using a commercial finite element software
understand specifying necessary input parameters for the analysis
understand how to visualize and evaluate the results
There is one exam and one coursework assignment. The exam is during the exam period of the first semester. Exam has a weight of 70% and coursework assignment has a weight of 30%.
In this class you'll explore key economic issues at the heart of topical energy questions – building on the University's outstanding reputation as a centre of excellence in energy technology and policy.
The class covers the objectives of energy policy; private and social perspectives on energy supply and demand; the special case of regulation of energy markets; the use of economic models in energy analysis; the economics of oil and gas activity and links between energy use and the energy sector and an economy.
10 credits
Individual Thesis Project
This module aims to give students a good understanding of all aspects of research work.
In addition, the technological study must be accompanied by survey of the relevance and applicability of the findings to the energy transition at large. Students will learn efficient ways to gather information and distribute workload, to efficiently analyse their results and to appreciate the broader implications of the whole project. In-depth technological studies will be accompanied by increasingly important competence in managerial skills, quality assurance and a sound appreciation of the technological, economic, political, social and environmental issues crucial to professional success.
This module covers:
a detailed structure for the class is outlined in the Project Brief presented to the students. This includes details of key milestones and assessment criteria
the Project Brief is reviewed regularly to reflect changing technical and economic opportunities in the fields of activity embraced by the Department's MSc courses
On completion of the module, you're expected to:
developing a broad and critical review of prospects for techno-economic growth in energy transition activities in a particular context/area
proposing and evaluating specific design-related activities with a view to proposing a future research and/or development project in, for example, key areas such as green hydrogen; novel fuel transportation technologies; energy transportation infrastructure
being able to present a research/development proposal to an expert panel and defend the recommendations
Individual Dissertation Project
The aim of the individual project is to develop the student's project development skills and to combine many of the aspects learned during other modules within a specific topic and a coherent body of work. This will be achieved through students carrying out work into a particular topic relating to their theme and preparing a dissertation.
The individual project is a major exercise undertaken throughout the period of study.
The student will investigate a relevant and agreed topic, adhering to a defined schedule, with the findings being documented in a dissertation.
Project topics are selected from a supplied list or may be proposed by the student.
Projects may be undertaken in any department with approval, or wholly in industry, in which circumstances a co-supervisor may by appointed.
Based on the work of a project, a student will submit an individual dissertation which forms the main basis for assessment.
The project report will be submitted in late August.
Learning & teaching
Each module will be delivered in 5 consecutive weeks. There will be 2 hours of pre-recorded lectures, 2 hours of live sessions (which include lectures/tutorials/group activities) and a list of supplemented recommended readings for each week. The live sessions will be recorded and uploaded on MyPlace after each session for those who could not attend the live sessions.
Guest lectures
The course involves numerous evening talks and specialised seminars delivered by key experts in offshore energy transition sector, both from academia and industry.
Assessment
The modules will be assessed through written assignments and individual projects.
Back to course
Entry requirements
| | |
| --- | --- |
| Academic requirements | Bachelor's degree in a relevant engineering or science discipline and/or extensive industrial experience. |
| English language requirements | If English is not your first language, please visit our English language requirements page for full details of the requirements in place before making your application. |
Pre-Masters preparation course
The Pre-Masters Programme is a preparation course held at the University of Strathclyde International Study Centre, for international students (non EU/UK) who do not meet the academic entry requirements for a Masters degree at University of Strathclyde. The Pre-Masters programme provides progression to a number of degree options.
Upon successful completion, you'll be able to progress to this degree course at the University of Strathclyde.
Back to course
Fees & funding
Fees may be subject to updates to maintain accuracy. Tuition fees will be notified in your offer letter.
All fees are in £ sterling, unless otherwise stated, and may be subject to revision.
Annual revision of fees
Students on programmes of study of more than one year should be aware that tuition fees are revised annually and may increase in subsequent years of study. Annual increases will generally reflect UK inflation rates and increases to programme delivery costs.
How can I fund my course?
Go back
Scottish postgraduate students
Scottish postgraduate students may be able to apply for support from the Student Awards Agency Scotland (SAAS). The support is in the form of a tuition fee loan and for eligible students, a living cost loan. Find out more about the support and how to apply.
Don't forget to check our scholarship search for more help with fees and funding.
Careers
We work closely with the University's Careers Service. They offer advice and guidance on career planning and looking for and applying for jobs. In addition, they administer and publicise graduate and work experience opportunities.
Whether you're planning to progress your career into engineering management, redevelop yourself as an engineer or move into the renewable energy industry – a master's degree will expand your career opportunities.
Potential Sectors
High-calibre energy transition experts are in demand throughout the world. This course is designed to meet industrial demand for qualified staff in offshore energy transition. It's particularly suitable for those who are working full-time in the offshore Oil and Gas sector and would like to have a career change towards the emerging offshore renewable energy market to work in the following areas:
Fixed-bottom offshore wind
Floating offshore wind
Wave and tidal energy
Offshore energy engineering consultancy
Offshore structures asset integrity management
Design of offshore renewable energy structures
Manufacturing and construction of renewable energy structures
Glasgow is Scotland's biggest & most cosmopolitan city
Our campus is based right in the very heart of Glasgow. We're in the city centre, next to the Merchant City, both of which are great locations for sightseeing, shopping and socialising alongside your studies.
Life in Glasgow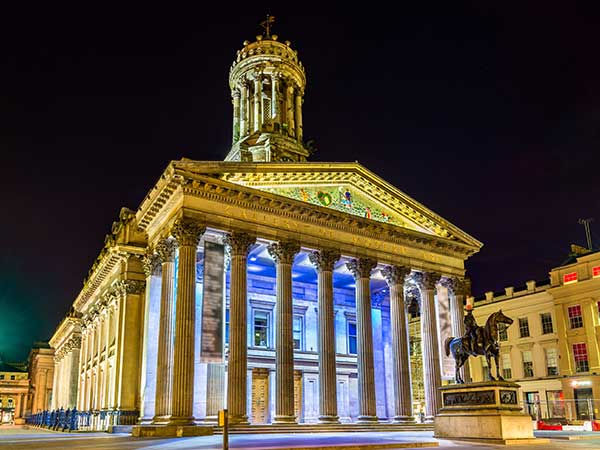 Back to course
Apply
During the application process, you're required to upload the following supporting documents. If these are not provided, we'll not be able to process your application:
certified individual semester mark sheets/academic transcript showing subjects taken and grades achieved for all qualifications; please note consolidated transcripts are not accepted

if still studying, provide individual semester mark sheets to date
certified degree certificate for all qualifications

if still studying, provide this after completing the qualification

provide evidence of suitable English language proficiency if English is not your first language, or you're not from a "UKVI recognised "Majority English Speaking" country"; check the University's language requirements
if you have been out of full-time education for over two years, provide a CV, detailing employment history, organisations worked for and a brief description of roles and responsibilities
a copy of your passport containing your photo and passport number
a copy of your sponsor letter/scholarship award (if appropriate)
names, job titles and email addresses for two nominated referees
Offshore Energy Transition (January intake)
Have you considered?
We've a range of postgraduate taught and Masters courses similar to this one which may also be of interest.